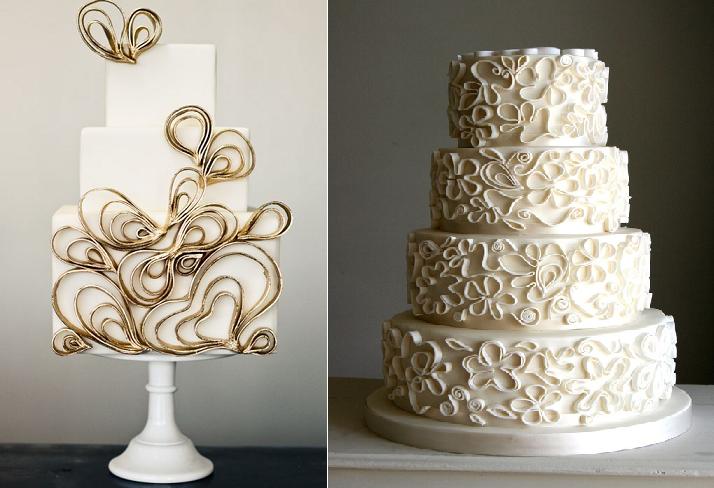 Quilling is an ancient decorative technique dating back to the 15th century that has gained a new-found popularity with the revival of interest in crafting and the decorative arts. It was originally used to decorate ancient religious texts but it's most commonly used today in papercraft for special occasion stationery such as wedding invitations.
Quilling simply involes rolling ribbons of paper into decorative shapes to create an intricate 3-D effect pattern. And as you may have guessed, any pattern that can be created with strips of paper, can just as easily be created with strips of gumpaste or modelling paste and used in cake decorating.
To inspire you we have an array of beautifully decorated wedding cakes with quilling details as well as lots of colourful party cakes too. We also have tutorials for you to get started with this unique cake decorating technique.
Our spectacular feature cakes above are by innovative cake designers, California's Sweet and Saucy Shop (above left) and Sada Ray of the UK's Flutterby Bakery, Brighton (right).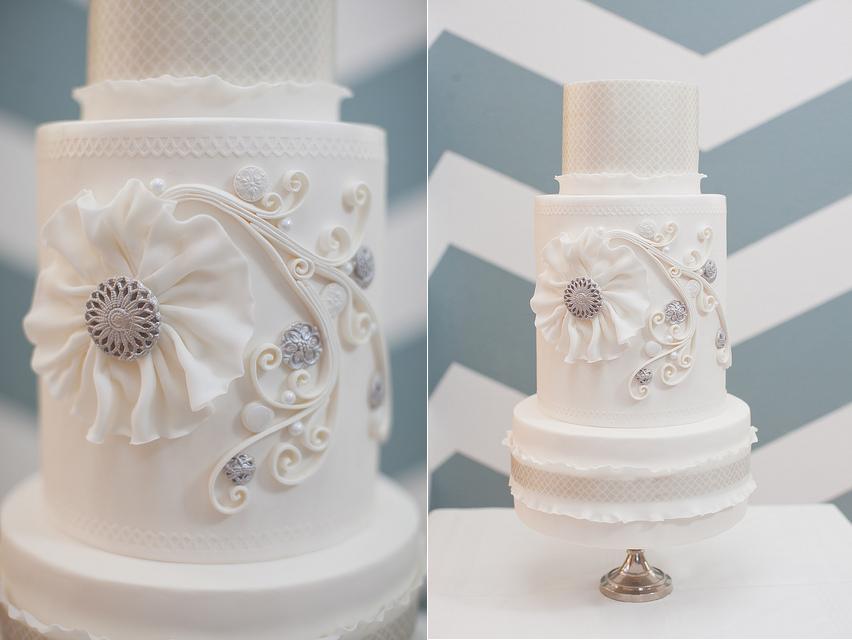 Above is a beautiful winter wedding cake design with delicate quilling cake from Hey There Cupcake, always one the first with new cake trends and designs.
Quilling can be used to create a textured lace effect on a wedding cake, if a bride wants something different for her special day, but still wants to incorporate traditional lace fabic. Carrie's Cakes show how this is done (below left), with another pretty example from 100LayerCake also (below right). Because of the lace effect it creates, the craft of quilling is also known as "paper filligree".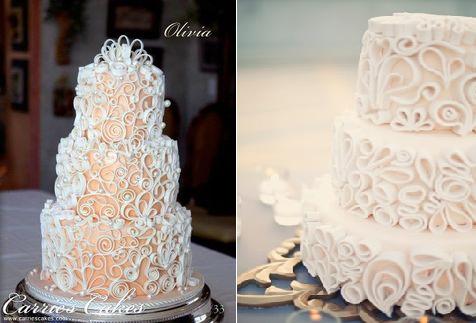 While not technically quilling, the two examples below share a lot of similiarities with the art of quilling using rolled up strips of rondant to create a beautiful pattern. Soft pink roses are featured in the elegant cake (below left) by For Goodness Cakes left and from Andrea's Sweet Cakes via Flickr (right).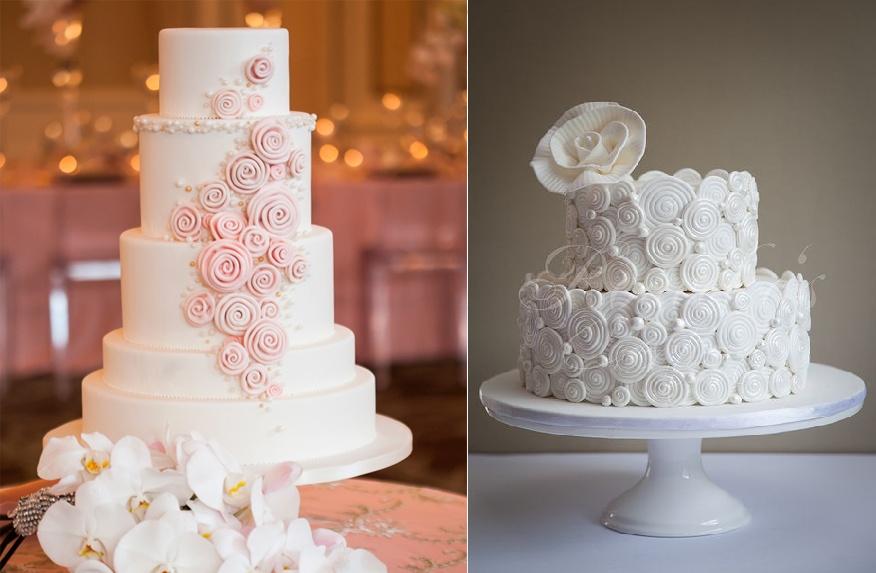 And while quilling creates a beautiful decorative effect for a wedding cake, it also works wonderfully for the more whimsical style cake. Wilton have a cake quilling tutorial here to get you started for the funky floral cake design below.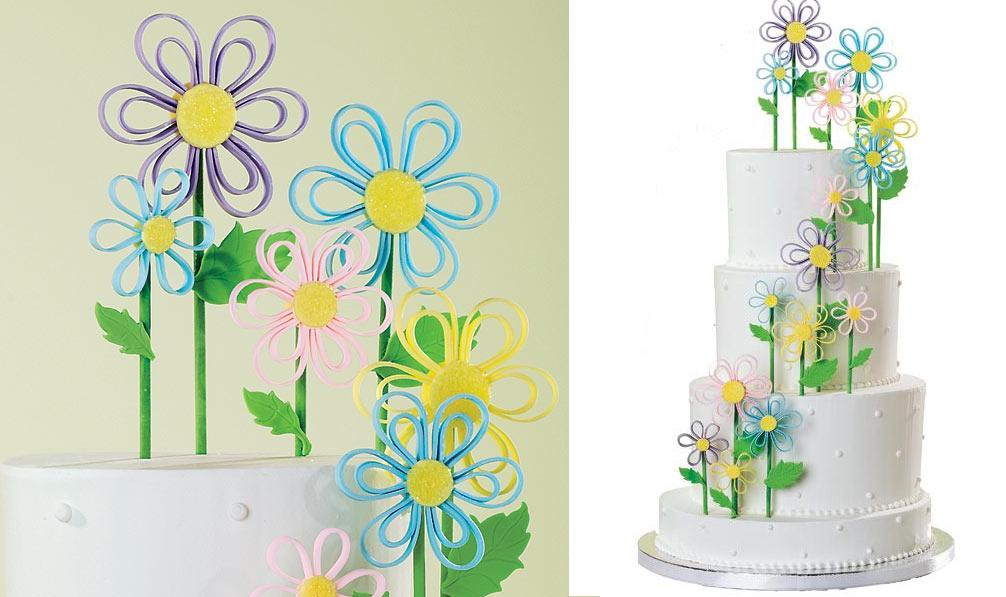 One of the pioneers of the whimsical style of cake decorating, Colette's Cakes have designed many cakes incorporating pretty quilling patterns, including the cake design below.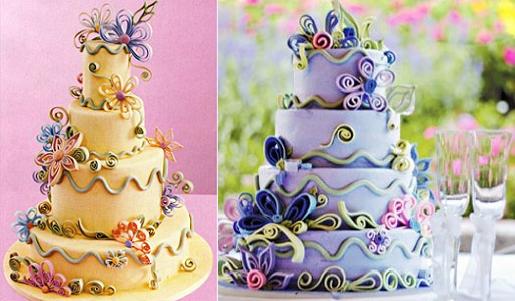 Special Cakes by Ruben created the fantastical cake below with magical quilled flowers.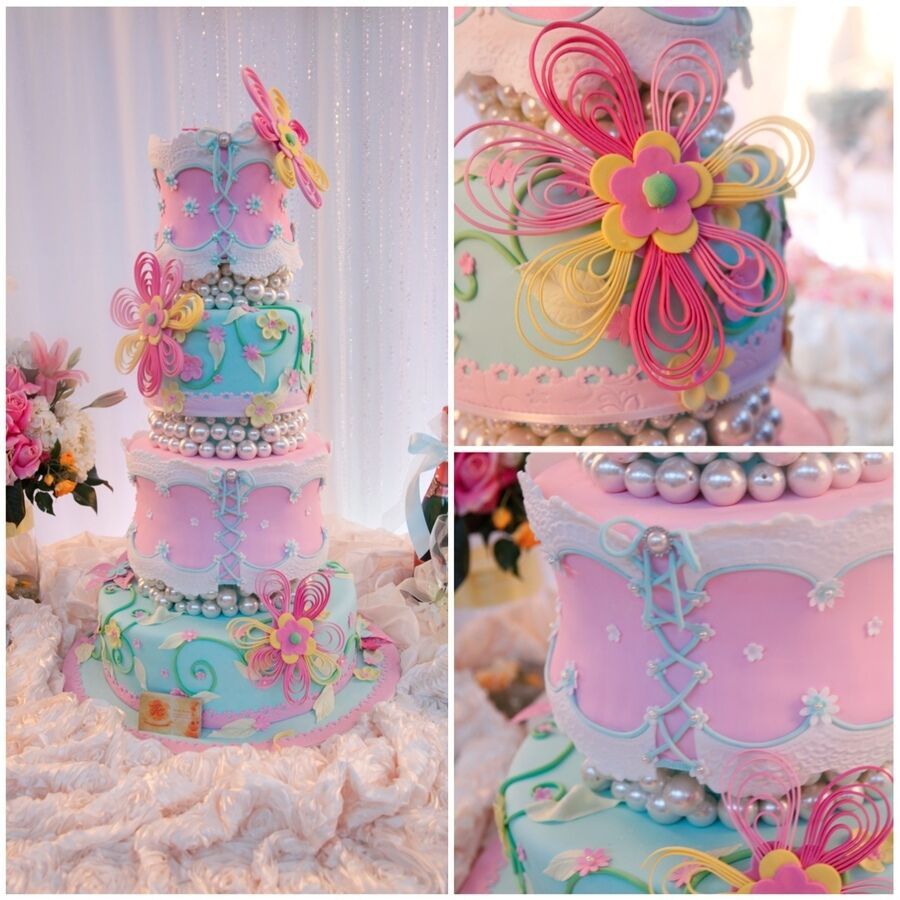 Blissfully Sweet Cakes have been ahead of the quilling trend for some time now having created the beautiful pastel pink and blue wedding cake design (below left). The image below right shows how to create a quilled heart pattern (via Tumblr).
Another unique quilled cake design below from Blissfully Sweet Cakes in periwinkle blue with berries and splash of yellow.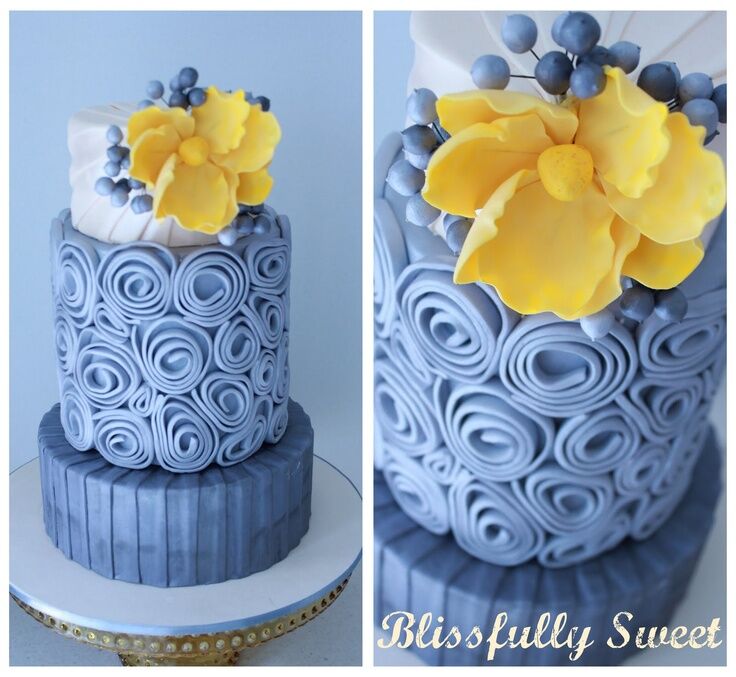 Bella Cupcakes have also been a fan of cake quilling for a while with two fabulous whimsical novelty cake designs below – one for a confirmation cake and below that, a celebration cake fit for lots of occasions, complete with party bunting.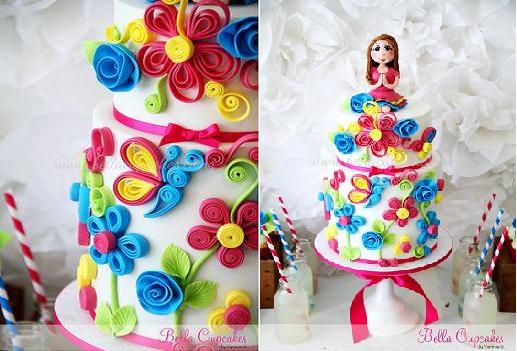 Below, a quilled cake design for a birthday cake by Bella Cupcakes.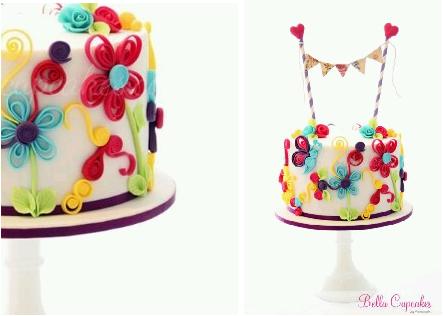 My Cake School.com.au have a great cake quilling tutorial here for the pretty pastel cake below.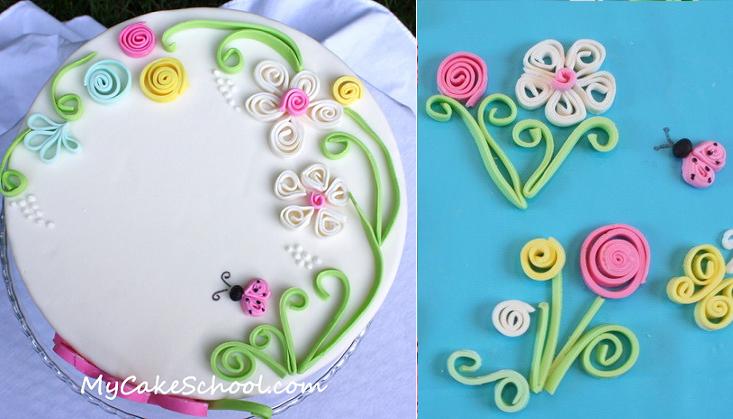 Below are two brightly coloured quilled cakes from La Douce Belle via Kara's Party Ideas (left) and via Pinterest (right).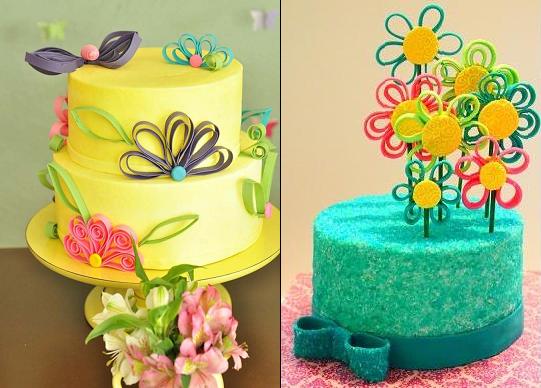 Below, more eye-catching quilled cake designs from Mon Delice (left) and Paula Bergen of Perfectly Sweet Cakes & Cookies (right).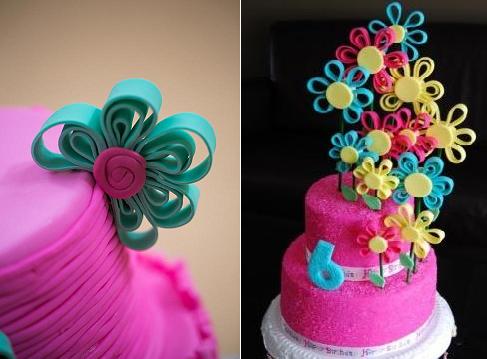 For the season that's in it, we have two very pretty Christmas cakes with quilling details from Karla's Little Bakery (left) and Splendor Cakes & More (right). You'll find a snowflake quilling tutorial here from which you can make your own gumpaste version (or modelling paste.)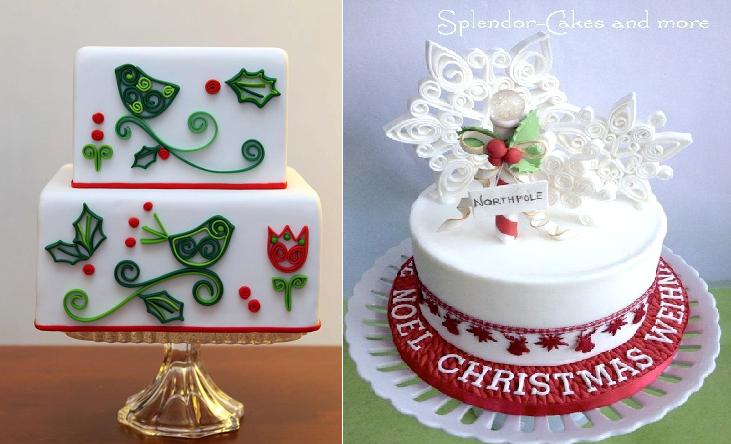 For more quilling tutorials and patterns, see Inna's Creations and Paper N Quill Crafts (for papercraft but just as applicable to sugarcraft.)
For more on whimsical style cakes, see our features on:
Coming Up Next: Piping Techniques Part 3 – Scroll Piping.
For Cake Geek updates, just add Cake Geek Magazine to your Facebook "likes" and we'll let you know just as soon as a new feature is published! You'll find us here at: Cake Geek Magazine Facebook Page