As with polka dots featured on Monday, stripes are also a great customisable cake design that work for lots of occasions, whether you're going for smart stripes or whimsical striping.
Cotton candy pink and soft brown make a pretty combination in our feature cake (above left) by Zoe Clark of The Cake Parlour, with smart blue and grey creating a chic and unique colour combination in an elegant cake design (above right) by My Cupcakery.
Blue and white stripes with a hint of beige makes an ultra smart baby boy christening cake (below left) from Cake Ink, with deep and light shades of pastel blue creating an elegant design below to showcase a beautiful selection of summer flowers in a cake design by Sweet Love Cake Couture.
Blue and white striped designs make beautiful summer cakes with perfect examples below by Nadine's Cakes, left and by Curtis & Co Cakes, right (Weddings by Nicola and Glen Photography).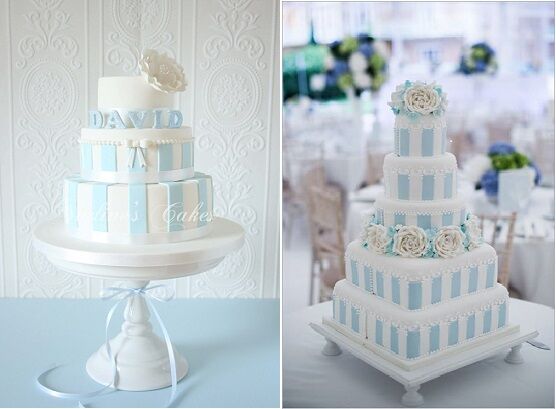 Sleek, slim striping in pale peach contrasted with soft gray satin ribbon makes an elegant summer wedding cake from Bella Cupcakes, New Zealand.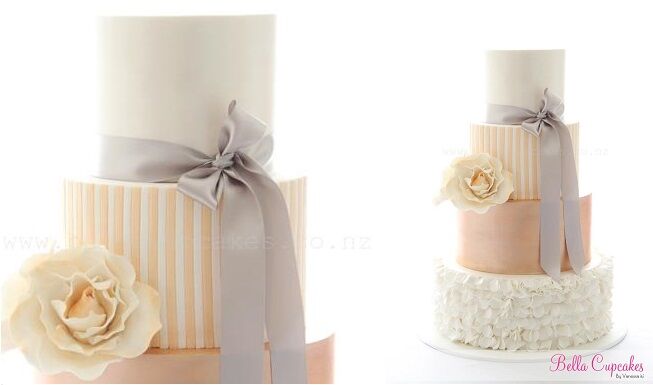 A barely-there soft pink striped wedding cake design below from the wedding cake collection of Yummy Cupcakes and Cakes feature below left. On the right, damask detailing is paired with smart stripes for a classical wedding cake design from Coco Cakes.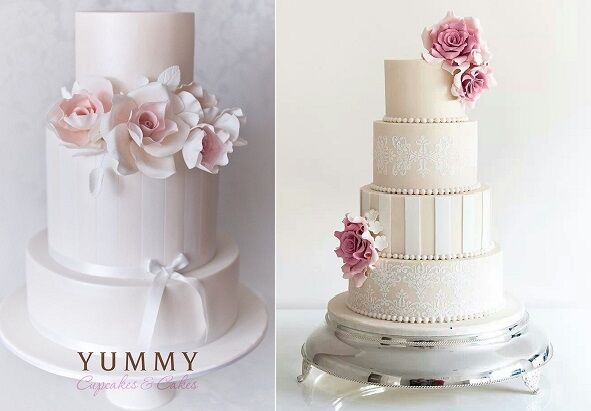 Classical damask also features in the elegant striped design (below left) by Faye Cahill, dressed with soft peach peonies and silvery foliage (Tea Lily Photography). On the right, gilded gold detailing lends a baroque touch to the chic design by Classic Cakes and Confections (Gina Meola Photography, via Style Me Pretty).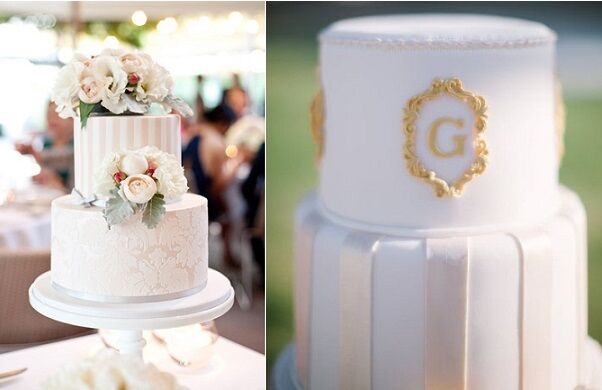 Soft grey and monogram detailing creates a sophisticated wedding cake design below by Miss Shell's Cakes, Australia.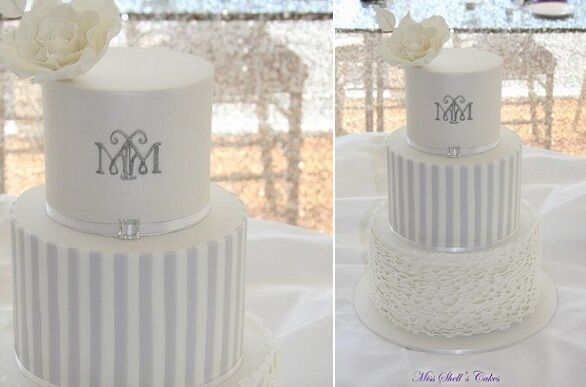 Erica O'Brien created a wonderful tutorial for her pretty pastel striped cake below which you'll find here (via Project Wedding, photos by Cory O'Brien): striped wedding cake tutorial.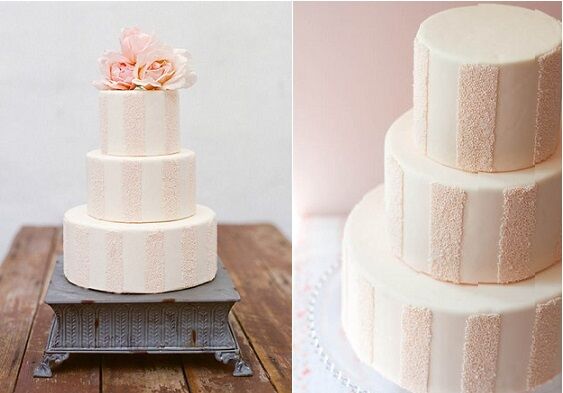 More striped elegance with with two beautiful wedding cake designs below paired with vintage lace by De La Rosa Cupcakes (left) and Faye Cahill Cake Design (right).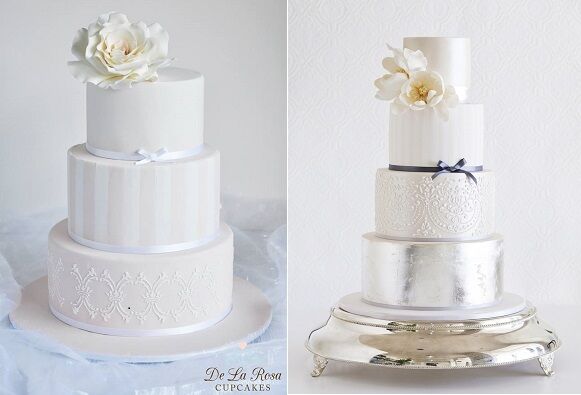 A fabulous broderie anglaise/eyelet lace style corsage crowns this ultra pretty pink and white striped wedding cake by Lovely Cakes, as featured in The Cake Blog.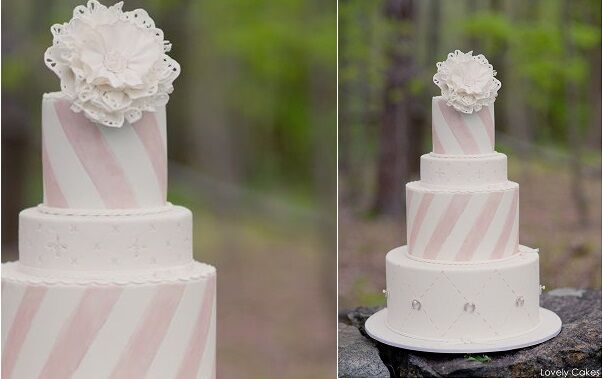 Vintage style cakes with stripes in lilac and pink tones by Bella Cupcakes, below left and Cotton and Crumbs, below right.
Hand-painted roses and pastel stripes combine to create a luxury vintage party cake (below left) by Sweet As Sugar Cakes UK, with a pretty coral and gold striped design on the right (image via Pinterest).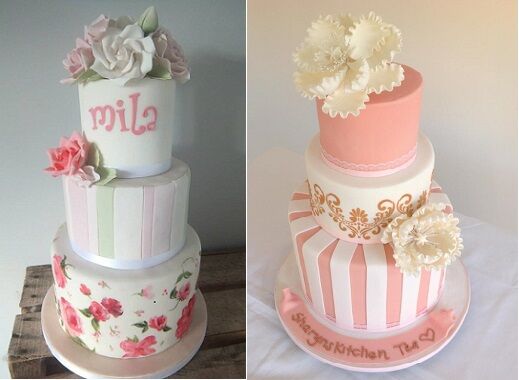 Candy stipes in a mint green and pink palette make a beautiful colour combination in the two designs below by Fatma Al-Kuwari Cakes (left) and Little Boutique Bakery (right).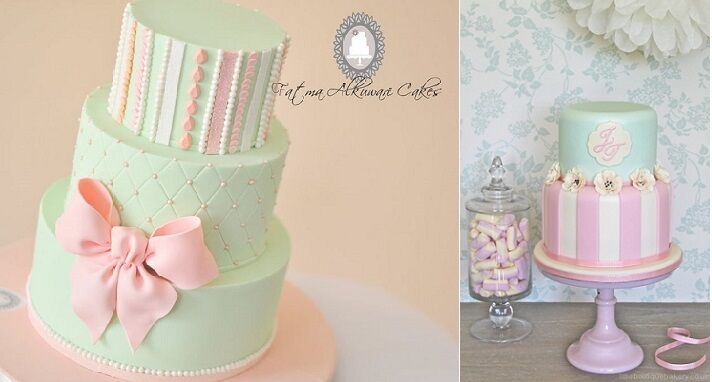 More candy stripes this time topped with a picture-perfect icecream topper via the brilliant Just Call Me Martha (image: Mel Riddell Photography).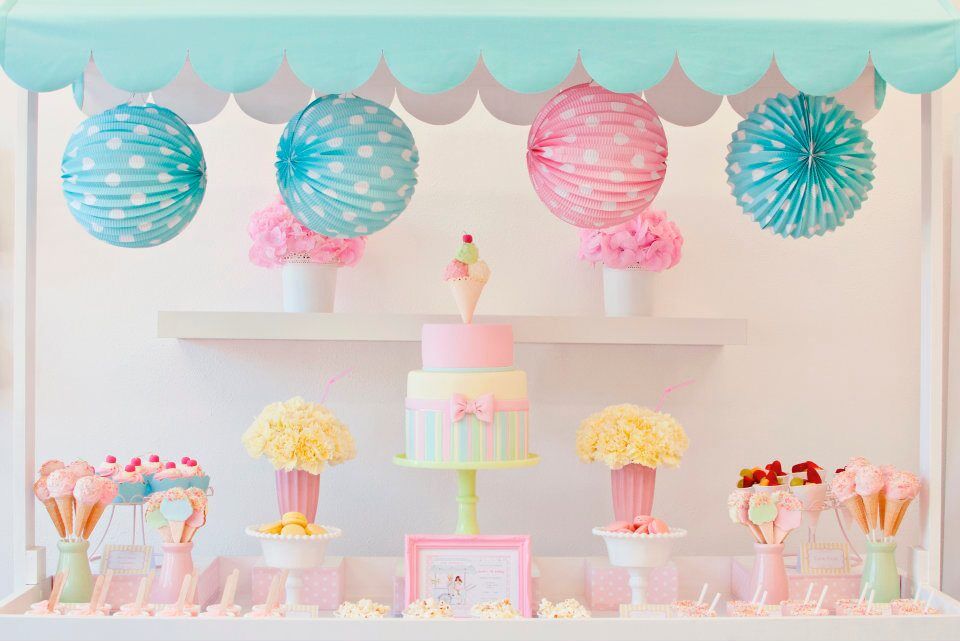 Cheryl's Cake Boutique have created the ultra pretty pink and white birthday cake design below left with frilled banding and a trendy striped bow. Bronnie Bakes shares a fab striped bow tutorial here.
To the right, we have one of Hello Naomi's enduringly chic and pretty children's cake designs.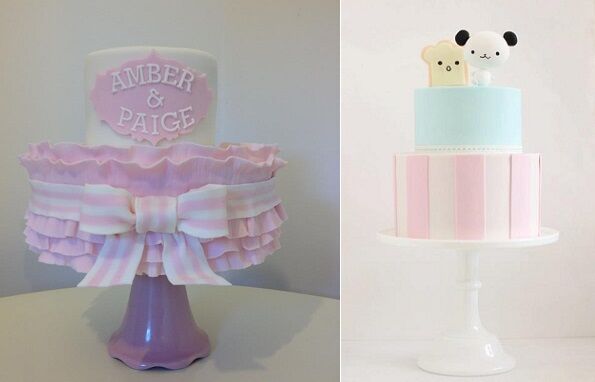 An on-trend ruffle style wedding cake with subtle blue and white stripes by Edible Art Cakes, South Africa (below left) and a cool blue seaside-themed wedding cake from The Cake That Ate Paris, below right.
A pretty and unique striped name plaque features in the design below by Krumblies Cakes, UK.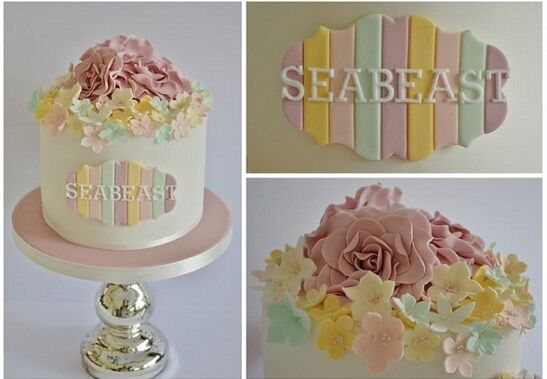 Boldly coloured sugar flowers set against a striking black and white striped backdrop makes a unique and wonderful cake design by The Wild Orchid Baking Company, below.
Glittering gold adds a touch of chic to the whimsical pairing of stripes and polka dots in the beatuifiul contemporary cakes design below by The Wild Orchid Cake Company.
Two more contemporary style wedding cake designs below in glamorous silver and white stripes by Bobbette and Belle (left) and an edgy black and grey combination by Miso Bakes, (right).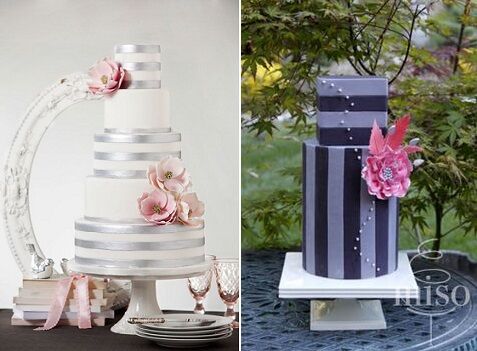 Jade green adds a fabulous antique look to the beautiful peony wedding cake below with chic white-on-white stripes by The Graceful Baker.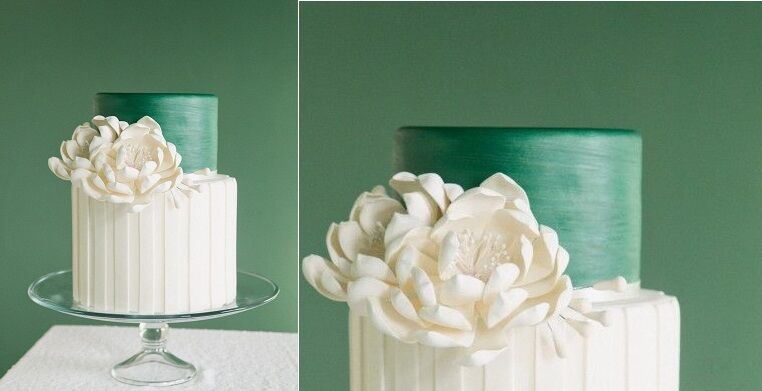 Sweetness and Bite have created a fantastic tutorial to show you how to create perfect striped designs on buttercream cakes: buttercream stripes tutorial.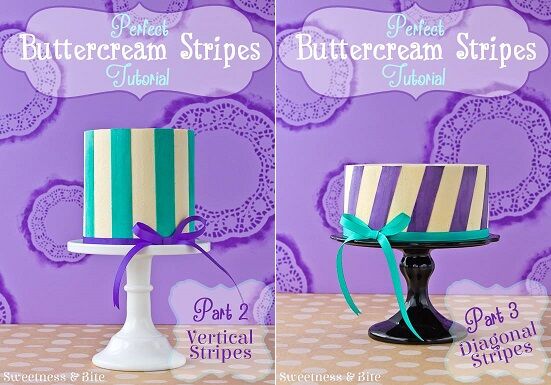 Our final two designs are from Oh Gateaux with a chic and simple pastel striped design below left, and a dramatic and elegant ruffled wedding cake on the right with theatrical turquoise and green stripes.
To learn how to create with precision perfect stripes, Jessica Harris of Jessicakes teaches her wax-paper transfer method on Craftsy, including the beautiful selection of children's cakes below. You'll find all the details here: Clean & Simple Birthday Cakes, with Jessica Harris.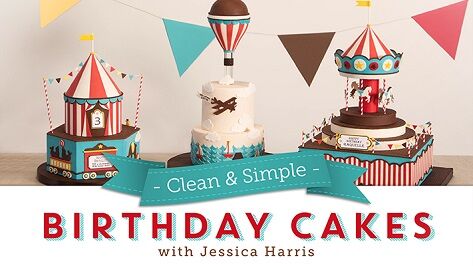 Join the Cake Geek Magazine Facebook Page for more on cake design style and updates.
Readers might also be interested in our features on:
Coming Up Next: Pirate Cupcake Topper Tutorial by Lynlee North Beckett.