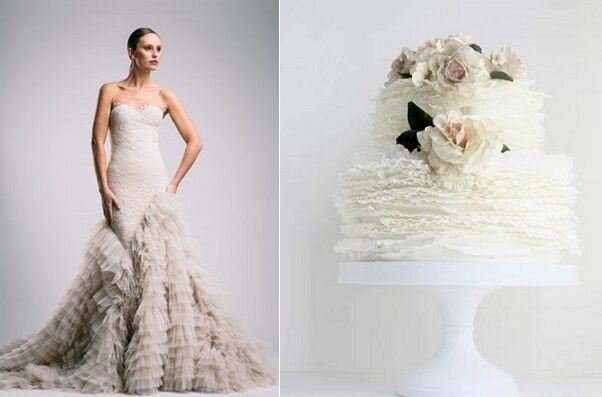 When frills and ruffles first emerged as a major design trend in wedding cake decorating, designers took care not to go too over the top with the "frou-frou". Beautiful frilled confections were dressed with a single, statement flower or an elegant, elevated floral arrangment.
But with wedding floristry trends embracing organic, natural garden style wedding flowers, cake designers are no longer holding back. Intricately frilled wedding cake designs are lavished with lush garden flowers this season for some of the romantic wedding cake creations you can imagine.
Maggie Austin's sumptuous frilled wedding cake above is dressed with vintage style garden roses in soft blush – the perfect wedding cake design to complement the exquisite Suzanne Harward couture ruffle gown (left).
Leaves, foliage and greenery all deftly created in gumpaste are the hallmark of the move towards more botanical wedding cake styling with another of Maggie Austin's almost "straight from the garden" style floral wedding cakes below left, and a multi-layered ultra romantic creation from Sugar Art by Susan Garfield, on the right.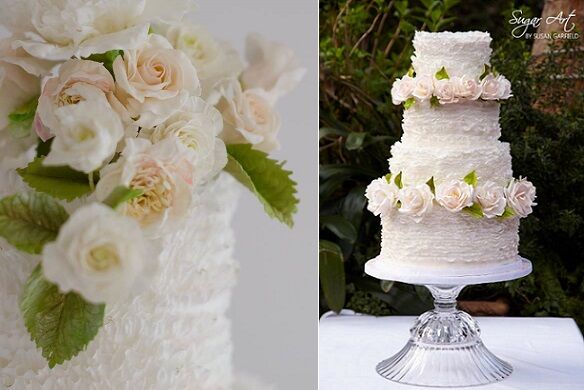 Antique gold, cottage garden sugar flowers and voluminous ruffles make an exquisite combination in Sugablossom's wonderful wedding design below.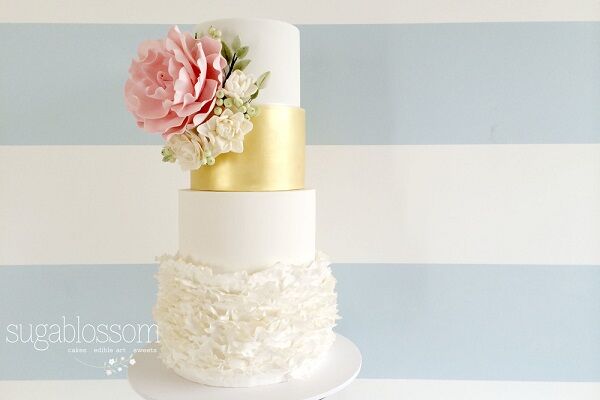 Folds of white fondant bring an elegant touch to these rose-adorned wedding cakes teamed with a dusting of blossoms and vintage pearls on the left by Sweet Things by Fi and with subtle garden pastels from Susanna's Custom Cakes, right.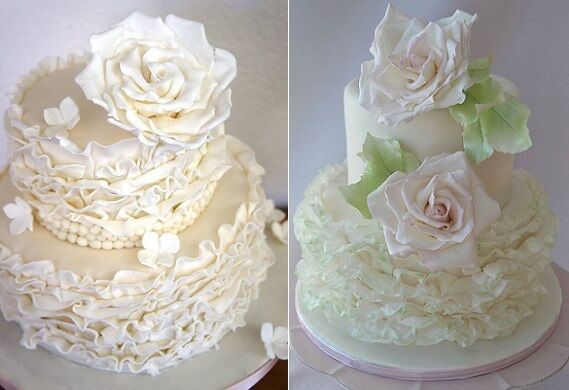 A softly stained pink peony and ruffles create a striking finish on this Lina Veber Cake design (below left), while delicate golden butterflies alight from the ruffle smothered tiers of the charming Maggie Austin cake, below right.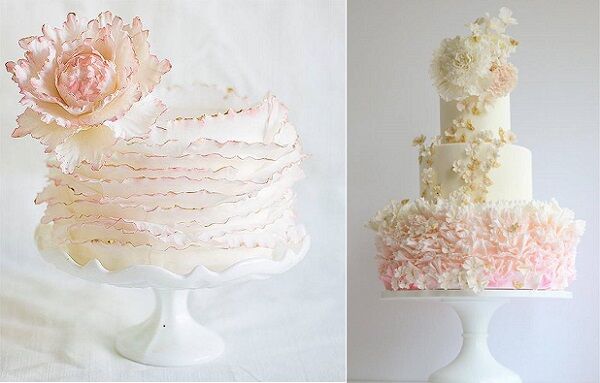 A close up of the detailing on Maggie Austin's creation above with tiny butterflies intermingled with delicate falling blossoms and beautifully textured ruffles.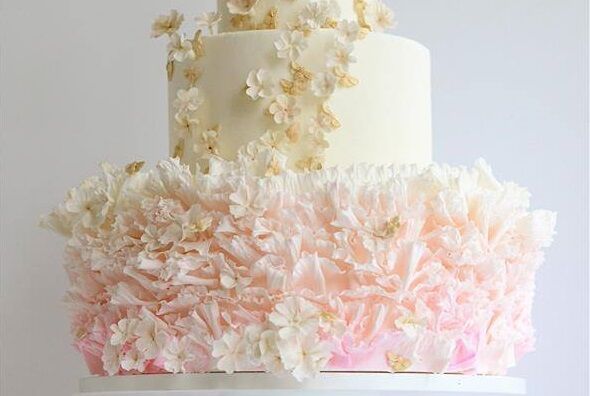 Delicate folds of fondant frills laid over a blush backdrop are beautifully accessorized with garden peonies and antique style rubbed gold edging in the design below left by Megan Joy (image by Cara Leonard Photography).
Tightly woven frills are paired with lush garden flowers to perfection in Lina Veber's lavender and white country garden style wedding cake, below right.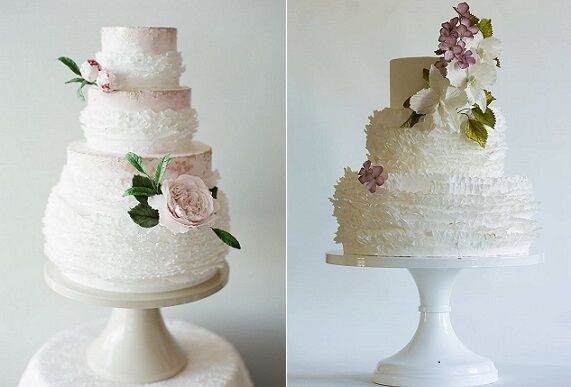 Layer upon layer of beautiful textured frills and distressed effects add a unique touch to one of Megan Joy's signature wedding cakes, with flutterings of tiny petals and blossoms adding to the romance of this fabulous wedding cake design below.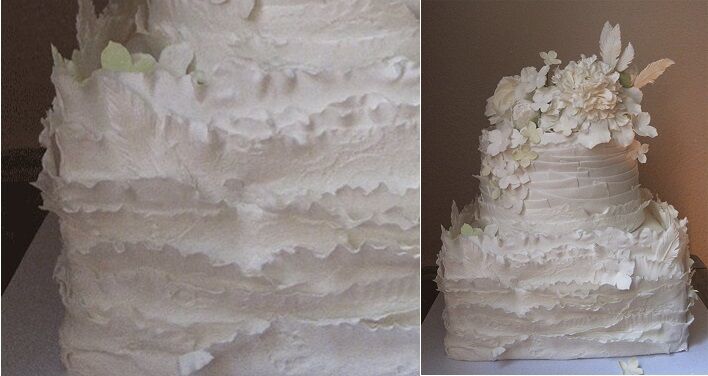 Perfectly crafted white roses tumbling over the edge of the top tier add a wonderfully organic, flowing design element to Maggie Austin's frilled wedding cake, below left. On the right, Jenna Rae Cakes add extra drama to their ruffled design by fanning the frills out from a central point, creating a stylish and sophisticated wedding cake design.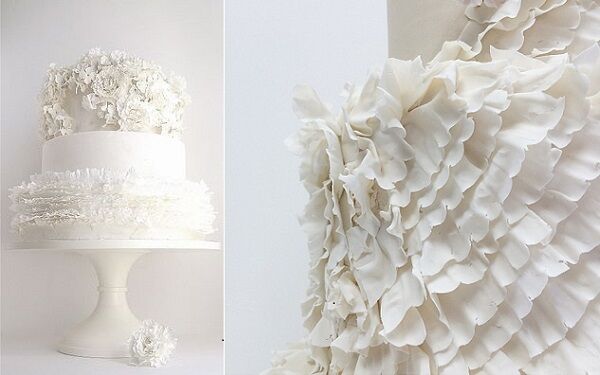 Lavender and lace creates a most feminine of wedding cake designs in Megan Joy's superb fondant frilled wedding cake below, dressed with lavender garden flowers, tiny buds and lavish lace.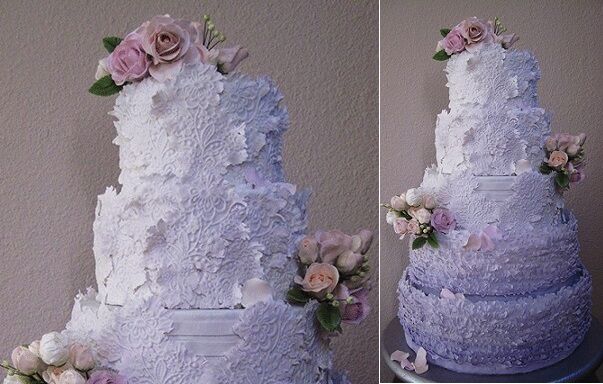 Readers might also be interested in our features on:
Coming Up Next: Fruits of the Forest – Autumn Nuts & Berries