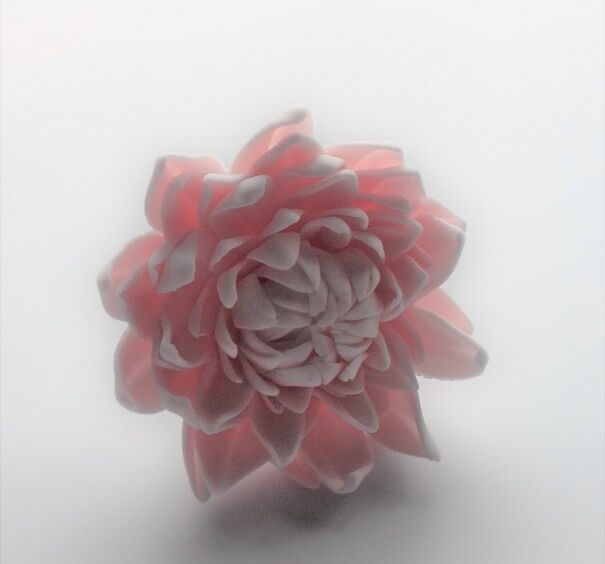 This super fast gumpaste dahlia tutorial will save you so much time when creating these pretty flowers.
The size of the finished flower is approximately 3.5-4 inches/9-10cm. It uses the FMM Dahlia Cutter (pictured below) but this method may work with other cutters such a gerbera/sunflower cutter so give it a try.
Quickest Ever Gumpaste Dahlia Tutorial: Materials
Gumpaste
FMM Dahlia Cutter
Cornstarch for dusting
Rolling pin
2cm Styrofoam ball
18 guage wire (or thicker)
Glue gun
Small ball tool or bone tool
Dresden tool
Foam pad
Edible glue
Mug stand or flower drying rack
Quickest Ever Gumpaste Dahlia Tutorial: How-To
Insert one-third of an 18 gauge wire (or thicker) into the 2cm styro ball and secure in place using a glue gun (pictured below left).
2. Using the smallest of the three cutters, cut out two dahlia shapes.
3. Place onto foam pad and thin the edges of the petals using a ball tool or a bone tool.
4. Using a sharp knife cut each petal segment in half lengthways as shown.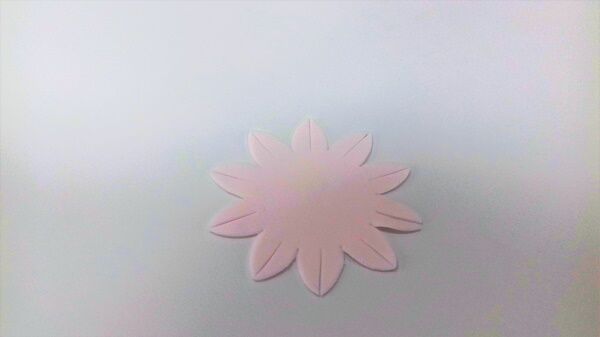 5. Apply edible glue all over each cut-out.
6. Insert the styro ball in the center of the first cut-out.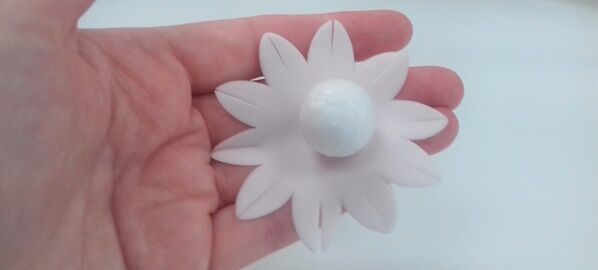 7. Flip over the styro center and let the petals come to rest around the styro ball. Flip back over and gently press them to hug the styro center. Take the next petal set and do the same again.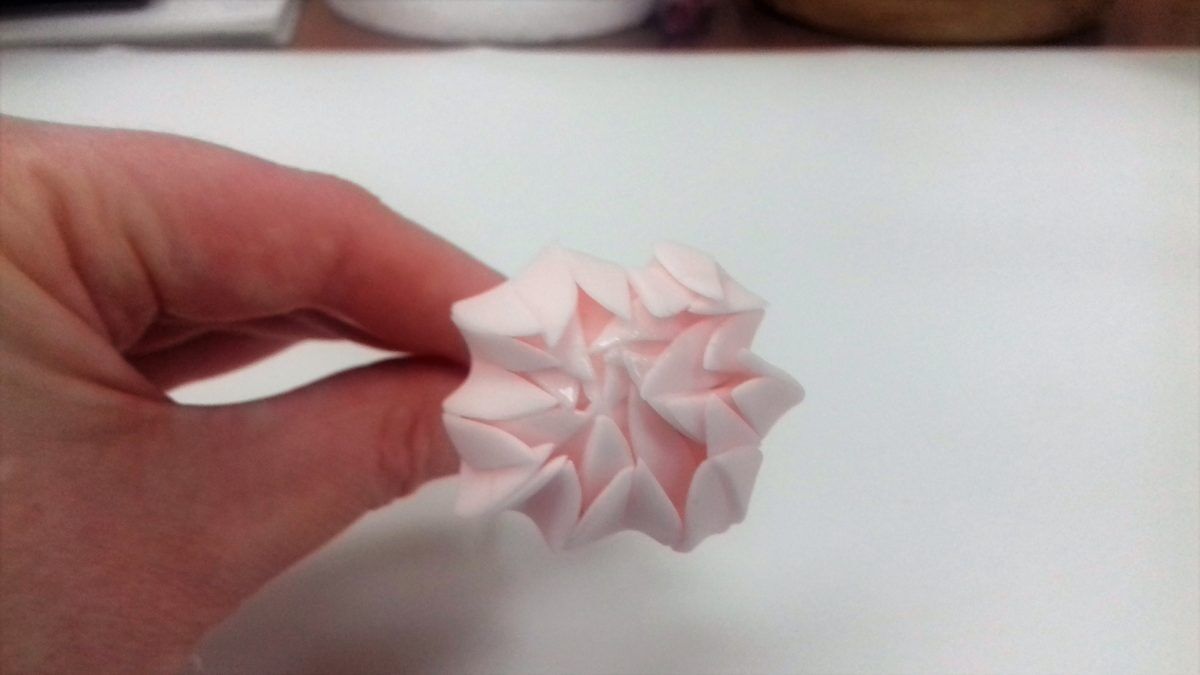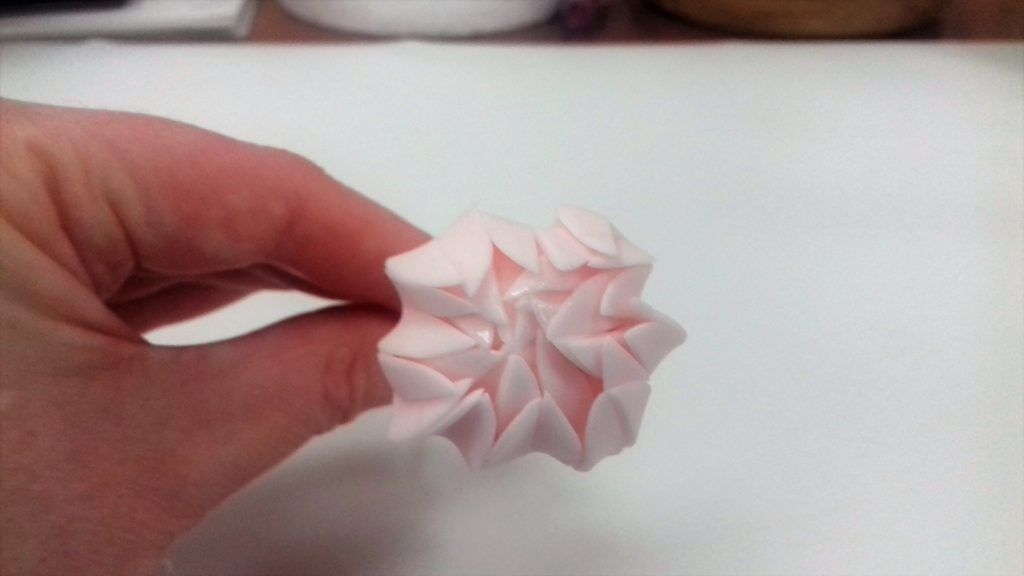 8. Using the smallest cutter again, cut out two more shapes. Thin the edges with a bone tool/ball tool.
9. Run the thin end of a Dresden tool vertically down the centre of each petal segment to mark a line. This action also acts to curve the petal inwards.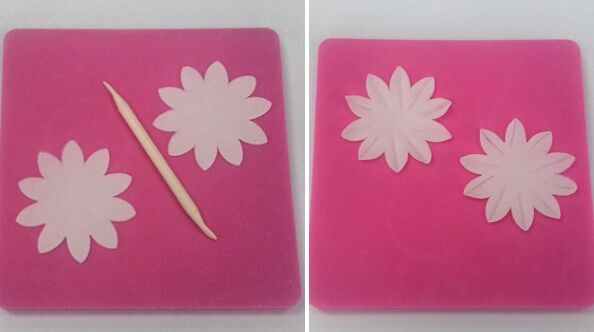 10. Apply glue to the center of each cut-out and half-way up the petal segments.
11. Insert the styro ball into the center of each petal set and flip upside down to allow it to adhere to the center.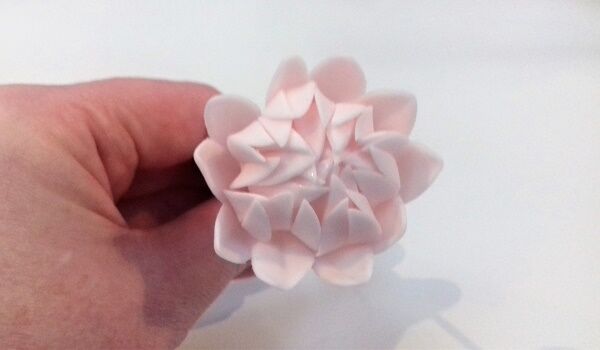 12. When layering on the next petal set, ensure the petal segments fall in between the gap in petal segments on the previous petal set. You don't need to leave the flower to dry in between steps but you can hang it upside down on a mug stand/flower drying rack in between steps for convenience.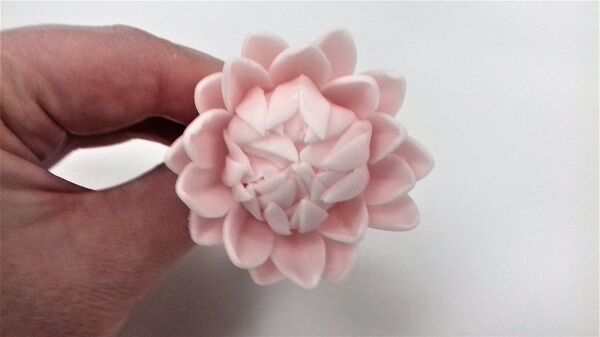 13. Repeat steps 8-12 for each of the next two cutters, making 2 cut-outs with each cutter.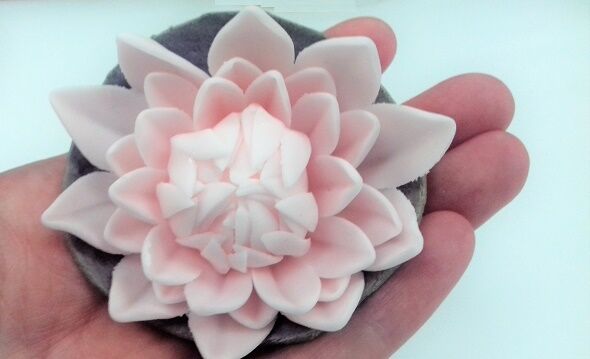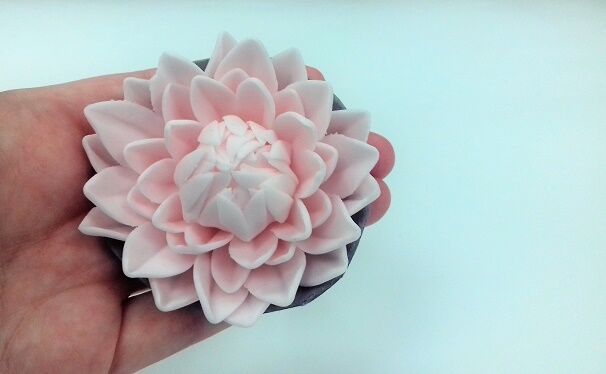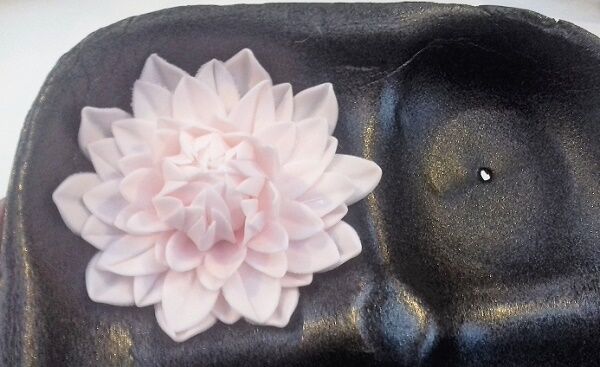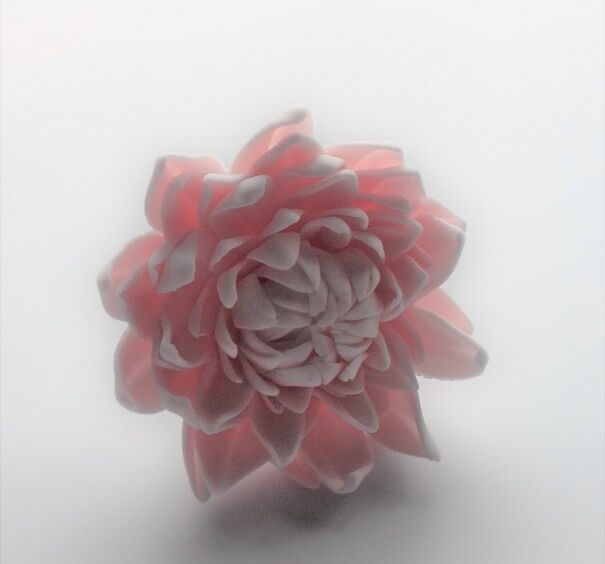 13. Leave the dahlia to dry hanging upside down.
Color options: Use a slightly darker shade paste for the dahlia centre or simply dust with petal dust when finished. Or for an even more botanical look use a green tinted paste or dust for the center.