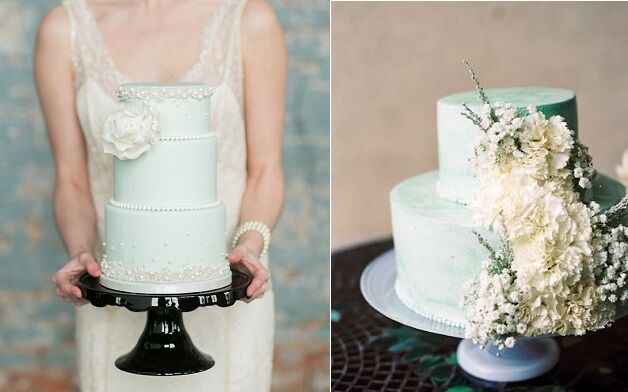 Fresh and beautiful mint is becoming the wedding colour scheme of choice for chic and sophisticated brides this year and leading wedding cake designers have taken note.
Luisa Galuppo has created the elegant, pearl-encrusted wedding cake design in soft mint above left (image by J'adore Love Photography via Style Me Pretty). On the right, we have a beautiful watercolour effect wedding cake in mint tones adorned with natural, botanical style florals (image via Pinterest).
A sweeping sugar bow in pale mint creates a fabulous focal point in the wonderful, antiqued wedding cake design below by Cake Heart Custom Cakes & Cupcakes.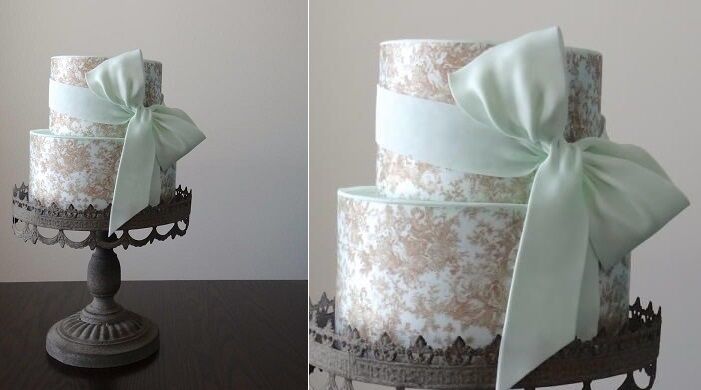 Mint is an elegant colour choice for ornate, baroque period style wedding cakes with two exquisite example below by Nadia and Co. (right) and via Indulgy.com (left).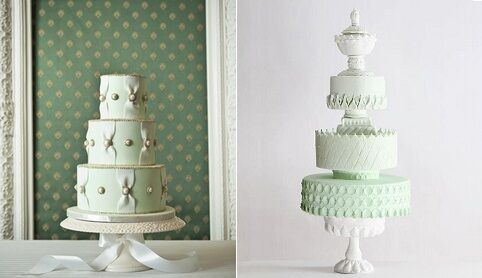 Gold accents work particualarly well with shades of mint for an antique style wedding cake, with a superb design below from The Cake That Ate Paris.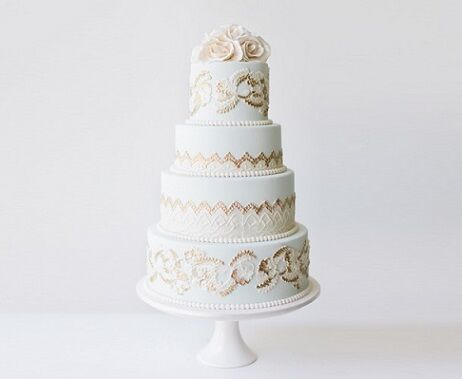 Gold lattice detailing backdropped with mint creates a luxe, old world wedding cake design with beautiful examples below from Madisons on Main (left) and via Pinterest (right, image by Alison Conklin Photography).
A lavishly decorated mint and gold cupcake below by The Fabulous Cake Girls, San Diego.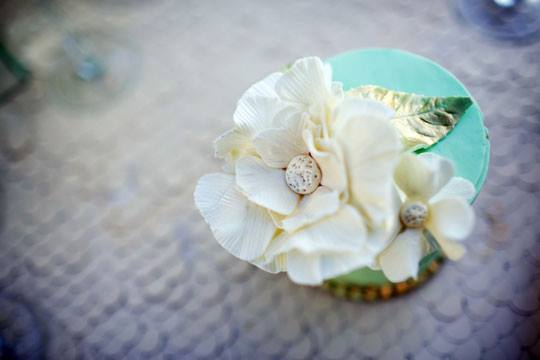 A smattering of gold leaf creates a beautiful aged effect in the vintage mint wedding cake design below (image by Awake Photography via Green Wedding Shoes).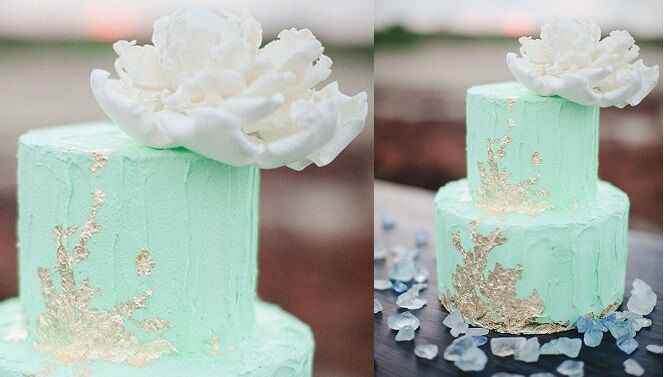 A beautiful lace trimmed tier works wonderfully with metallic accents in the cake design below by Brisbane's The Flour Girl, (image by Sharzy O Photography) with a fabulous boho style bridesmaid dress in mint from Etsy.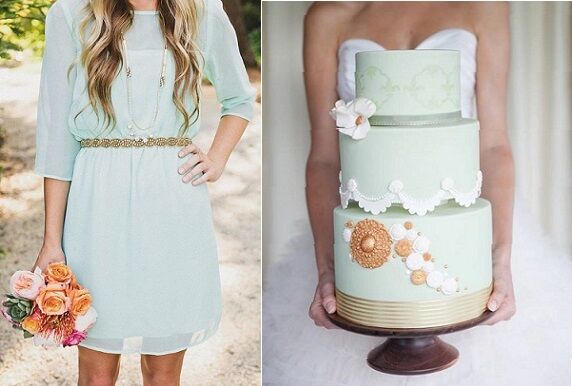 Nadia & Co. have done is again with a stellar display of French baroque inspired wedding cakes and desserts below in a beautiful mint, ivory and gold colour palette.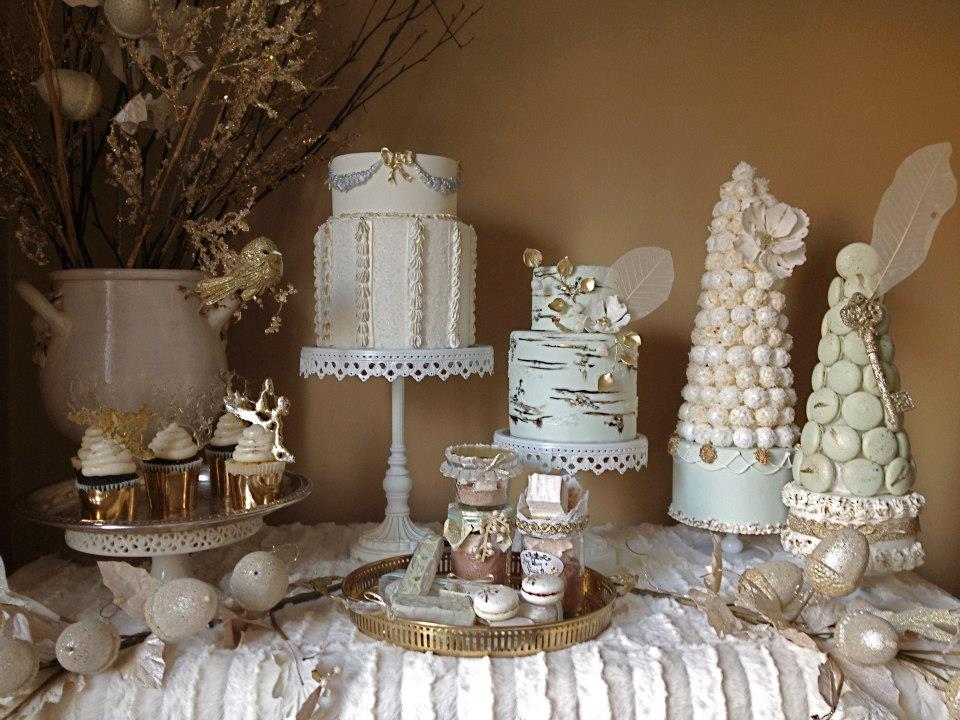 Blush pink pairs beautifully with shades of mint for a touch of vintage elegance with a divine wedding cake in mint below by Erica O'Brien (right), and beautifully decorated cupcakes (below left) by Sugar Boy Ed.
Fondant feathers and mint frills create a unique wedding cake design below, the exquisite work of Megan Joy Cakes.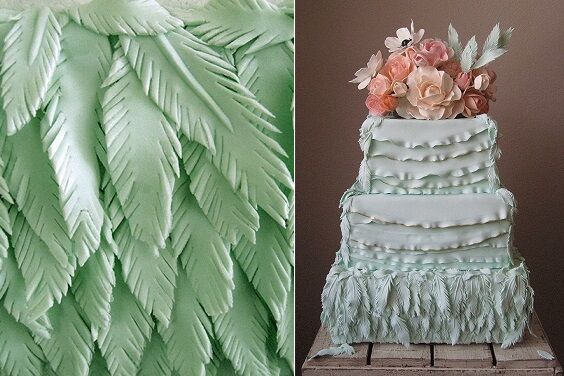 Tiny gold polka dots and a vintage dahlia creates a pretty wedding cake design in mint below left (image via Wedding Chicks), and on the right, a pair of woodland owls make a terrific wedding cake topper for this beatuiful mint, ruffled wedding cake (image via Style Me Pretty).
Subtle lace trim and lacy garden flowers add elegance to the mint wedding cake design (below left) by Cathy's Sweet Creations (image by Cassandra Photography via 100 Layer Cake ), and on the right, pink parrot tulips and rosebuds compliment a pretty mint ruffled cake design by Cakes by Christine NY.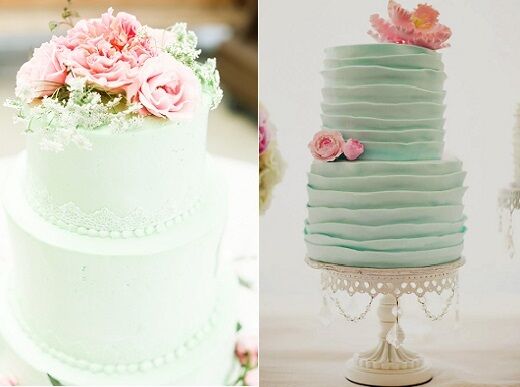 Textured buttercream and a vintage banner cake topper work wonderfully together (below left image, by Birds of a Feather Photography), and on the right, a single shade cupcake decoration in mint adds an elegant touch (image via Pinterest) to a wedding cake display or dessert table.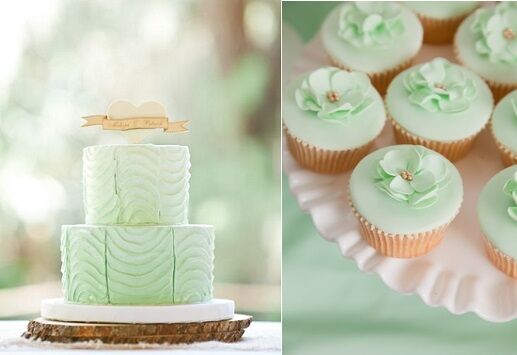 Doile lace and rosette ruffles create a feminine wedding cake design in mint complimented with soft peach florals in a pretty design by Sweet Love Cake Couture, Australia.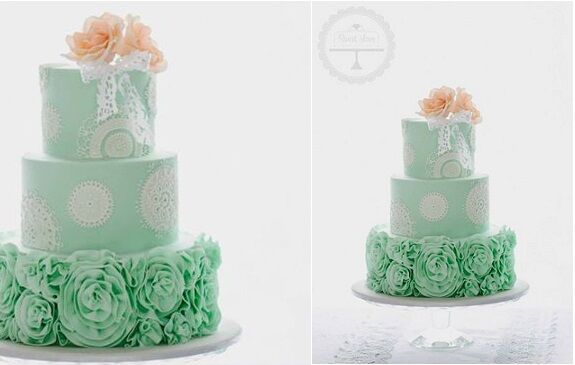 Readers may also be interested in our features on:
Coming Up Next: Chandelier Wedding Cakes
Join the Cake Geek Magazine Facebook Page here for more on cake trends and style updates.