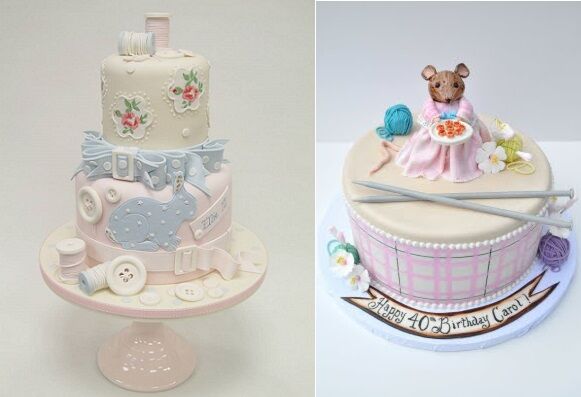 Sewing, knitting and crafting cakes are having a moment right now in the world of birthday and special occasion cakes with the fabric arts enjoying a parallel resurgence with baking and the art of cake decorating.
It's a great cake design idea for retirements, Mother's Day and grandparents' special occasions too.
Our feature cake above (left) is a beautifully elegant sewing cake by Emma Jayne Cake Design in her trademark pastel perfection palette with exquisite attention to detail. On the right, The Cake Mamas bring a touch of Beatrix Potter to her imaginatively pretty knitting cake design with a classic gingham side design.
A Cath Kidson-inspired floral knitting basket overflows with marvellous sugarcrafted details onto a woodgrain board in this terrific cake by Laura Jane Cake Design, below left. On the right, Orietta Basso incorporates a cast of sugarcrafted characters in her sewing themed cake again in splendid detail.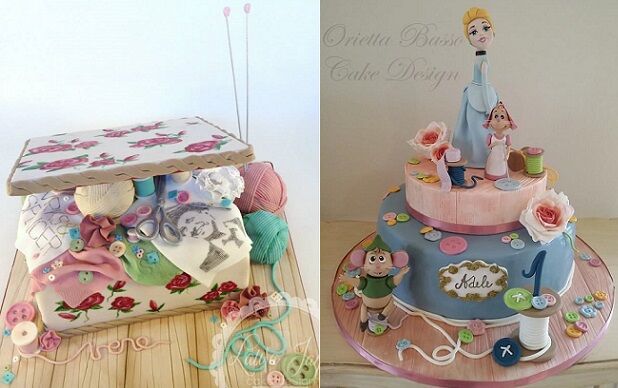 Knitting and sewing accessories in pastel shades are artfully strewn across this pretty cake by Mrs Bakes of Gosport, perfect for a special crafter's birthday or as a Mother's Day tribute.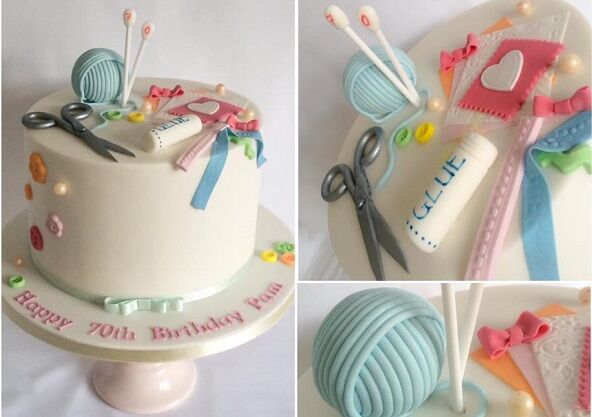 Two fabulous knitting cakes feature below – a beautifully detailed knitting basket by Eat Cake Party (left) and a pretty quilted design (right) by Truly Scrumptious Cakes.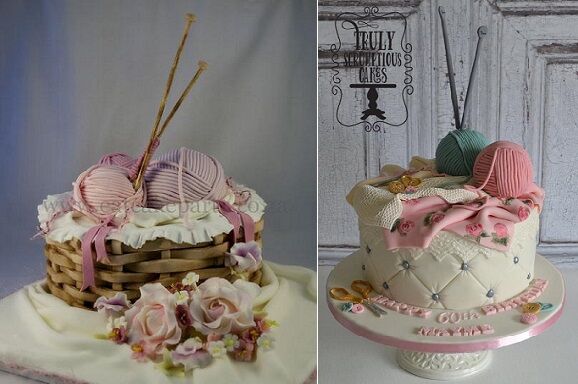 Another of Dot Clerk of Eat Cake Party's almost photorealistic cake designs – a lavish crafter's basket and balls of knitting wool design on a fabric effect board with scattered buttons and a pretty floral accent.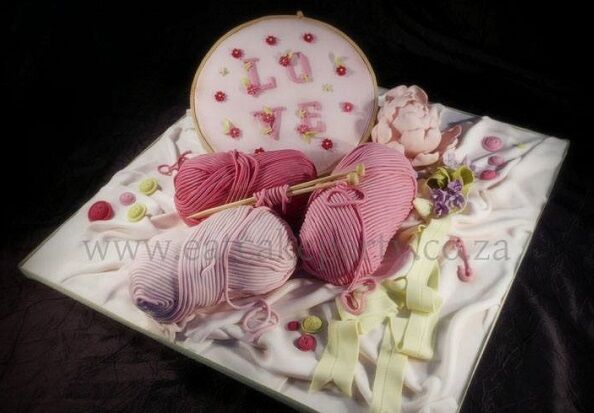 Crafty cupcakes for Mother's Day feature below in a palette of purple and lavender with pretty fabric effect embossed details by Cakes by No More Tiers, York.
Pastel buttons and ric-rac ribbon make a pretty side design for this crafting cake with rag doll cake toper by Sonhos de Encantar Bolos Decorados (left), while on the right, Angela Tran of Sugar Sweets Cakes and Treats have created a knitting basket cake tutorial which she shares here: knitting cake tutorial.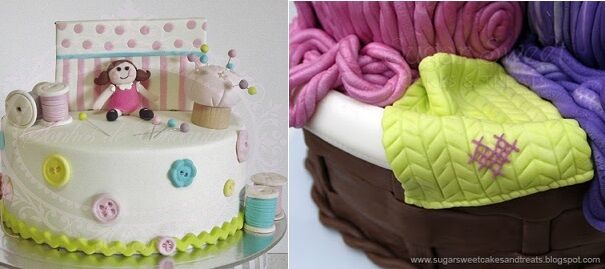 A crafter's basket cake complete with a bottle of sherry for a comedy touch makes a great cake design from Cake That Bradford (below left), while a miniature sewing machine and eyelet lace/broderie anglaise trim make incredibly pretty details on this Red Carousel design, below right.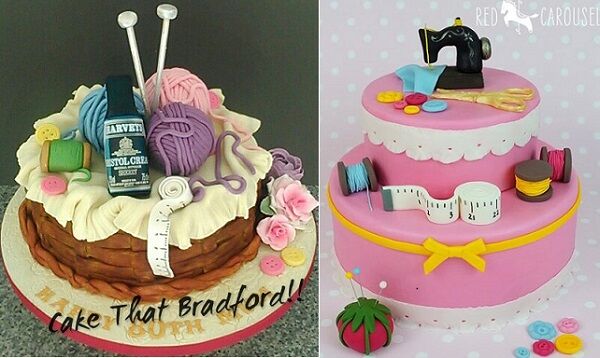 A 3D sewing machine in cake is guaranteed to take any crafter's breath away with the design below by Mrs. Bakes of Gosport, and on the right, a brilliantly imaginative set of cake toppers/sugarcrafted balls of wool from Handmade Charlotte.
Below, Mrs Bakes of Gossport takes you through the steps in creating her sewing machine cake above.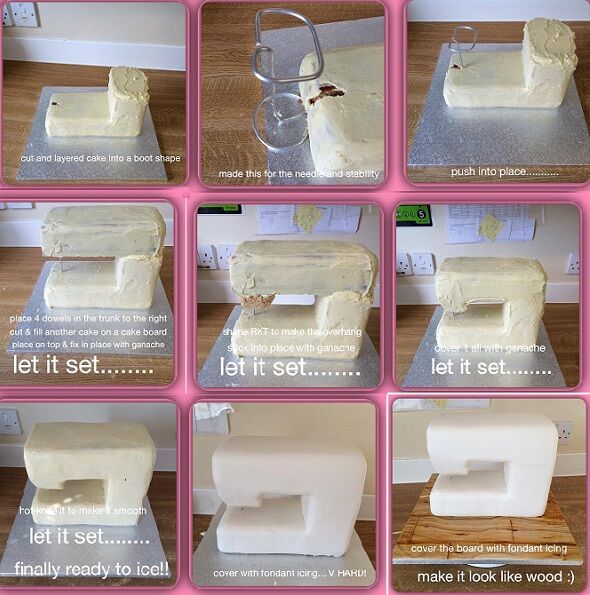 The New Dehli Cake Co. have created this beautiful sewing themed cake for dressmaker or crafter's birthday complete with dressmaker's dummy/mannequin and an embroidery frame with the birthday greeting. Coordinating cupcakes on the right bring an extra touch of elegance to this pretty party display.
The outstanding sewing box birthday cake below was created by Enna's Cake Design in magnificent detail, right down to the gingham lining, butterfly embossed sewing box and pretty hexagonal tiling on the board.
While the beautiful cupcakes below are slightly off theme, we nonetheless think they make a magnificent birthday gift – what baking fanatic wouldn't love these for Mother's Day or a special birthday. What inspired us to include them in this week's collection is that they would look equally fantastic with miniature sewing machines for a crafting themed party. These miniatures were created by The Cupcake Lady/Janet O'Sullivan Cake Design and inspired by Cakes by Lorinda.
On the right, a sugarcrafted sewing machine makes a wow cake topper on this funky red and white polka dotted cake by Dulces Bocados por Karla P.
This wonderful vintage Singer sewing machine was crafted by Edible Essence Cake Art right down to every antique detail. To learn how to recreate your own antique 3D sewing machine cake, check out Zoe Clark's book – Chic & Unique Vintage Cakes– for full instructions.
The traditional art of embroidery provides the inspiration for this wonderful Tortasticarnia cake design, with the cake cleverly fashioned as an embroidery hoop and surrounded with scattered sewing notions and tools.