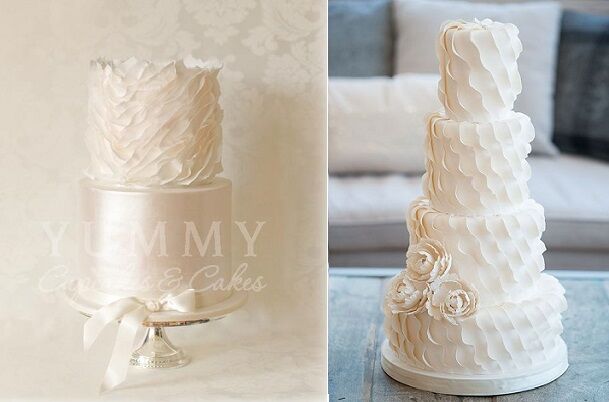 Ruffle wedding cakes and fondant frills are among the hottest wedding cake designs right now, but the latest twist on this design style – asymmetrical and vertical ruffles and frills – is the one of the most fabulous wedding cake trends for this year.
Australia's Yummy Cupcakes and Cakes lead the way with their exquisite ruffle wedding cake design (above left) with asymmetrical ruffles arranged in a v-shape for a unique and outstanding new wedding cake design.
To the right, Bobbette and Belle have created a softly ruffled masterpiece with cascading ruffles in an asymmetrical pattern for a superb cake design.
The UK's Cakes By Beth have created the marvellous fondant frilled wedding cake below left, accented with frilled sugar flowers for added effect. And on the right, Miss Shell's Cakes, Australia have combined vertical and asymmetrical ruffles in their pretty creation below.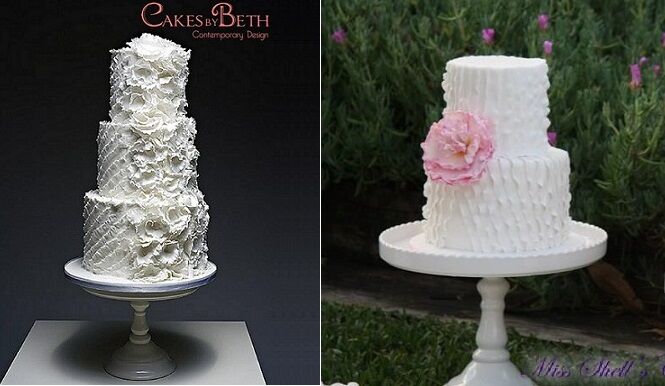 More of Patricia Hardjopranoto's signature asymmetrical ruffles in the luxe silver leaf wedding cake below from Yummy Cupcakes and Cakes, this time with the ruffle tips lightly dusted in pink to complement the over-sized sugar peony.
Cakes by Krishanthi have desinged the stunning peach wedding cake below – with a fabulously creative style of vertical, folded ruffles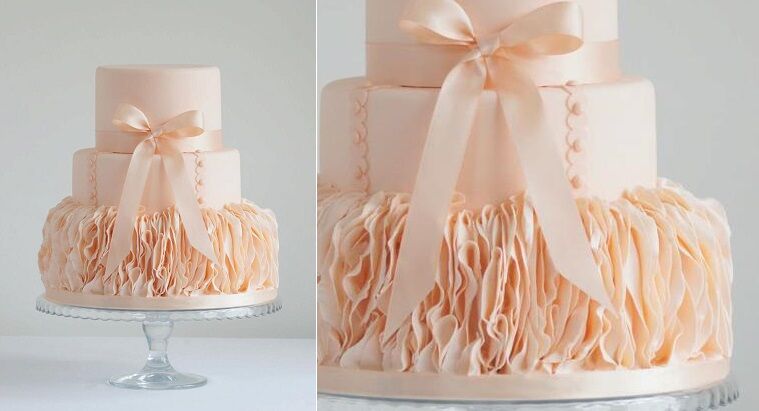 US designers, Steel Penny Cakes have created the wonderfully unique vintage style wedding cake below with verticial fondant frill details paired with old style lace, sugarcrafted roses and butterflies for a fabulous summer wedding cake.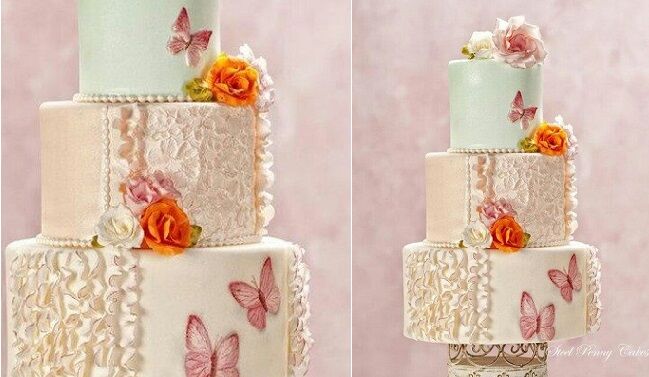 Jorge Blanco of Sugar Couture Cupcakes & Cakes, Costa Rica creates some of the most elegant ruffle wedding cakes including the beautiful peach design below left.
To the right, we have "peaches and cream" themed wedding cake accented with vertical fondant frills in a gorgeous design by Amy Cakes (image by BRC Photography via Magnolia Rouge)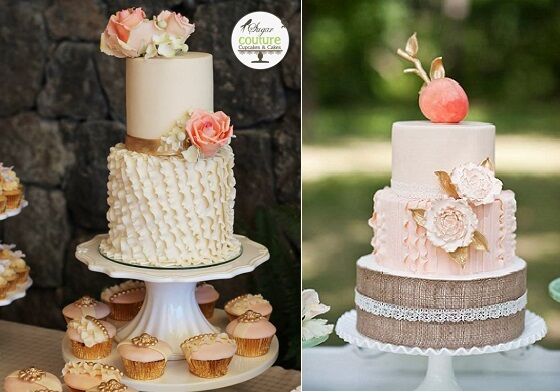 More beautiful asymmetrical ruffles from Yummy Cupcakes and Cakes, Sydney – this time in an inverted v-shape and paired with elegant piping and a beautiful sugar flower spray.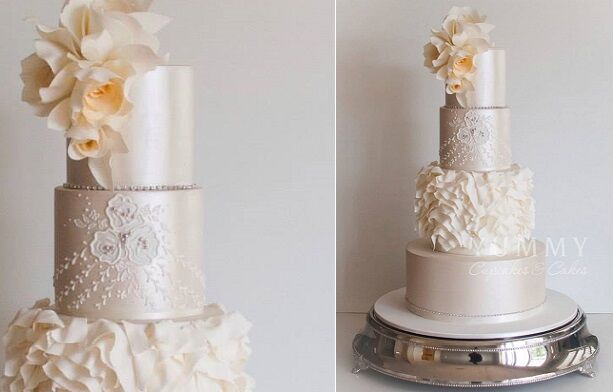 A beautiful vertical frilled design below by Sugar Couture Cupcakes and Cakes.
Another pretty fondant frilled peaches & cream design below left, this time from Connie Cupcake Luxury Cakes, and to the right and asymmetrical ruffled sash in a unique design by Cake by Kim, Australia.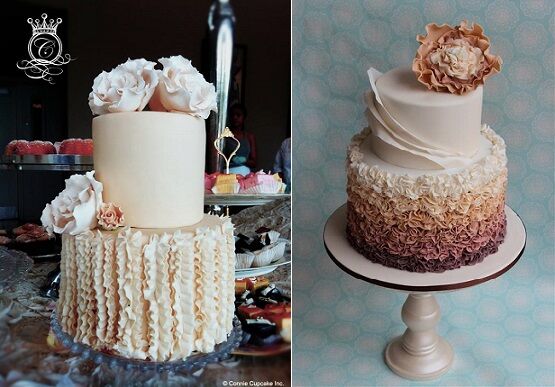 Asymmetrical fondant frills enrobing the full cake, coming together in the centre and dressed with an elegant leaf and floral spray, in a design by Jeanne Winslow via Cakes Decor.
Nana e Nana Cakes, Italy created an elegant ruffled wedding cake (below left) with fondant frills draped in an asymmetrical pattern for a couture creation (image by Maria Cristina Casati).
Below right, a dramatic rippled effect wedding cake in blush pink by Lulu Cake Boutique.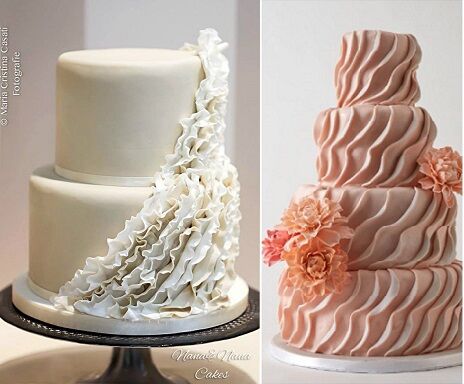 1920's vintage glamour is conjured up in the showpiece design below by Melissa L'Abbe, with a statement fondant feather paired with on-trend asymmetrical ruffles (image by Rowell Photography).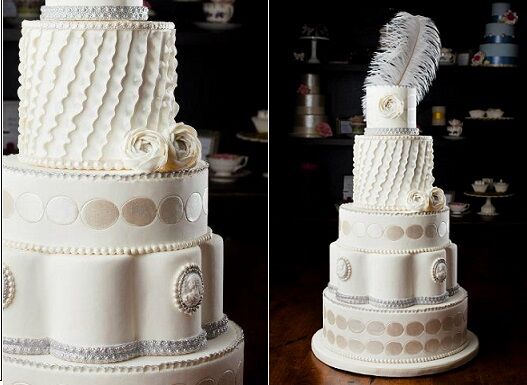 Our final ruffle wedding cake design is a beautiful creation by Sugar Couture Cupcakes and Cakes featuring a ruffled collar on the top tier complementing asymetrical ruffles on the extended middle tier.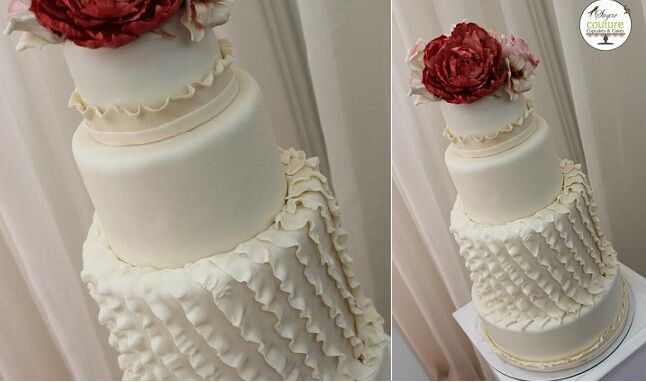 Readers might also be interested in the following features:
Check out Cake Geek Magazine on Facebook for more inspiration on cake design trends.
Coming Up Next: Doile Lace Cake Designs