A vintage pearl decorated cake exudes lady-like elegance whether it's for vintage glamour themed wedding or a sophisticated birthday party celebration.
The two elegant examples above are right on-trend for a lavish vintage themed wedding from vintage style experts, Cotton & Crumbs on the left, and from Penny Stankiewicz's Sugar Couture, on the right.
To get those rows of bearls perfectly even, it is essential to use a pearl bead maker/peral mould rather than trying to handpipe pearls individually to the exact same size. The mould can be dusted with pearl lustre powder before adding your sugarpaste/fondant to get that authentic oyster shade. Check your local cake decorating store for their selection of pearl bead makers.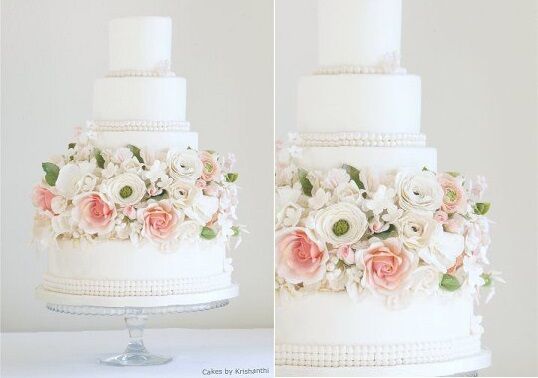 UK wedding cake experts, Cakes by Krishanthi have combined lush florals in soft coral and blush tones with strings of pearls for a beautiful English garden inspired design above.
One of the UK's most accomplished sugar artists, Lynette Horner of Nice Icing has designed the stunning vintage wedding cake below in elegant white and ivory tones, dressed with sugar lace, statement corsages and pearl beads for a beautiful, old world effect.
Nadine's Cakes in the Netherlands are the masters of the pretty single tier cake and their little mint beauty (below left) topped with a coral sugar flower, trimmed with pearl beads and a touch of gilded gold, is a perfect example.
Top Canadian wedding cake designer, Kat Campbell of The Cake Whisperer, has designed a selection of vintage pearl cakes for her current wedding cake collection, the first of which is her fabulous watercolour effect wedding cake design, below right.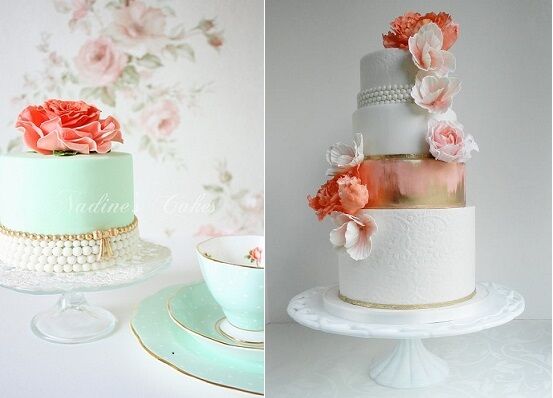 The UK's Clever Little Cupcake Company have a beautiful portfolio of cakes including the lavishly decorated pearl beaded wedding cake, below left. To the right, we have another pretty example from Nadine's Cakes that would make a beautiful celebration cake for lots of special occasions.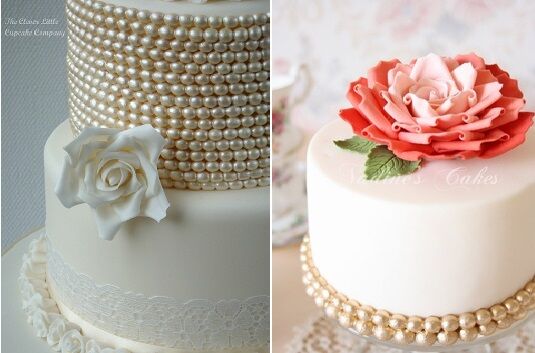 Sweden's Lina Veber has designed the stunning pearl beaded cake below in striking black giving it a contemporary edge, while the pearl beading and antiqued gold accents give it a beautiful vintage style charm.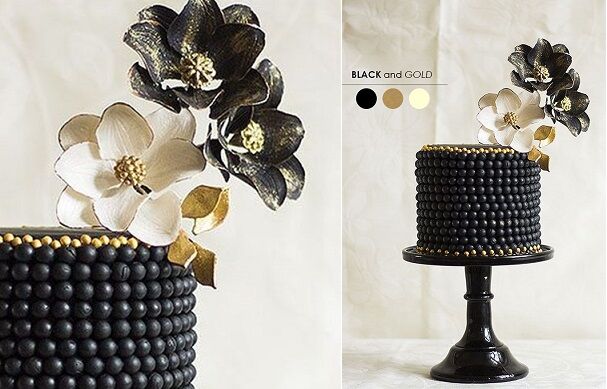 In the second of our Cake Whisperer designs (below left), pearl beading is combined with smart pleats and shades of vintage dusky pink for a unique wedding cake design.
To the right, Mina Magaiska Bakverk (Sweden) have designed an exquisite single tier cake in pastel pink, accented with a vintage sugarcrafted cameo and pearl trim. (You'll find more on cameo cakes in our earlier feature here: Cameo Cakes).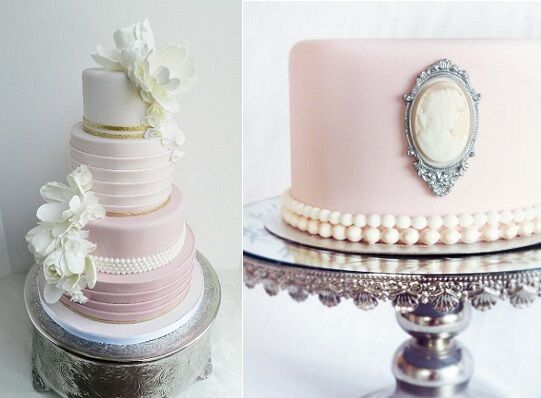 Our final Cake Whisperer design below incorporates a soft watercolour effect, vintage lace piping, softly shaded sugar flowers and rows of pearl beads for that essential touch of lady-like elegance.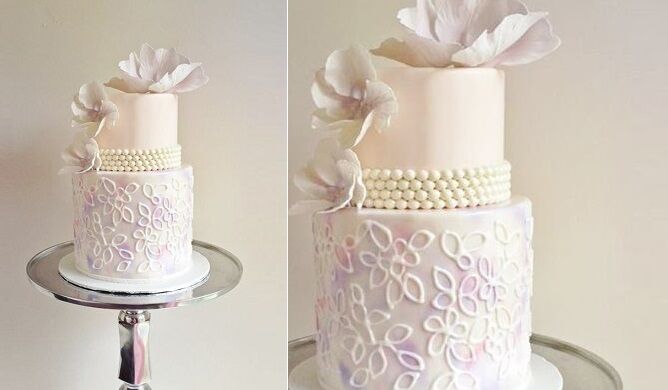 Powder blue is an exquisite, regal colour with which to pair elegant pearl adornments, as our two beautiful examples below show from Nadine's Cakes (left) and from One Gateau (right).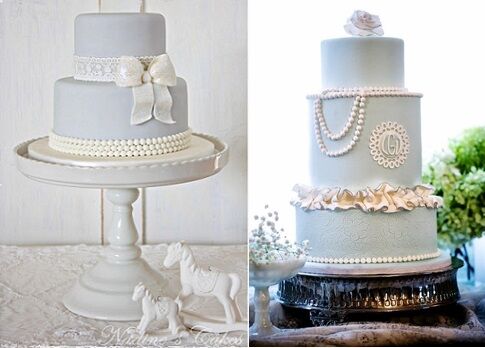 A very striking vintage pearl wedding cake below by Germany's wonderful Pasteles Alma, featuring an antique style handpainted floral cameo for true vintage elegance.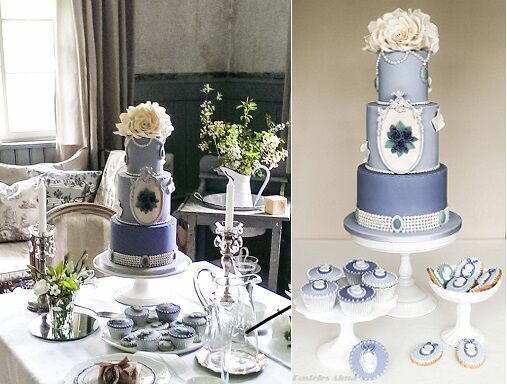 Delicate lace, a string of pearls and a single blush sugar rose is all your need to create a superbly elegant celebration cake as the beautifully crafted example below from Cupcake Elegance demonstrates.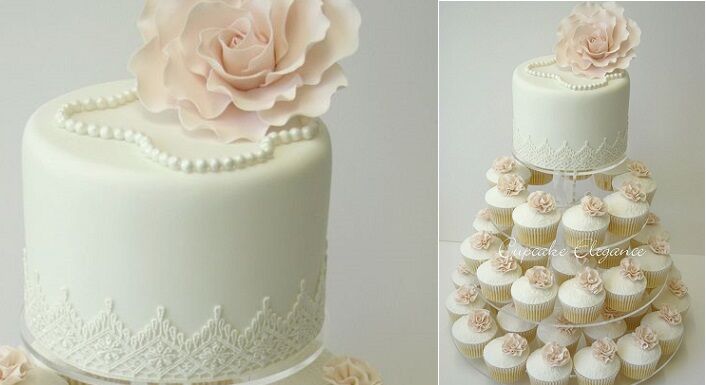 Our final vintage pearl wedding cake is the striking vintage wedding cake below from Nice Icing – a unique design incorporating vintage style with a feminine colour palette, making a beautiful wedding cake centrepiece.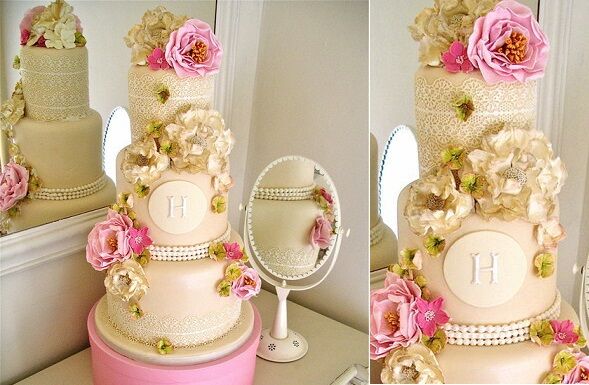 Readers might also be interested in our features on:
Coming Up Next: Ballet Cakes for Little Ballerinas
For Cake Geek updates, just add Cake Geek Magazine to your Facebook "likes" and we'll let you know just as soon as a new feature is published! You'll find us here at: Cake Geek Magazine Facebook Page.