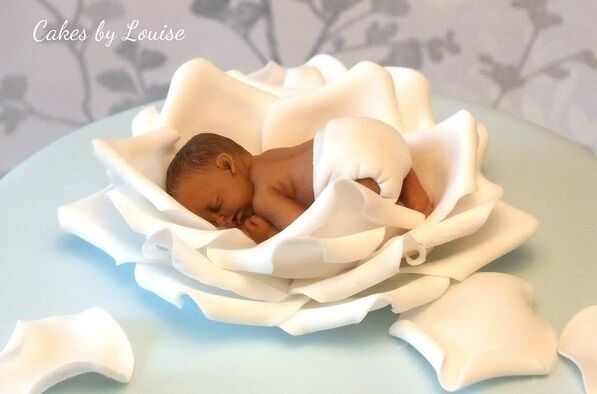 When it comes to adorable cakes, there are none more adorable than baby cakes and christening cakes. And our feature cake above by Louise Jackson Cake Design captures this perfectly.
What makes this baby model so life-like is the expert colouring applied, as well as the beautifully crafted sugar rose the baby is cradled in.
To recreate this baby model, First Impressions have a wonderful sleeping baby mold
available here and you'll find an excellent tutorial here from Happy Cakes by Renee on colouring/adding depth and skin tone to the model: baby model tutorial.
A close second when it comes to the cutest ever baby cake themes, is a little boy or girl cake topper holding their new born brother or sister. And Diletta Contaldo has designed a fabulous take on this theme above in baby blue.
Mischevious little babies who look like they're up to something or could be any minute are another favourite, with two precious little examples below by boy model baby cake topper by Sharon Wee Creations (left) and the Kleine Zuckerfee blog (right).
A little bundle of cuteness snuggled in a fluffy bath towel features below by A Touch of Magic, Ireland (left), with super cute double trouble twins on the right by Cake Art by Lauren. (For instructions on how to create a Bathtime Baby cake, check out Lindy Smith's book: Celebrate with a Cake
).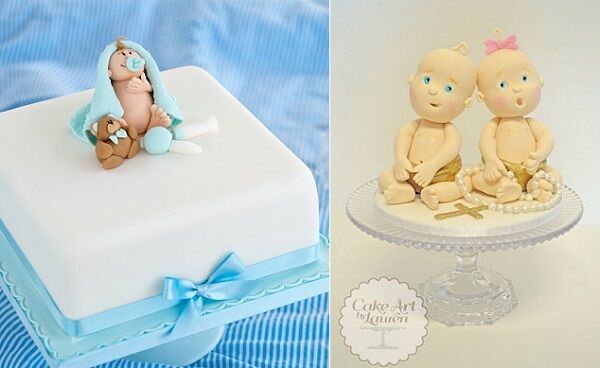 Richard's Cakes captures baby cuteness perfectly in their super topper (below left), with another expertly crafted little tyke from the Renshaw Modelling Magic Demo (as photographed for the Cake and Bake Show Newsletter Feb 2014).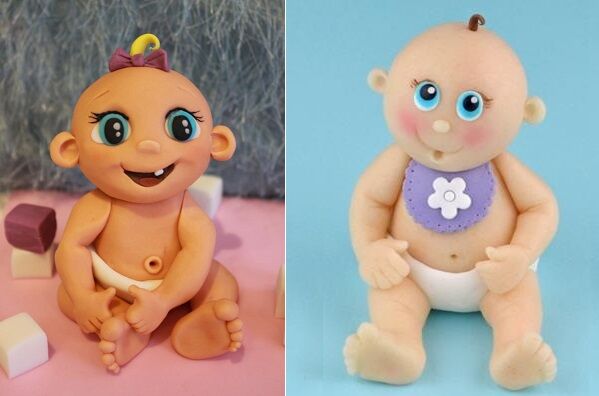 A selection of miniature baby models make a wonderful collection by Sachi Cakes (below left), with a fantastically cute toddler topper by Tortas Monica, Peru (below right).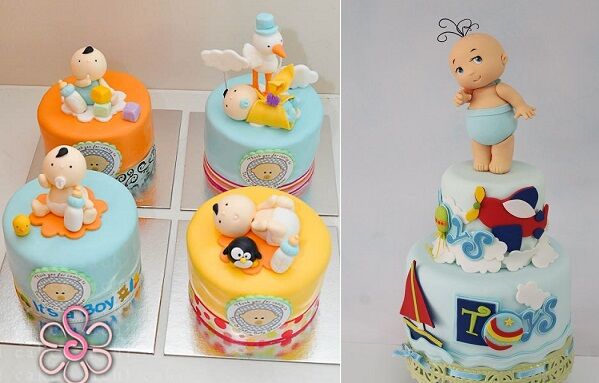 Verusca Walker illustrates how to re-create her exuberant little baby model in the picture tutorial below.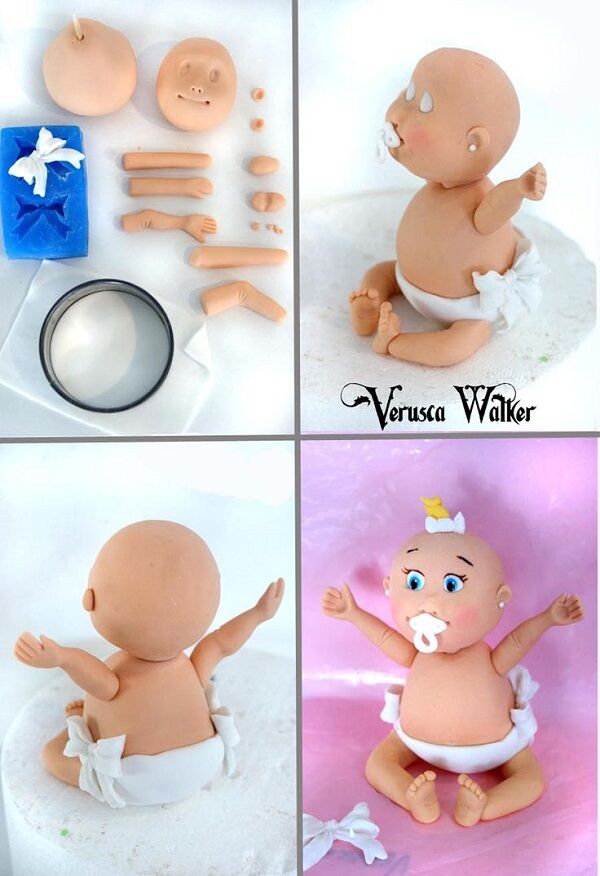 Beautifully finished sleeping baby cake toppers feature below by Edible Sugar Art and Cupcakes by Kirsty.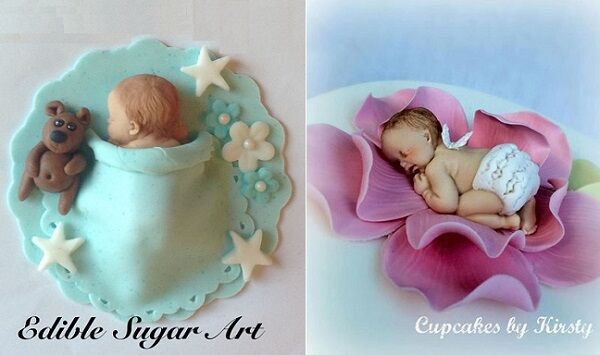 More cute little details in this super sweet baby model from Dina's Cake Toppers on Etsy (left) and a snug-as-bug sleeping ladybug cake from Molly Coppini (right).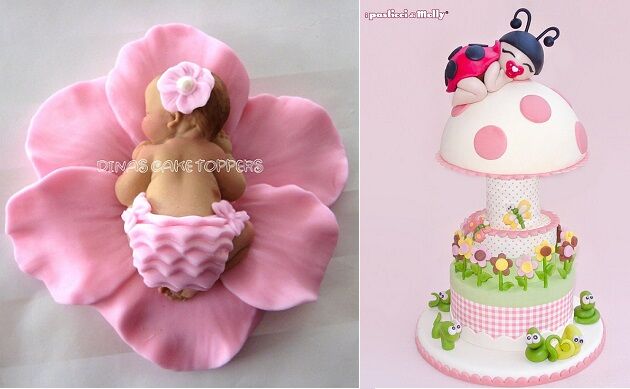 Crawling baby cake toppers are another favourite baby cake theme with an adorable baby model below right by Fat Cakes Design UK, image left via Pinterest.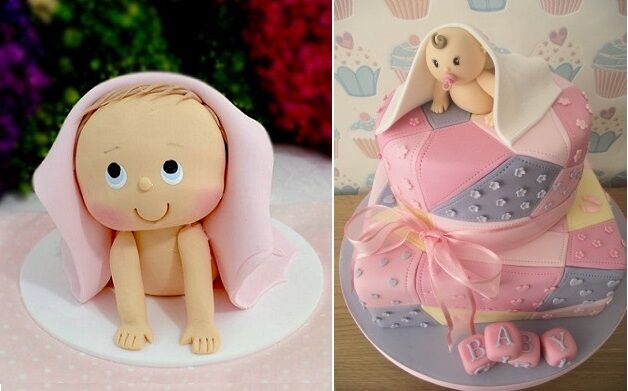 For a eye-catching christening cake, then check our this fabulous baby girl christening cake topper by Handi's Cakes, complete with an beautiful lace christening gown and surrounded by playing teddies.
Next up, Viva La Cake have designed and created this exquisite "Tiny Tears" baby in a teacup cake in a beautiful vintage style cake design.
Kathryn Harris, New Zealand and Crafty Confections, Ireland feature the two beautiful baby girl cakes below in their collections (based on the modelling style of sugar artist, Lorraine McKay of Extra Icing UK).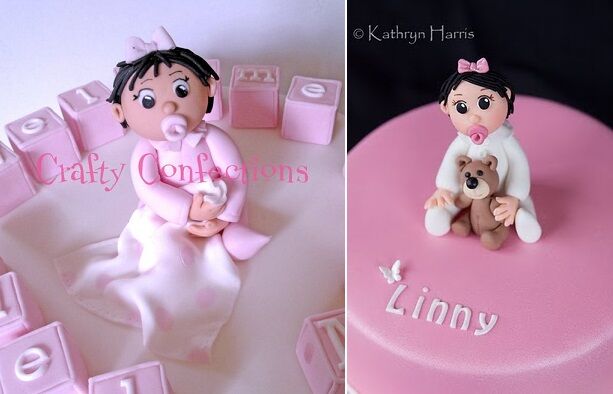 Finally, babies in little animal suits are just as popular on baby cakes are they are in real life with an irrestisble little baby bunny suit cake topper and teddy bear suit topper below (images via Pinterest). For more on how to create fancy-dress baby models, check out modelling expert Frances McNaughten's book here: Modelling Fancy-Dress Babies
.





Readers might also be interested in our features on:
Join the Cake Geek Magazine Facebook Page here for more cake decorating updates.