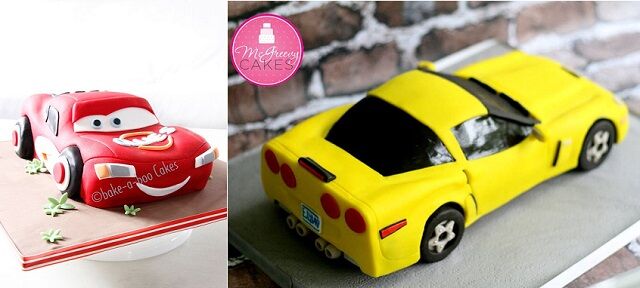 After the last two weeks of doll cakes and princess castle cakes, it's time to turn our attention to cakes for boys. There's no better birthday cake for a boy – whether a little one or a grown-up one – than a fantastic 3D car cake. And we have two of the best above with a snazzy red Lightning McQueen car from Bake A Boo Cake Design (left) and a super hot sports car from McGreevy Cakes (right).
We have some great car cake tutorials for you starting with a Ferrari car cake tutorial here from Cakes Step by Step (below).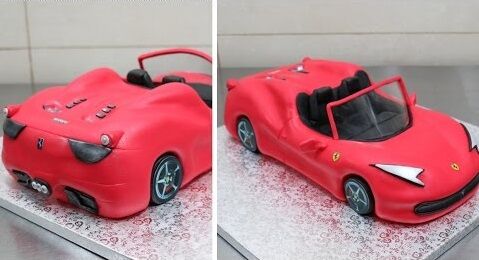 Cake Fu also have a super cool muscle car cake tutorial below by Sweet Grace Cake Designs (no longer available).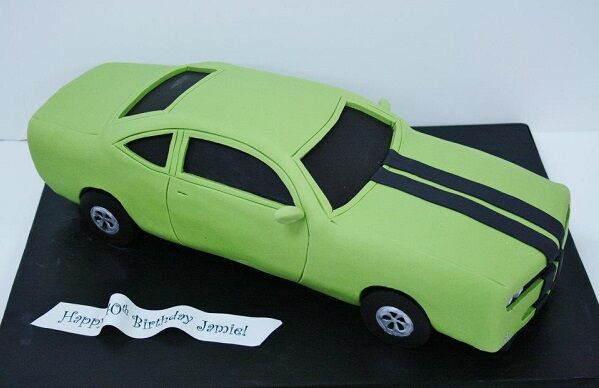 Liz Marek of The Artisan Cake Co. has created the wonderful classic car cake below and shares her tutorial here: vintage car cake tutorial.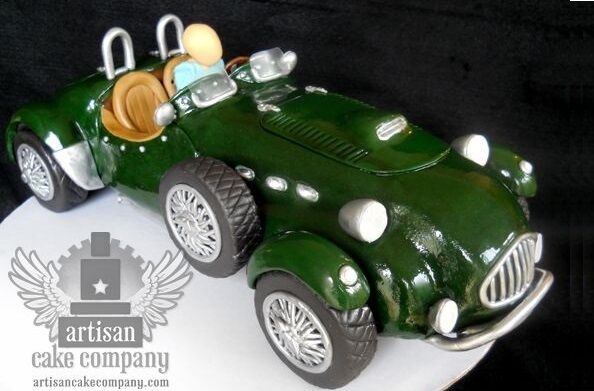 A classic of another kind, the much-loved Volkswagen Beetle, has been re-created in cake by Rhu Strand by Pimp My Cake UK. Rhu has made her great tutorial available here: car cake tutorial VW Beetle (no longer available).
For those new to cake sculpting, the handy chart below will give you a good idea of the general shape you need to cut to create a car cake.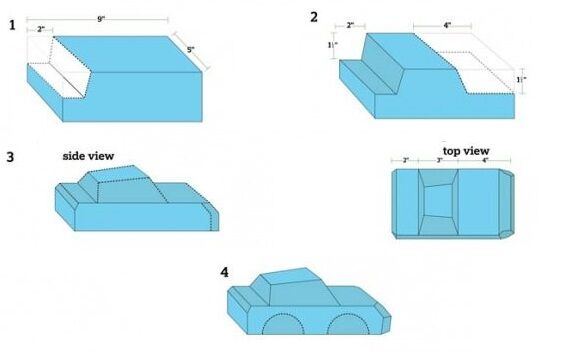 Verusca Walker demonstrates how to recreate Disney's Dinoco car cake here: car cake tutorial.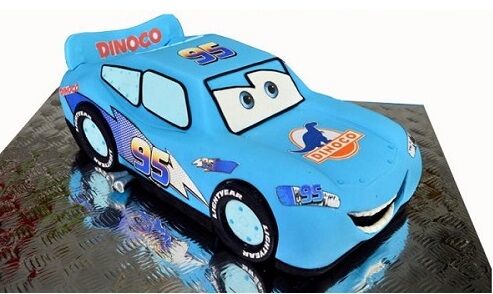 And Ann Reardon of How To Cook That shows how to make her Lightning McQueen cake here: car cake tutorial.
Below, you'll find a simple picture guide for a Lightning McQueen car cake (uncredited via Pinterest) and you'll find more tutorials for car cakes for little boys at the following links: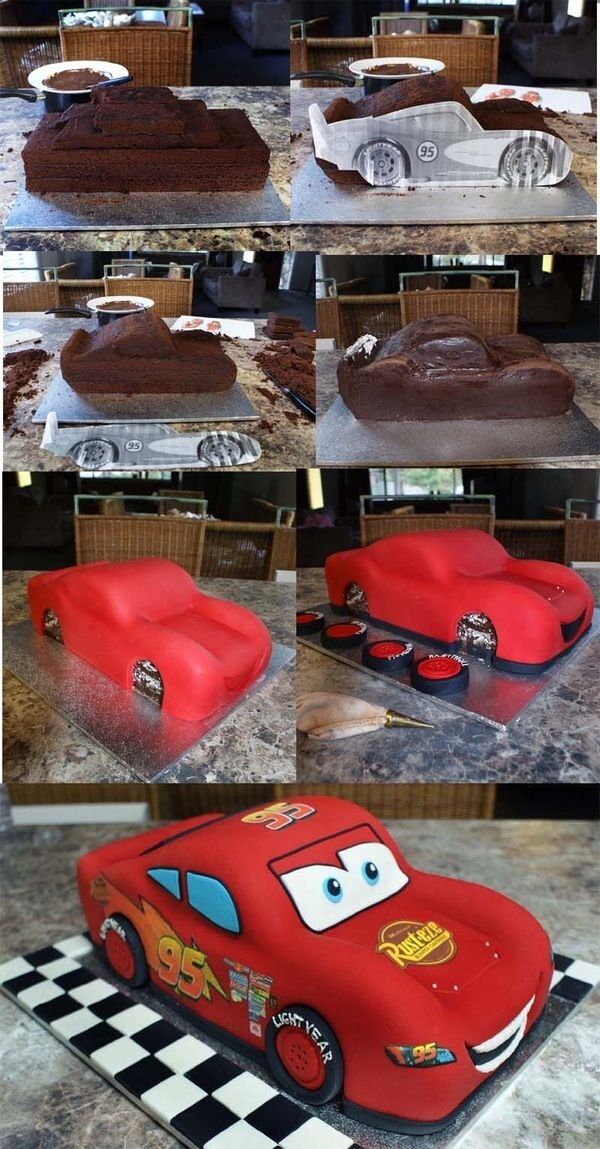 Plus, you'll find more great tutorials here:
Below, the Zuccheri Amo blog show how to create a classic white fiat: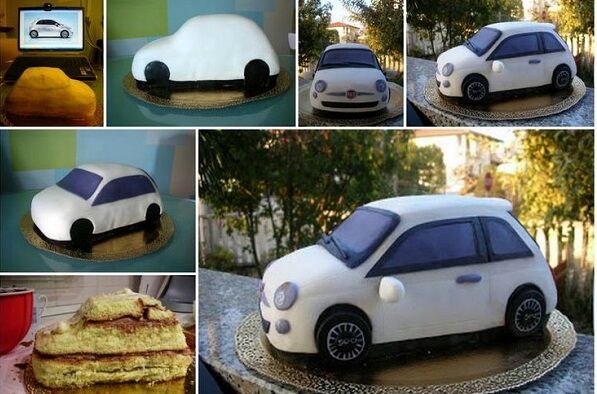 Verusca Walker has created two of her great picture tutorials below for a VW camper van (left) and a saloon style car (right).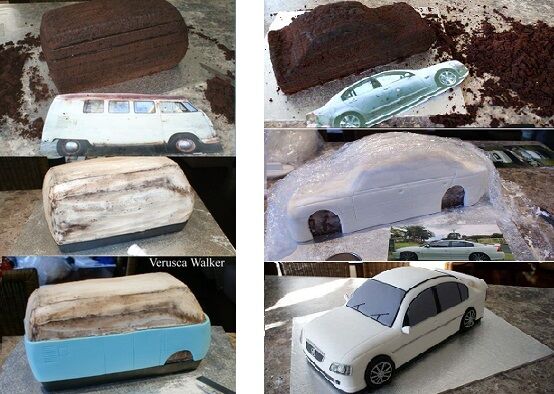 And if it's a Formula 1 fan you're baking for, Zuccheri Amo have another great tutorial below for their Ferarri race car. For a race car cake topper, check out Cake Journal's tutorial.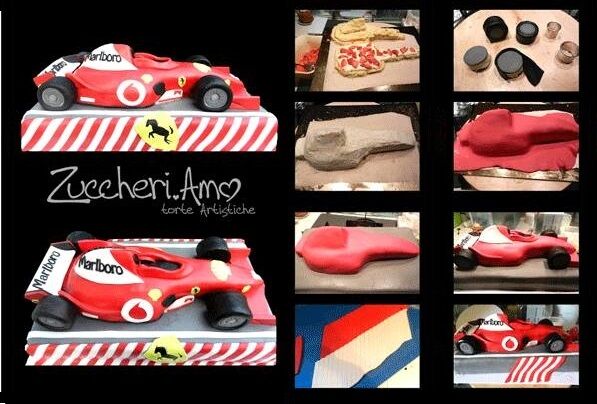 You'll also find a great picture tutorial here for a Jeep wrangler from Yes It's Cake: Jeep tutorial. And the Jessicakes blog has a brilliant monster truck tutorial right here.