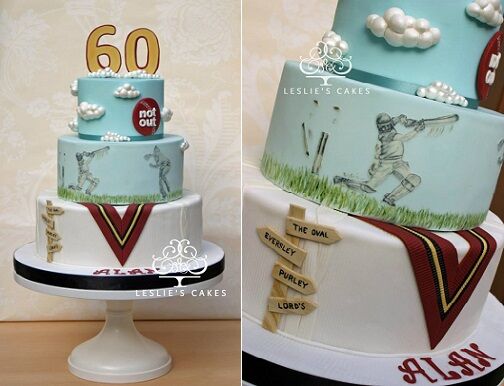 Following on from Sports Cakes for Father's Day Part 1, in Part 2 we're looking a sports from across the pond in the UK and international favourites, starting with Leslie's Cakes fabulously designed cricket cake above decked out with sporting emblems and beautiful "etched-effect" hand drawings, above.
Rugby cakes will be a big favourite with lots of dads and DeVoli Cakes "mud splashed" design below left captured the rough and tumble of the game perfectly below left. On the right, Dot Clerck of Eat Cake Party has created an amazing 3D rugby player cake sculpture in fantastic detail.
A brilliantly conceived rugby scrum cake features below by Designer Cakes (left), with another comedy rugby cake from DeVoli Cakes, below right.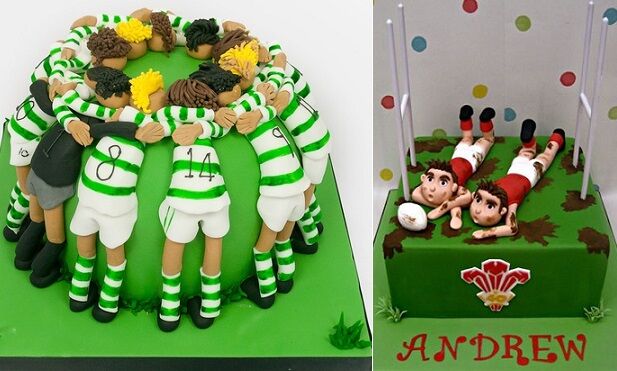 Their club logo emblazoned across a fancy football cake is definitely going to light up the soccer-mad Dad's Father's Day with two superb designs below from BeDazzled Cake Creations (left) and Charlotte Emily Cake Design (right).
Two more fan favourites for soccer-crazy dads feature below from Through The Cakehole (left) and Charlotte Emily Cake Design (right)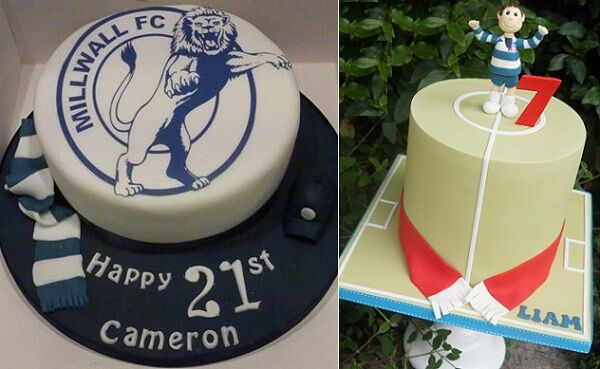 Another of Charlotte Emily Cake Design's super clean designs features below for the footie fan and on the right, an irrestible selection of cute soccer cupcakes in your team's colours from Sweet Dimples Cakes.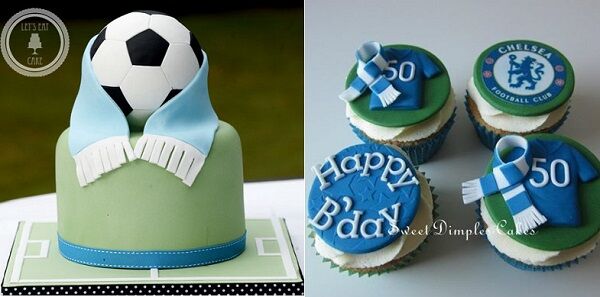 Another beautifully designed set of football cupcakes features below from the Kirsty Wirsty Cake Emporium.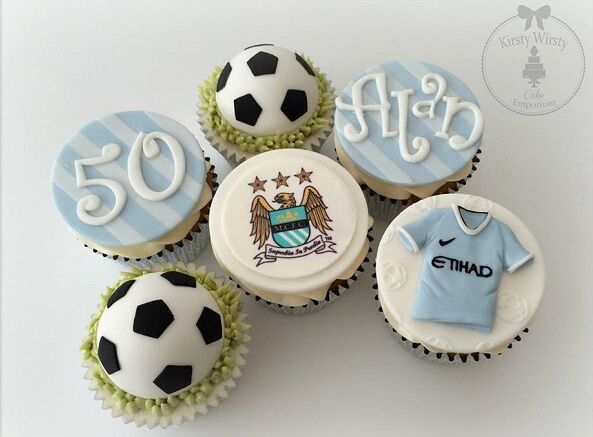 Stella Bella Cupcakes & Cakes demonstrate below how to cover a spherical shaped cake to create a soccer ball cake with the customary hexagonal markings.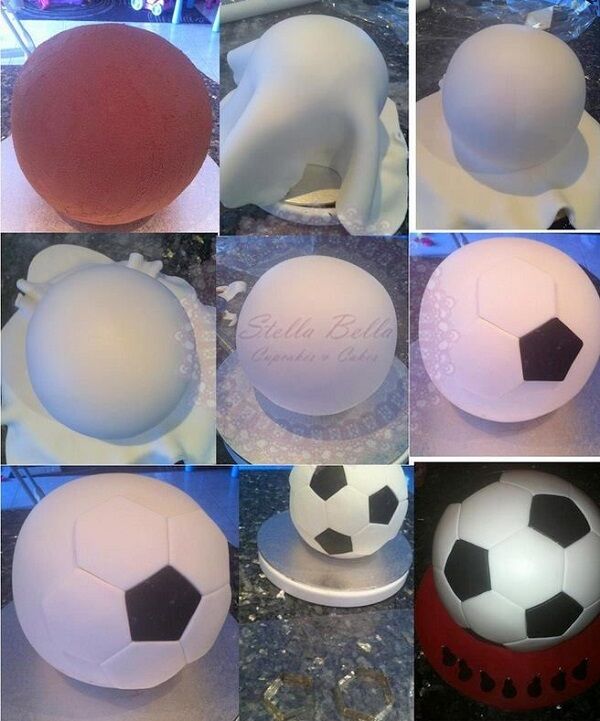 To create a 3D effect football shirt cake, Starry Delights Cakes demonstrate their tricks of the trade in their picture tutorial below.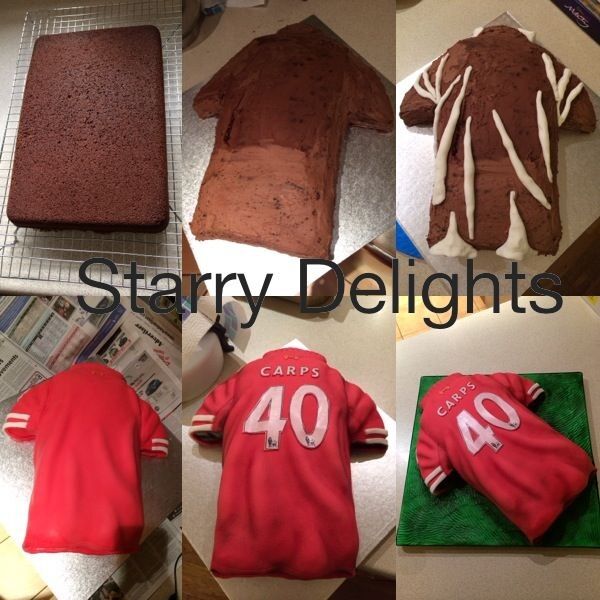 Football fever continues with another great football and scarf design below left from K's Fondant Cakes and a creatively designed tiered cake with trophy cup and cheering fans from Arte da Ka, right.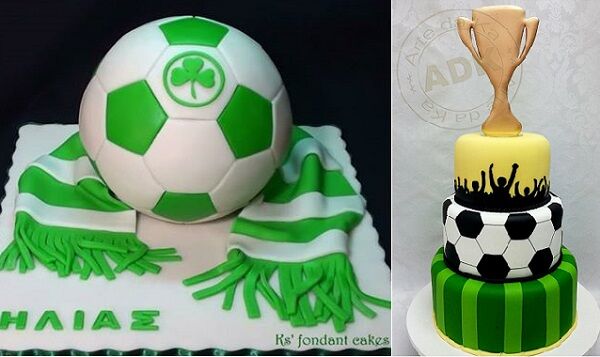 Two more immacuately designed and executed football cakes feature below, this time from The Designer Cake Company (left) and The Magical Cupcake Company (right).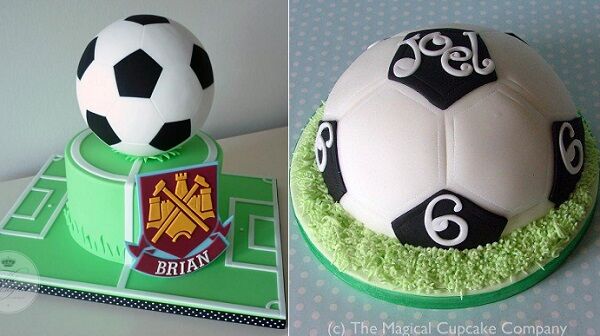 And not to forget the sportsman who likes the quieter life by the riverbank, we have two exquisite fishing cakes below from May Bakes Cakes (left) and The Magical Cupcake Company (right).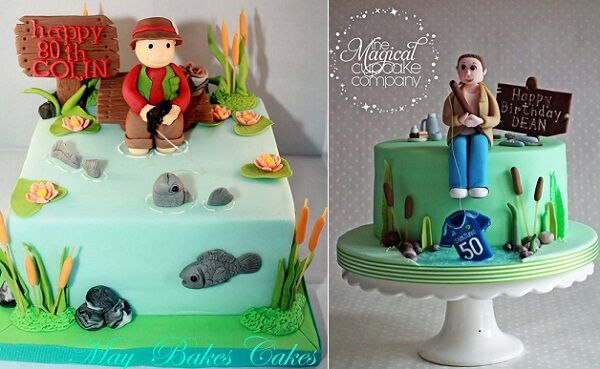 Bella Cupcakes have created this adorable fisherman cake emblazoned with the immortal words "Gone Fishing" making a perfect Father's Day cake design for the outdoorsy dad.
And on the right, super cute fishing cupcakes to match from bloggers Nothing But Country, from their tutorial featured here on Tidy Mom.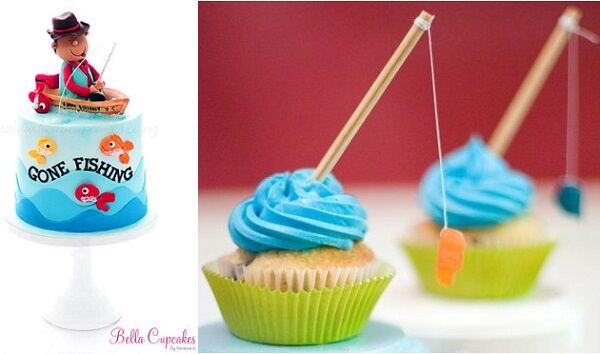 Readers might also be interested in our features on:
Coming Up Next: Floral Wreath & Garland Wedding Cakes