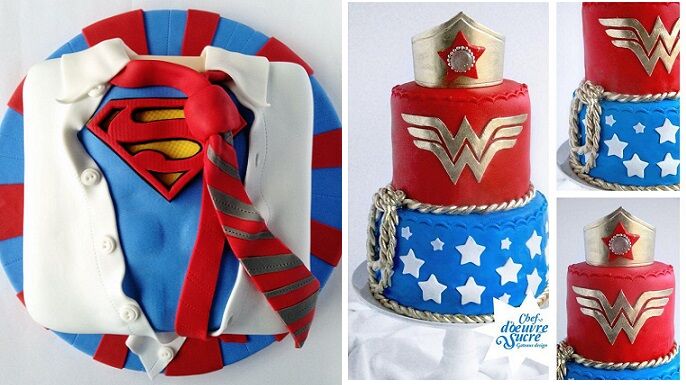 With Father's Day coming up in the UK on June 15th, there's no better way to show your admiration for your Dad than to present him his very own superhero cake! We have a terrific "Superman bursting out of his shirt and tie" cake by Peru's Tortas Late above left – a brilliant piece of animated cake art.
Of course, ladies can be superheroes too and Chef d'Oeuvre Sucre(left) have created a fabulous Wonder Woman cake (above right) for the girl that saves the day.
If time is short, one of the quickest ways to create a superhero cake is to make a cape from thinly rolled fondant to drape off the side of your cake. The Sweet Art Shop, Japan shows how it's done (below left) in their super cute birthday cake design, with another excellent caped crusader cake on the right (image via Pinterest).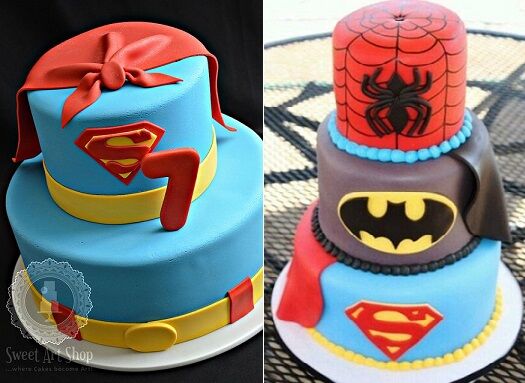 Hope's Sweet Cakes and All The Kings Horses Cake Creations. have created two simple, yet fabulous cake designs below (left and right respectively) that would light up any superhero's birthday party.
Sonho Doce Biscuit created the fantastic little Superman (or SuperBoy) cake topper (below left), with an impressive multi-tiered caped crusader cake on the right by Custom Cakes by Susan.
A Batman mask makes a superb cake topper in the brilliant superhero cake below left by Ann-Marie's Cakes.
On the right, Batman and Spiderman join the birthday boy on top of his cake by Alessandra Frisoni for a terrific comic strip heroes cake design.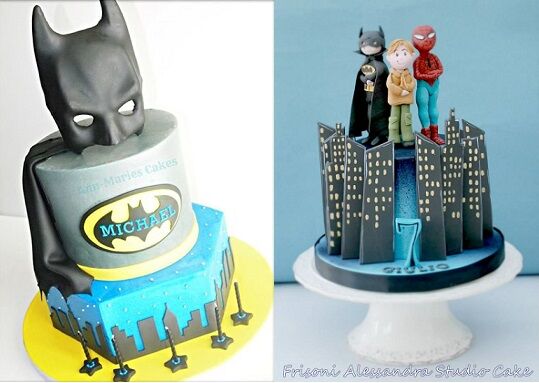 Dark Knight fans will love the fantastic Batmobile cake below right created by Verusca Walker. You'll find Verusca's picture tutorial for this cake here: batmobile cake. On the right, another brilliantly creative Batman cake (image via Pinterest).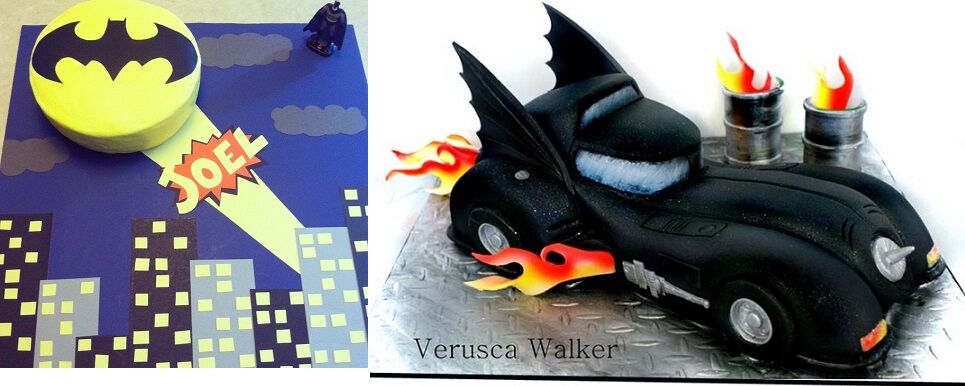 Coralie Lacey, Australia created a fantastic sugar cityscape in her design below left (using the skyscraper windows stencil and the SuperBirthday mesh stencil from Evil Cake Genius), also featuring a super cute little super hero topper.
For the free superhero logo patterns below left, check out the Vanilla Joy blog here: superhero logo templates.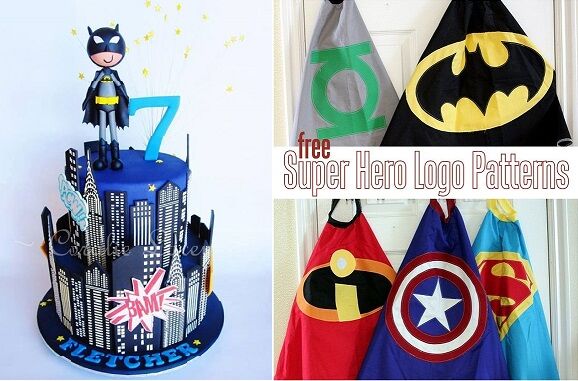 Miss Tartas, Madrid created the brilliant team of sugar superheroes below left and on the right, another super simple and eye-catching design, this time for a Batman fan by Jenny Cookies (below right).
Another fantastic graphic art/comic strip cake below left, this time by Andrea's Sweet Cakes.
Plus you'll find free printable superhero/comic book cupcake topper (no longer available) here from the Anna Potatoes blog (image below right).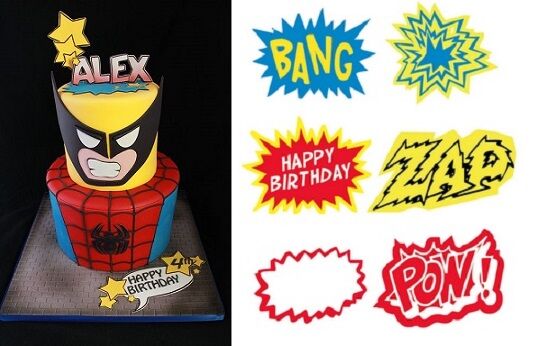 A spectacular Spiderman cake features below left by Catherine's Cakery, Ottawa and on the right, two super cute munchkin-sized superheroes by A Pocket Full of Sweetness, Australia.
Spiderman and Wonder Woman both feature in the joint birthday cake (below left) by Cre8acake, with a great crawling Spiderman picture tutorial on the right from the Minjina Kuhinjica blog.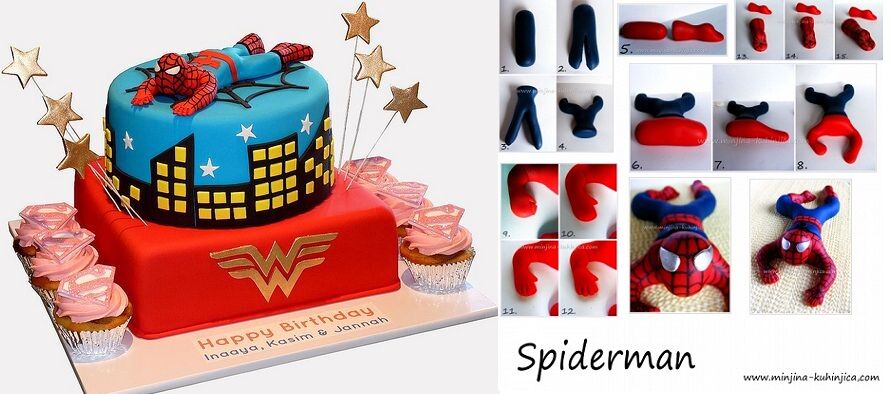 More comic strip capers in cake in the super-charged design below left by Kelli's Kakez and you'll find a tutorial for the rice krispie treats Hulk hand (below right) from Kami Cakes here: sculpted hand tutorial/hulk fist tutorial.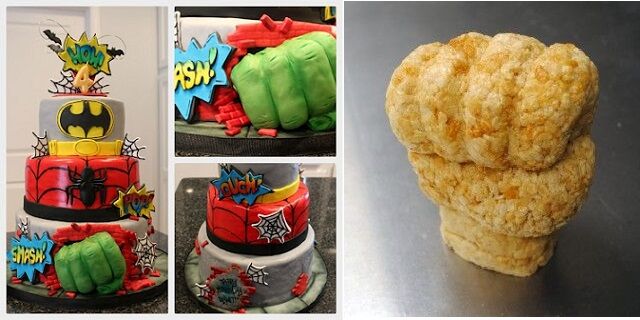 A precision perfect Superman cake from Gay Cakes Australia (below left), with a band of superheroes bursting through the cake (below right) in a high octane design by Cakes Amore, Italy.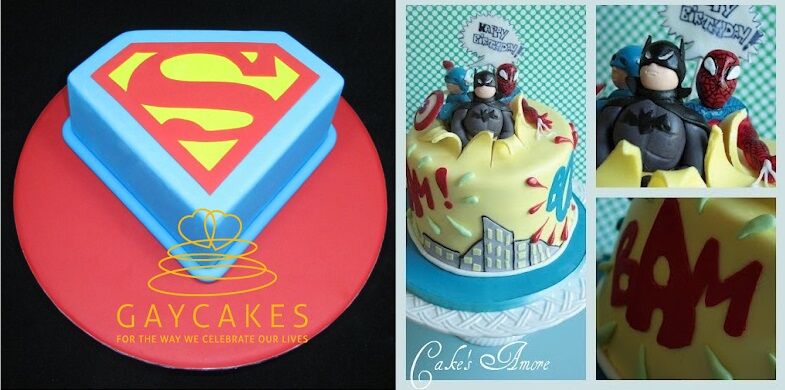 Batman and Wonder Woman make a great couple on top of this brilliant Superhero cake for a comic-strip themed wedding below left (image via Pinterest) and on the right, another superb Superman cake by Just A Simple Cake by Mommy Sue (right).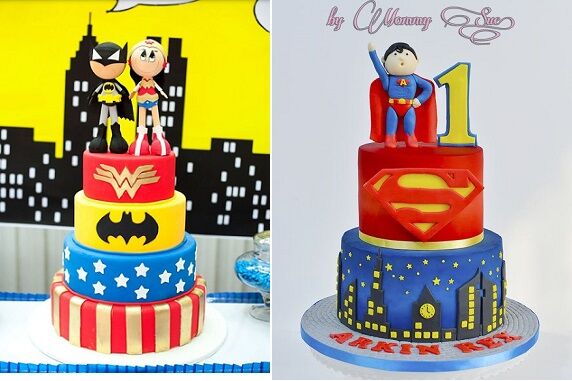 Rouvelee Ilagan of Rouvelee's Creations has created a cute selection of little Superhero kids below – Wonder Girl, BatKid and SuperBoy!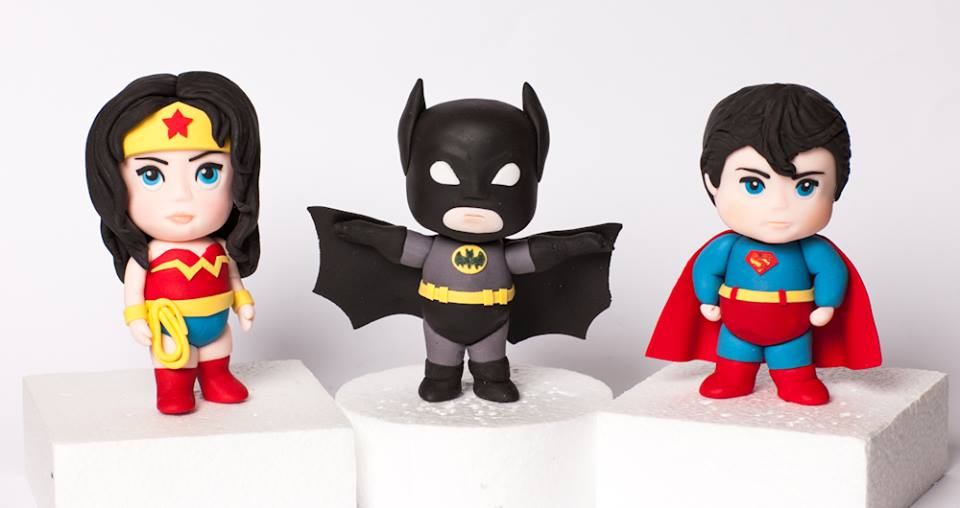 Sheryl Bito, Buns In The Oven Cupcakery has also created some super cute little comic strip heroes in her animated comic strip cake design below.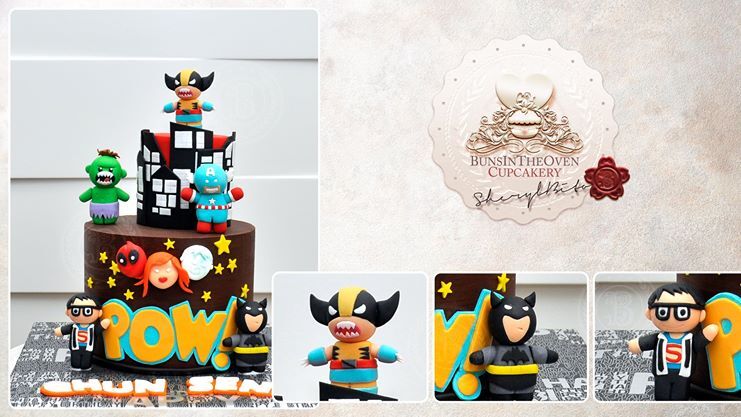 More cake topper cuteness from Mio Cupcakes with their SuperKid cake below left, and balancing things up for the girls, Hello Naomi Cakes have designed this fabulous comic strip cake in pink for SuperGirls everywhere!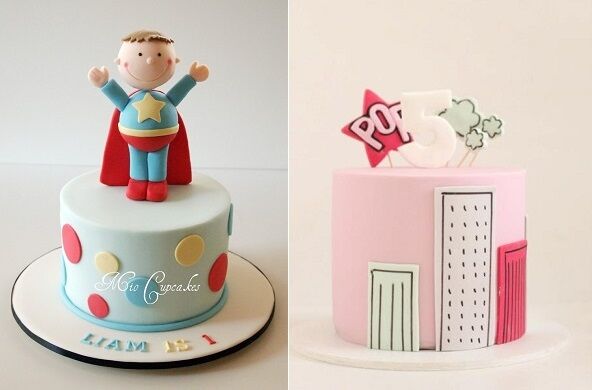 For more ideas for cakes for men and boys, check our our features on:
Join us on Facebook here for more cake inspiration and design trends.