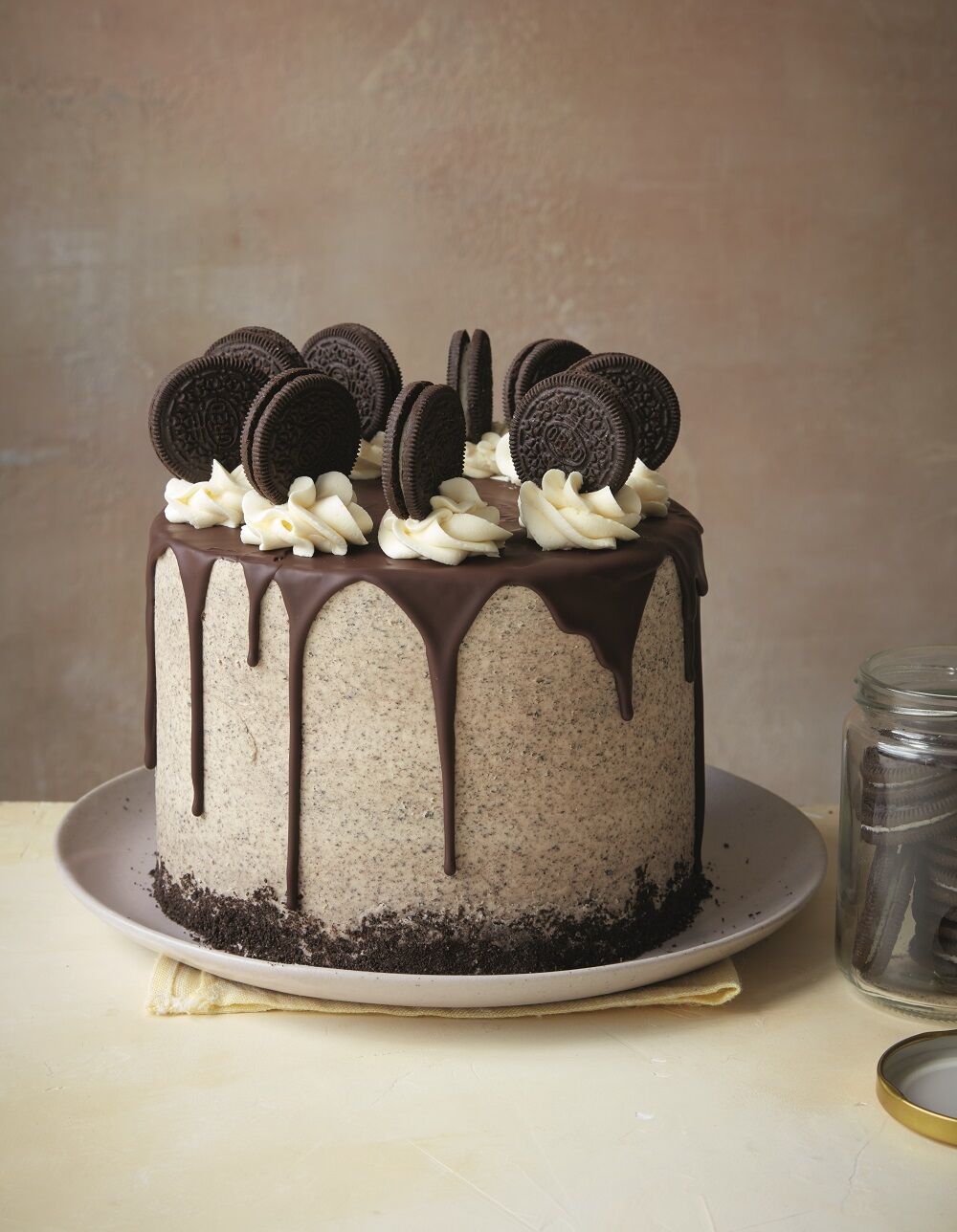 This delectable vegan Oreo cake is one you can have a debate with your vegan friends over!
Although the ingredients in Oreos are vegan, they may have cross-contact with milk, so strictly speaking they're not completely vegan.
But some people who do their best to live a plant-based diet say that when they're in need of an accessible chocolatey treat, Oreos a good option – this cake is for those in that camp!
It's just one of delightful collection of vegan cakes from Va Va Voom Vegan Cakes: More than 50 Recipes for Vegan-Friendly Bakes that Not Only Taste Great but Look Amazing! by Angela Romeo.
Packed full of indulgent recipes to make at home using ingredients readily available from your local store, this is vegan baking for everyone!
Vegan Oreo Cake: Ingredients
Serves 20
1 quantity of Vegan Chocolate Sponge below baked in 3 greased and lined 18-cm/7-inch cake pans for 30 minutes until an inserted cocktail stick/toothpick comes out clean, then cooled
1 quantity of Simple Vegan Vanilla Buttercream below
60 g/2 1/4 oz. Oreo cookies (approx. 6 cookies), plus 8–10 cookies, to decorate
100 g/3 1/2 oz. dark/bittersweet vegan chocolate, melted
Special Equipment: a disposable piping/pastry bag fitted with a 2D nozzle/tip
For the Vegan Chocolate Sponge:
Maximum impact with minimal fuss. Using only a handful of ingredients, this vegan chocolate sponge gives luxurious flavor and unbeatable texture.
480 g/32/3 cups plain/all-purpose flour;
5 1/2 tablespoons unsweetened cocoa powder;
280 g/scant 1 1/2 cups caster/superfine sugar;
5 teaspoons baking powder;
1 1/2 teaspoons bicarbonate of soda/baking soda;
480 g/2 1/4 cups soya/soy yogurt;
180 ml/3/4 cup sunflower oil;
2 tablespoons golden/light corn syrup
For the Simple Vegan Vanilla Buttercream:
Makes 1.5 kg/ 3 1/4 lb.
500 g/1 lb. 2 oz. vegan butter, cubed and softened;
2 teaspoons pure vanilla extract
1 kg/5 cups icing/confectioners' sugar
Vegan Oreo Cake: Instructions
For the Vegan Chocolate Sponge:
Preheat the oven to 180°C (350°F) Gas 4.
Sift the flour into a large bowl, add the cocoa powder, sugar, baking powder and bicarbonate of soda/baking soda, and mix with a spoon to combine. Make a well in the middle.
Put the yogurt into a bowl with the sunflower oil and golden/light corn syrup. Mix with a spoon until fully combined. Pour into the well of dry ingredients. Fold through with a spatula or wooden spoon until just combined and smooth.
For the Vegan Vanilla Buttercream:
Place the vegan butter in a bowl with the vanilla extract, 2 tablespoons of water and a few large spoonfuls of the icing/confectioners' sugar.
Whisk with a hand-held electric whisk until combined, then whisk in the remaining icing/ confectioners' sugar in manageable batches until smooth and spreadable. Add another 1 tablespoon of water, if necessary.
Tip: If scaling down this recipe, reduce the vanilla extract to taste and adjust the water accordingly. Very small quantities may not need any water.
To Assemble the Cake:
Trim the tops of the cakes to make level if necessary. Sandwich together using 350 g/12 oz. of the simple vegan buttercream – the bottom side of the top cake should be facing up. Place the cake on a cake plate or board.
Crumb coat (see below for how to) the cake using 450 g/1 lb. of the remaining buttercream. Place in the fridge 15 minutes. Put 150 g/5 oz. of the buttercream in a bowl, cover and set aside.
Put the Oreos in a food processor and whiz to fine crumbs. Set aside 4 tablespoons, then stir the rest of the crumbs through the remaining buttercream and use to coat the cake in a second layer, smoothing with a palette knife, metal spatula or cake scraper. Chill for 15 minutes.
Pour the melted chocolate around the top of the cake, next to the edge, allowing it to trickle down the sides, then work in a spiral motion moving inwards to completely cover the top of the cake. Sweep across the top with a long palette knife or metal spatula to smooth. Chill for 30 minutes.
Put the reserved buttercream into the piping/pastry bag. Pipe 8–10 little rosettes around the top of the cake. Insert an Oreo into each rosette. Press the reserved crumbs around the bottom of the cake.
How To Crumb Coat A Cake:
A spoonful of icing/frosting spread onto the middle of the cake board will stop the cake moving around while you're working.
When crumb coating it's best to apply the buttercream little and often; this will help to give an even distribution and prevent dragging the crumbs around the cake. Use the tip of a dinner knife to apply buttercream to the sides and top of your stacked cake, slightly spreading a little more buttercream into any gaps or recesses, if necessary.
Smooth the top with a palette knife/metal spatula. At this stage, the sides do not need to be completely smooth.
When the cake is covered, take the palette knife/metal spatula or a cake scraper and sweep around the cake with a little pressure to remove the excess buttercream. Scrape the buttercream into a separate bowl (as it may have crumbs in) and continue to remove the excess buttercream. If there are any gaps or holes, fill with a little buttercream and smooth again.
After finishing the sides you will have little peaks at the top edge of the cake. Use an off-set palette knife/metal spatula, held horizontally, to draw these peaks to the center of the cake, using gentle but sturdy sweeping motions. Chill the crumb-coated cake for 15 minutes.
After the cake has chilled, use the same technique as crumb coating for the final coat. However, when using your palette knife/metal spatula or cake scraper, apply slightly less pressure, aiming to 'spread' the buttercream around the cake while maintaining straight sides.
Reprinted with permission from Va Va Voom Vegan Cakes: More than 50 Recipes for Vegan-Friendly Bakes that Not Only Taste Great but Look Amazing! by Angela Romeo. Published by Ryland Peters & Small. Photography by Clare Winfield © Ryland Peters & Small 2021