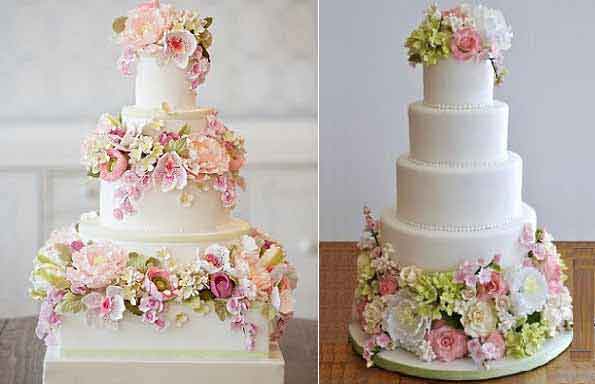 With the world famous Chelsea Garden Show having just come to a close in London, we pay homage this week to the beauty that is the English Country Garden, which also happens to be a wedding theme growing in popularity – slightly more dressy than the rustic wedding style also in favour this year.
A profusion of summer garden blooms adds beautiful femininity to this formal style wedding cake by Bobbette & Belle (above left) with loosely, arranged blooms and climbing foliage also creating a natural style garden look in their second English garden wedding cake design on the right.
Sprays of foliage and expertly coloured leaves add a beautiful "just picked" look to the traditional garden roses adorning this soft pink, lady-like design below by Butterfly Dream Cakes, draped with pearls and trimmed with vintage lace for a perfect English Garden wedding cake.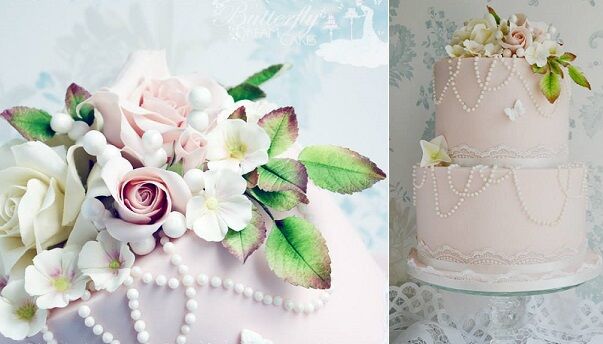 Exquisite lavender roses blend beautifully with cream icing and are delicately framed with tiny lilac blooms and hydrangea blossoms reminiscent of the classic English rose garden in a design by Erica O'Brien (below left).
On the right, old fashioned lace is accessorized by bountiful blooms English garden style for a classic vintage wedding cake look by Rachelle's Bespoke Cakes.
A declaration of love in the form of a sweet lettered plaque is adorned with an array of pastel garden blossoms in a pretty summer garden wedding cake design by Cake Maison (below left). On the right, Amy Swann's "Love In A Mist" is a breathtaking display of English floral beauty, with a waterfall arrangement of exquisitely crafted sugar flowers.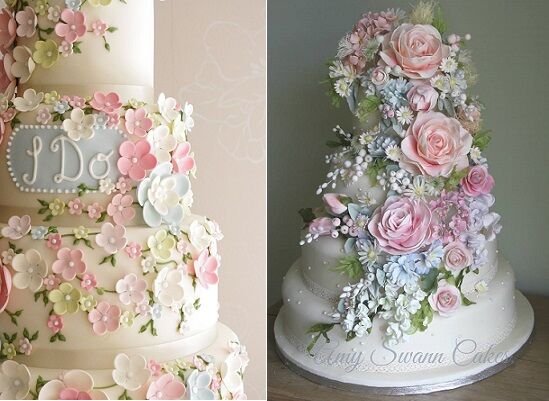 Delicate quilting and an antique script monogram add a classic touch to this peach and lilac floral design from Bellaria Cakes Design (left), while on the right, bursts of pink peonies and English garden flowers cascade beautifully down this second garden inspired design from Amy Swann Cakes.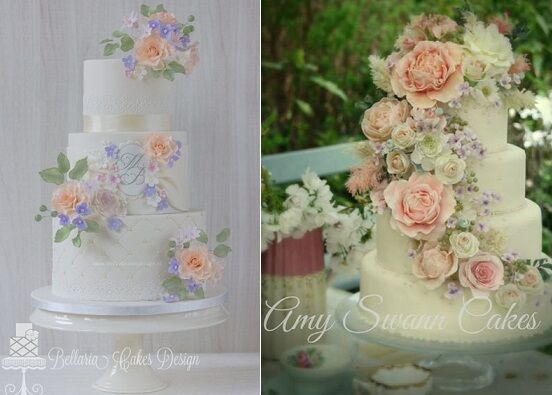 Traditional country garden roses and hydrangea are the perfect floral decor for this sweet, lace embroidered soft pink wedding cake by Sweet Things by Fi (image Agata Jensen Photography).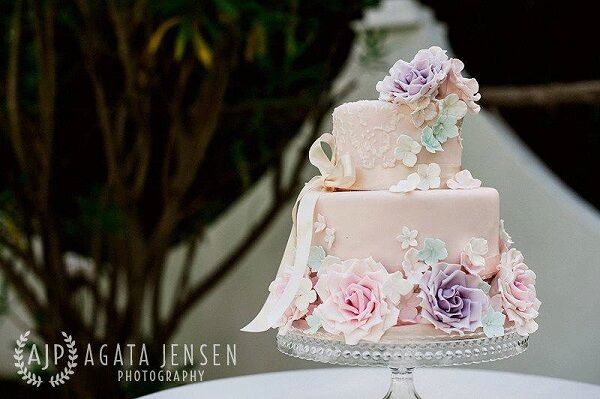 This bountiful floral display showcases the wonders of the English garden superbly in an exquisite design by Rosalind Miller Cakes, with echoes of vintage china in the antique gold trimmed tiers.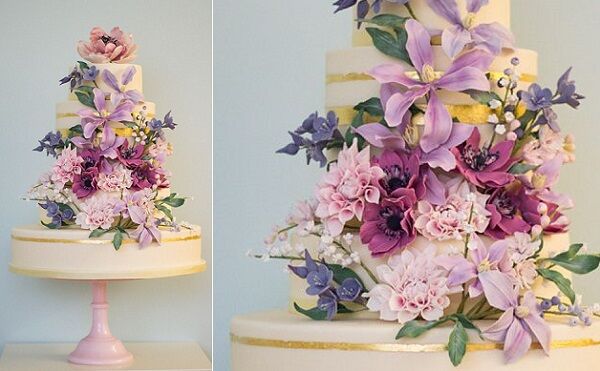 Fresh roses in cream and pale pink, interspersed with sprigs of freesia blooms and abundant foliage in a myriad shades of green create a terrific garden inspired wedding cake by Innicka Dee Cakes, below.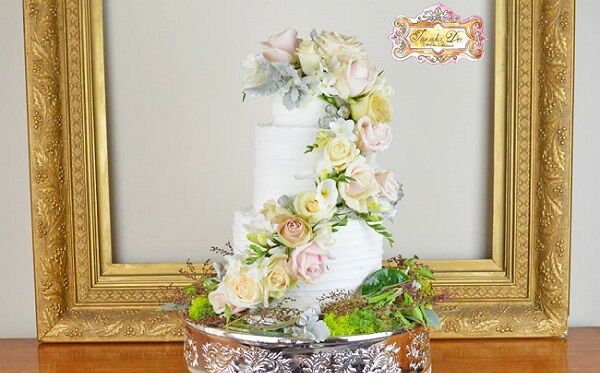 Delicate, twisting branches of pink flowers creep up along this woodland garden style wedding cake by Baked In, Caked Out with textured fondant enhancing thw authentic, natural style and a wreath of twigs making the perfect rustic style cake stand.
Tiny butterflies and sweet pea tendrils add a perfect organic touch to this delightful English garden wedding cake by Bite Me Bakery.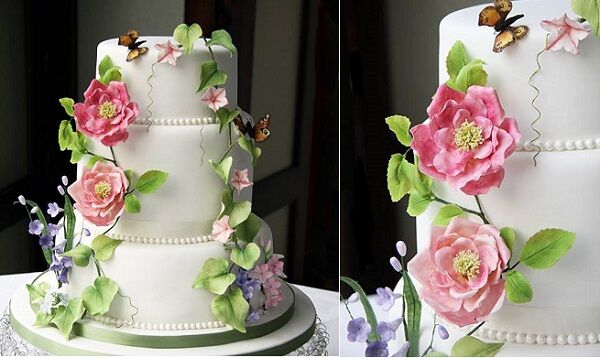 Soft, feminine pink blooms create a simple adornment for this garden-style wedding cake by Cupcakes by Design, South Africa (below left). On the right, Lisa Roberts Cakes elaborate fondant frills are perfectly paired with voluminous peonies in a terrific shade of raspberry and lightened with a fluttering of simple blossoms here and there for a fairytale garden finish.
Readers might also be interested in the following features:
Coming Up Next: Lace Veil & Mantilla Wedding Cakes