Silver birch tree effects and woodgrain textures are two of the most popular styles in rustic wedding cakes favoured by brides for nature-inspired wedding receptions.
With a selection of the most exquisite rustic wedding cakes for you to view here, we've also put together a compilation of the best tutorials on the web for creating wood bark, silver birch and tree stump cakes right here:
And for the latest woodgrain, tree bark and birch tree wedding cake designs, see Woodland Wedding Cakes – Part 2 for more design inspiration.
Jenna Rae Cakes capture traditional wedding cake elegance with ruffles and soft pastels in their wedding cake design (above left), while also bringing in a rustic element with a beautiful birch tree effect on the central tier. On the right, CJ's Sweet Treats tie together multiple elements from the natural world with woodgrain effects, handpainted woodland greenery, garden roses, sage ruffles and a birdcage top tier in a wonderfully imaginative wedding cake design.
Rustic styling can still be effortlessly elegant as Miso Bakes shows in their design below blending a woodgrain tier with smooth iced tiers and a sophisticated arrangement of soft pastel blossoms with succulents and silver grey foliage (Sylvia G Photography).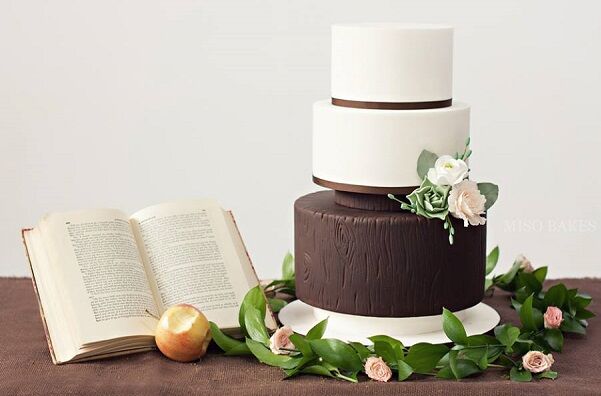 Anyone who has been following Cake Geek since before Christmas knows we have a bit of a deer obsession so of course we were very excited when we saw this fabulous woodland-themed baby cake (below left) by Peggy Does Cake with a bow-tied deer silhouette set against timber effect tiers.
Below right, Ciccio Cakes have crafted an amazing tree stump style wedding cake, expertly airbrushed to create a fabulously realistic effect and finished with a beautifully rustic spray of buds, blooms and silver foliage.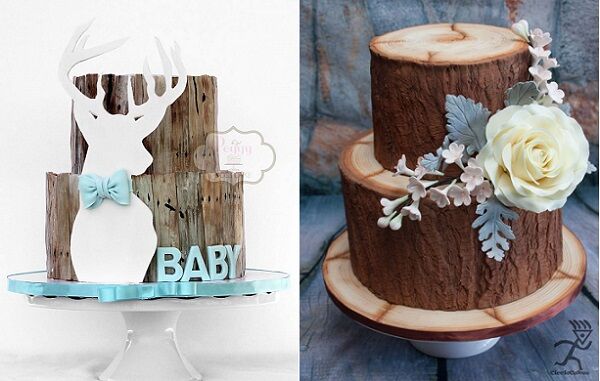 A dramatic yet ephemeral garland of baby's breath adds an enchanted woodland finish to this superbly crafted birch tree effect cake below by Van Goh Cakes, complete with etched love heart bearing a rustic style monogram.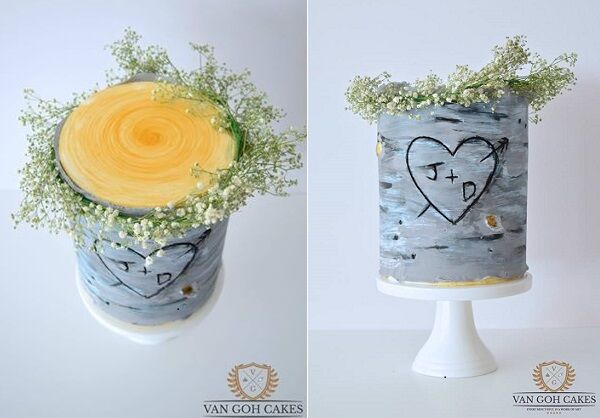 Birch tree perfection is showcased below in a terrific wedding by Sugablossom with sugar anemones picking up the grey/black tones of the wood perfectly.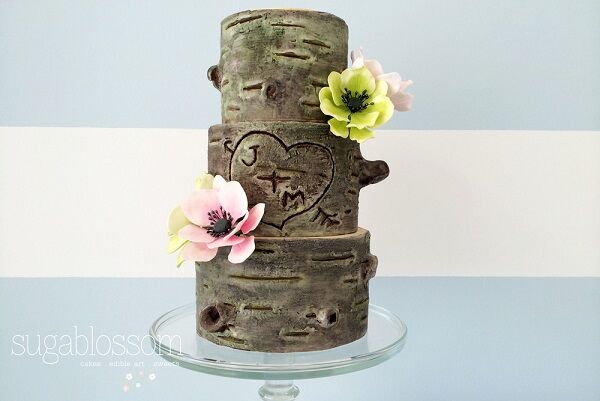 An epic tree stump cake tier creates a marvellous plinth for two traditional white iced wedding cake tiers in a unique design (below left) by Bobbette & Belle. On the right, we think this stacked chocolate crepe cake by Lismi Wong of Bites With A Healthy Twist would make the perfect addition to a rustic woodland themed wedding dessert table .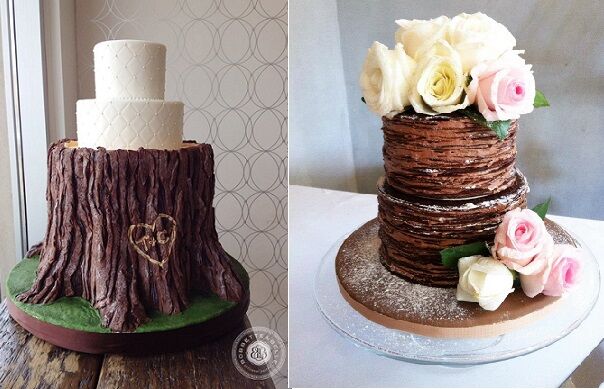 Pasteles Alma bring their design magic to the cake below a pairing woodgrain textured tier with silver mint foliage, a garland of pristine white gardenias and a delicate lace top tier (Meho Photo Design).
Textured, peeling layers in tones of beige and brown create an interesting effect on the wedding cake (below left) by Liv Sandberg Cake Art, topped with beautifully crafted wildflowers and given a classical finish with pearl piping.
The Snowdrop Cakery have designed a pretty woodgrain effect party cake below to mark the occasion of an adoption, with mint ribbon blending beautifully with the woodcrafted accents.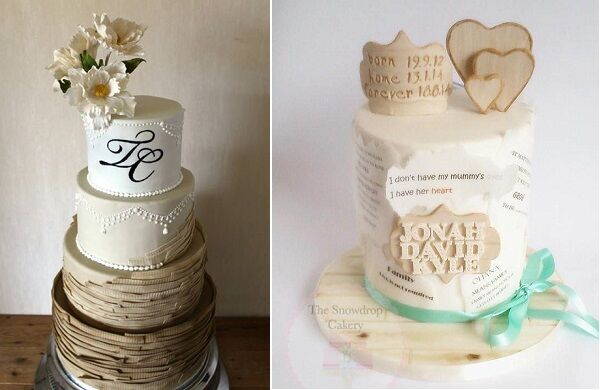 Woodland ferns, toadstools, pine cones and moss have been recreated in sugar in this magical birch tree woodland wedding cake below by Olofson Design, (Leonard Wedding Photography).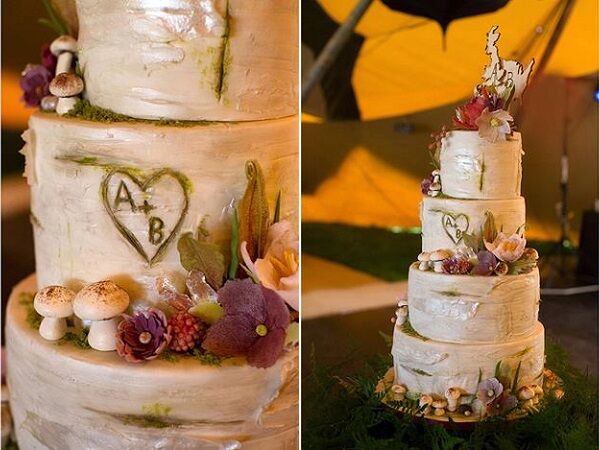 Rosette-piped chocolate buttercream cupcakes make the perfect additional accompaniment to a rustic woodland wedding cake and dessert table below, with the chocolate tones blending perfectly with the woodgrain.
Twisted hazel adds the perfect rustic touch to bridal favourites – peonies and ranuncula – in this textured buttercream design rustic by Yummy Cakes & Cupcakes, perched on a woodgrain effect base, enhancing the woodland theme.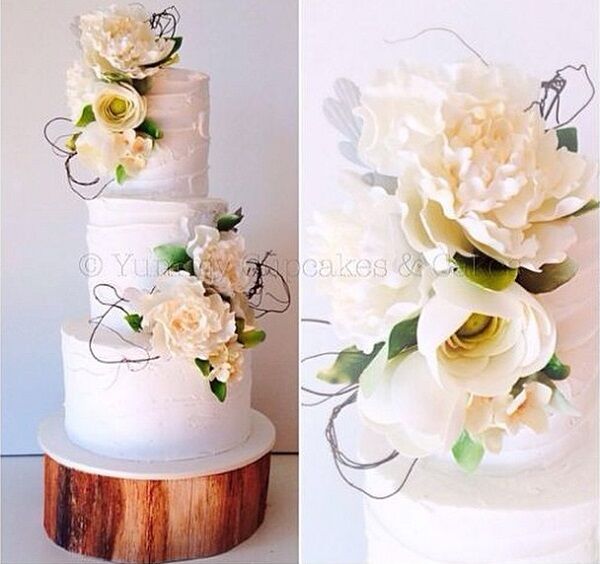 Tree bark effect in two different styles feature below – etched on chocolate fondant by Vanille Patisserie, Chicago (left) and handpainted with horizontal brushstrokes in different shades by Miso Bakes (right).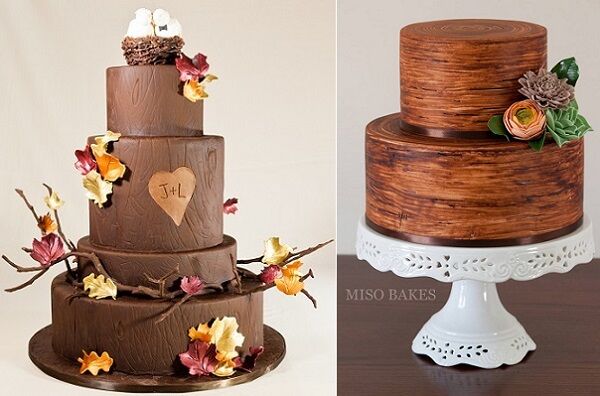 Laura Dodimead of Cakey Bakes Cakes creates an almost magical knotted wood effect in her delightful children's cake design below. (Laura teaches this cake design as part of her airbrushing class – you'll find all the details here.)
Simply Sweet Cakes & Cupcakes have created a terrific rustic wedding cake design (below left) pairing soft, delicate handpainted tiers with a rustic woodgrain central tier and finished with spray of forest fruits, foliage and blooms.
On the right, the magic of an enchanted forest is captured perfectly by Zoe Robinson of The Cake Nook with her delicately sculpted forest fairy perched on a wonderfully crafted tree stump cake.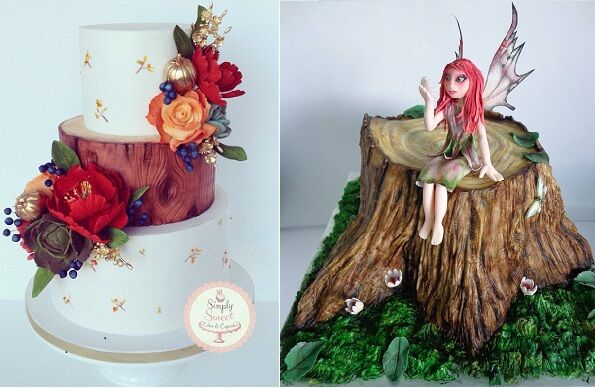 Our final design brings bohemian elegance to a rustic woodland wedding cake with rich mulberry and mauve tones set against deep green ribbon creating an exquisite focal point on this excellently crafted woodgrain wedding cake by Suzanne Esper (Gail Kelly Design & Photography).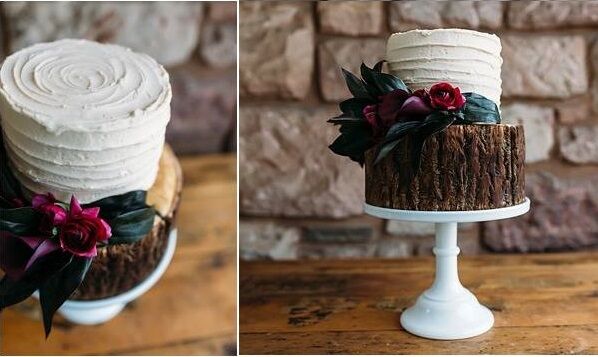 Check out our rustic tree bark cake tutorial below to learn how to create your own woodland inspired wedding cake.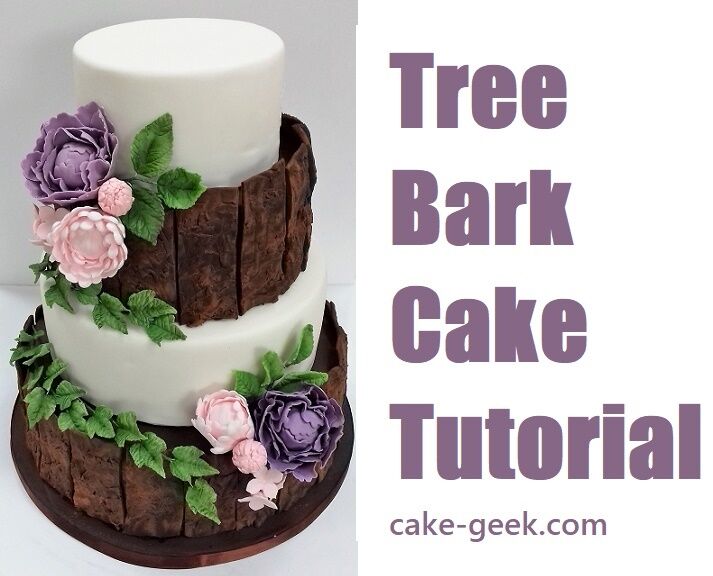 Readers may also be interested in our features on:
Coming Up Next: Floral Framed Cakes