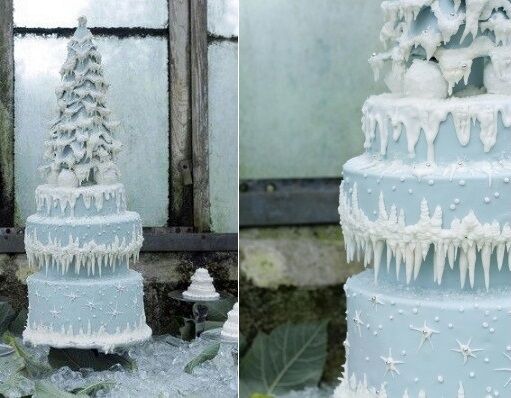 A winter wedding can be the perfect excuse for a couple to indulge their fun side with a novelty winter cake design to amuse their guests. The awe-inspiring winter pine tree cake above by The Highland Bakery would make a simply jaw-dropping centrepiece for a winter wedding reception.
The separation of the bottom two tiers in the above cake is a wonderful design feature showcasing the hanging icicles to wonderful effect. To design your own version of this cake, you'll find a tutorial here on how to make fondant icicles.
Below, we have two super fun novelty cakes incorporating winter sports for the fun-loving wedding couple. The cake below right features a snowboarding bride and groom crashing and burning in a fit of giggles at the bottom of their wedding cake "slope". A beautiful ski chalet sitting on top of the cake lit from inside with a tea light, creates a magical seasonal atmosphere. (Image via Cake Wrecks).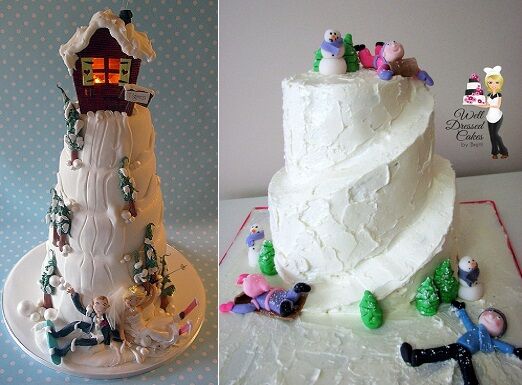 Above right we have another fun winter cake design by Well Dressed Cakes By Brett. While it's not strictly speaking a wedding cake (no sign of a bride with Dad and the kids!), it would make a perfect novelty winter wedding cake for a couple with children or a couple who just like a bit of child-like fun in the snow themselves! The children toboganning down the hill and Dad making a snow angel at the bottom makes a wonderful fun winter scene.
To make your own version, you'll find a tutorial here to help you carve a "winding hill cake": how to carve a spiral cake.
For a super simple novelty winter wedding cake, there is no easier cake to make than a 3D snowman cake. Both adults and children alike will delight at this style cake at a winter wedding reception. A simple three-tiered wedding cake lends itself perfectly to this cake design, for maximum impact with no carving or sugarcraft acrobatics required! (Image below left from Pinterest. Cake design below right by Gateau Maison.)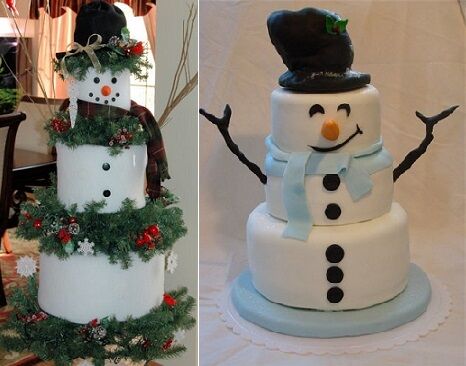 For more winter wedding cake inspiration, see our features: Snowflake Wedding Cakes, Winter Wedding Cake Trends, Jewelled & Beaded Winter Wedding Cakes, Rustic Winter Wedding Cakes, Winter Berry Cakes, Winter Woodland Wedding Cakes, Stag's Head & Deer Cakes, Knit Effect Cakes and Bas Relief Cake Decorating.
Readers might also be interested in our Christmas cake decorating series: Chic Christmas Cake Decorating, Novelty Christmas Cakes, How to Make a Festive Gingerbread House, Christmas Desserts & Treats Classic Christmas Cake Decorating, Novelty Christmas Cakes for Kids, Gingerbread Houses, Christmas in Pastelsand New Year's Eve Cakes.