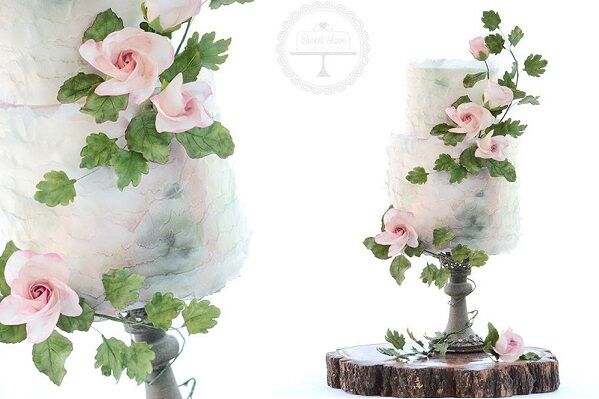 The evolution and continuous innovation that's taking place in cake art has seen cake designers explore new possibilities for wafer paper decor in cake design. Moving beyond the much-loved wafer paper flowers the medium is largely associated with, designers are exploring the wonderful qualities of this edible medium to create wafer paper ruffles, frills, texture and structure in their new designs this year.
Nicole Slater of Sweet Love Cake Couture has created a wafer paper masterpiece above, making optimum use of wafer paper's pliability when lightly steamed to create delicate watercoloured frills in a beautifully muted cloudy grey with a hint of blush and finished with a marvelous rambling rose for an exquisite botanical inspired design. (For a tutorial how how to create wafer paper frills, see Shawna McGreevy's demonstration here: wafer paper frills tutorial.)
Wafer paper art pioneer, Stevi Auble of Hey There Cupcake pairs structured wafer paper arcs with torn paper effect frills in her stylish, soft peach collection below (image by Carmen Santorelli Photography via Style Me Pretty).
Wafer paper petals create a pretty ruffled effect on this metallic gold design by Sweet on You Cups & Cakes, finished with a jaunty arrangement of wafer paper feathers and a sweetly crafted wafer paper bloom .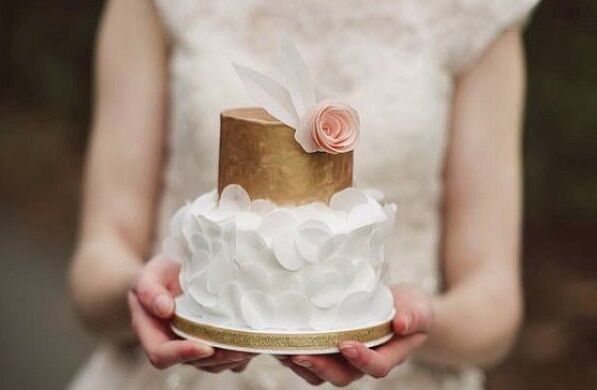 Rice paper lace created with a simple paper punch is fashioned into dramatic, statement ruffles in this unique wedding cake design by Makiko Searle.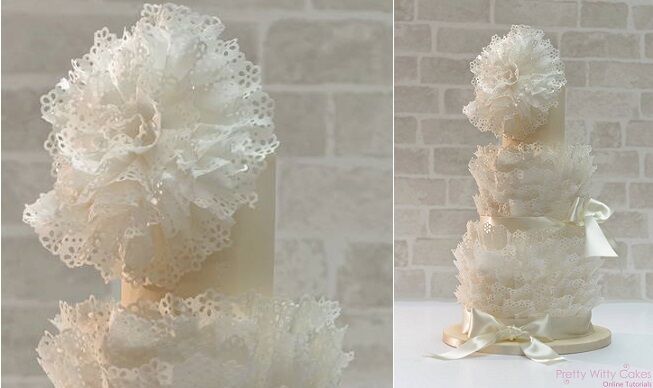 Mixed metallics are a striking and undeniably stylish choice for a wafer paper finished cake, as seen by this runway inspired design by @R Cake.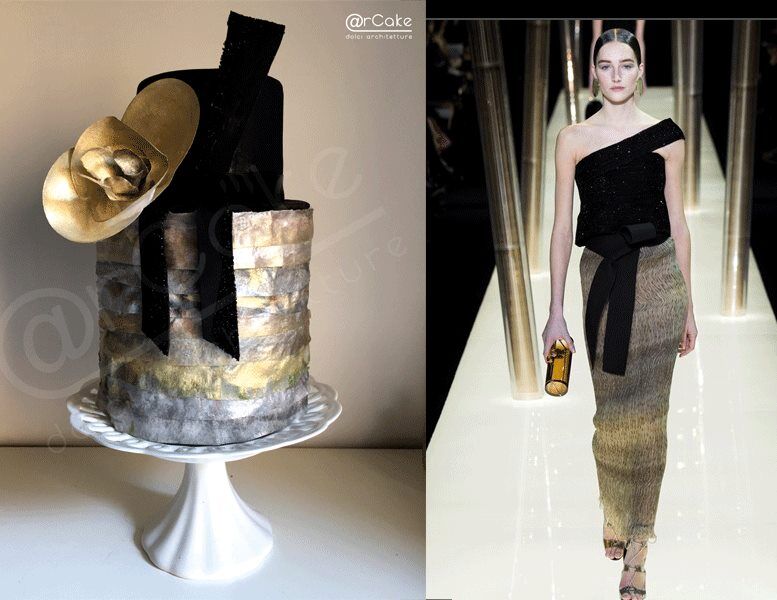 A band of floral-embellished lace is accented by tiers of delicate wafer paper frills in an on-trend design by Rouvelee's Creations (below right). On the left, a Marchesa wedding gown echoes the beauty of torn layers of wafer paper frills that make a beautiful wedding cake adornment.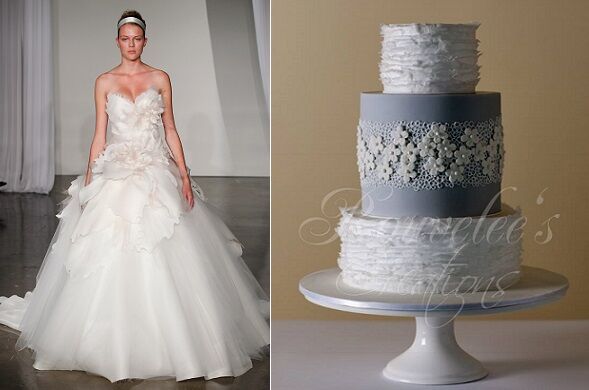 Another master of wafer paper art, Kara Andretta of Kara's Couture Cakes demonstrates the versatility of wafer paper in her uniquely creative design, below left.
On the right, a striking wafer paper poppy from Cake Paper Party who have a free tutorial here on how to colour wafer paper.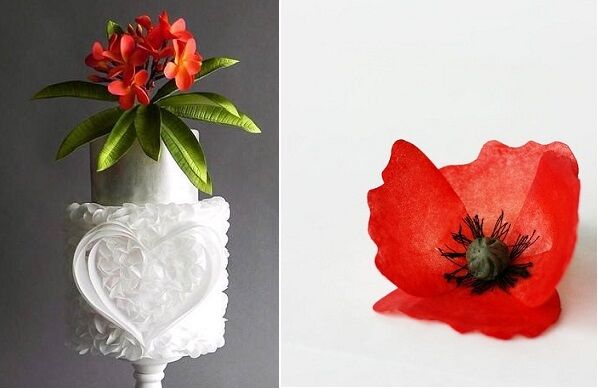 Another of Kara's Couture Cakes wafer paper innovations featuresbelow with structured-textured ruffles creating a wow silhouette.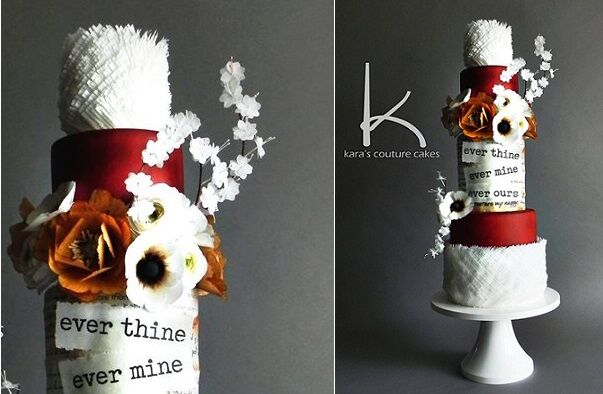 A flurry of wafer paper petals is crafted into a striking gravity-defying whirlwind of colour in the contempory design below by Viva La Tarta.
Artfully coloured sheets of wafer paper are deftly manipulated into a statement wafer paper bow to fashion a statement piece of edible millinery crowning this beautifully illustrated cake design by Rebekah Naomi Designs/CakeliciousVA.
Strips of wafer paper are painstakingly crafted into quilled floral adornments and paired with wafer paper lace in this quirky and unique design by @R Cake.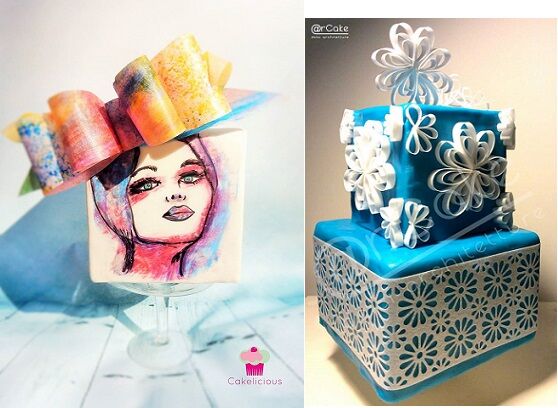 This wine stained wafer-paper rose and lace honeycomb is the perfect ode to the beautiful craft of wafer paper art created by Dolce Lulu.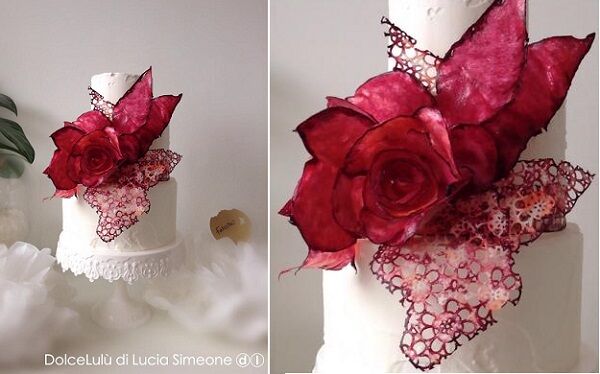 Scrunched sheets of wafer paper in baby pink add a pretty, whimsical touch to this vintage rose patterned design by Erica O'Brien.
Softly textured wafer paper frills act as the perfect complement to the delicate prettiness of the pale mint wafer paper blooms (below right) by Beautify Sugar by Audrey.
Wafer paper is the perfect medium from which to craft delicate little butterflies to top this beautiful tone-on-tone birthday cake design from La Petite Pops, below.