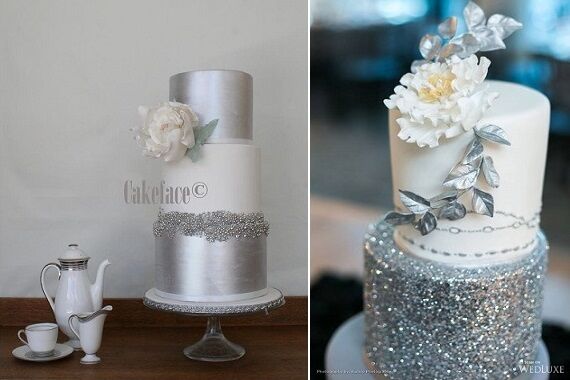 Give your New Year's Eve wedding cake extra glitz and glamour with shimmering silver and sparkling sequins for a glamorous end of year wedding celebration.
Silver beading cascading over the edge of stylish silver lustred tiers brings high end glamour to this Mignon Daymond cake design from Call Me CakeFace. On the right, silver glitter and white make a sparkling combination for a glitzy New Year's Eve wedding cake from Anna Elizabeth Cakes (image by Kunioo via WedLuxe).
Faded silver leaf against a charcoal gray background creates an elegant antiqued look in the beautiful Arianna Lauren Cakes design, below left, while Faye Cahill plumps for a platinum finish in the ultimate in wedding cake luxury in her beautifully piped design, below right. (Learn how Faye uses a coloured wash over leaf to create custom metallic finishes in her online class, Layered Embellishments).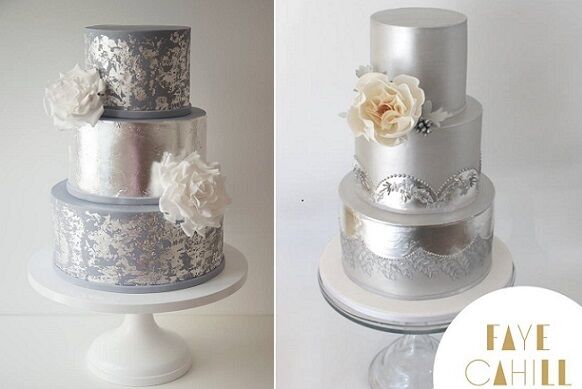 Glitter squares are used by Mignon Daymond to create a finer texture than sequins in her fabulous white floral, sparkling wedding cake below – another superb choice for a New Year's Eve wedding celebration.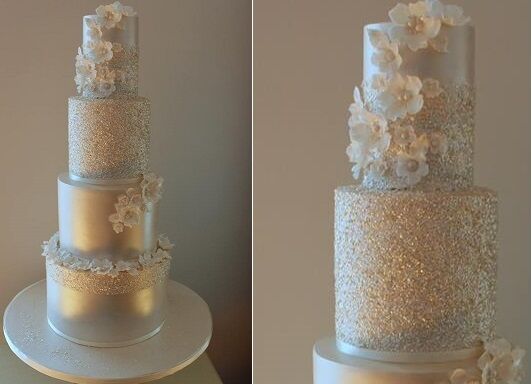 A fine textured glitter finish also brings refinement and elegance to Cove Cake Design's lustred white wedding cake below.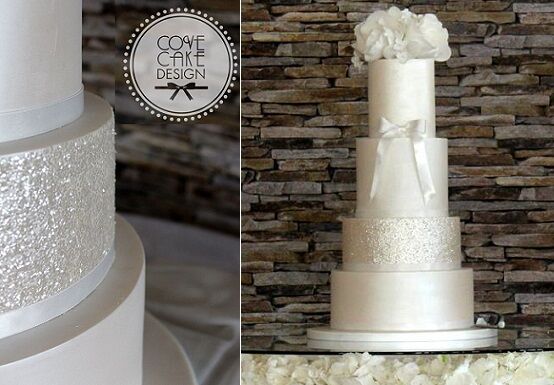 Dusky pink fabric style flowers add a romantic touch to this beautiful silver leaf and charcoal grey wedding cake design from Zoe Clark Cakes, below left. On the right, an ivory pearled tier blends beautifully with silver leaf and striped textures, all tied together with a spray of ivory roses and winter snowberries in a chic New Year's Eve wedding cake from Shannon Bond Cake Design.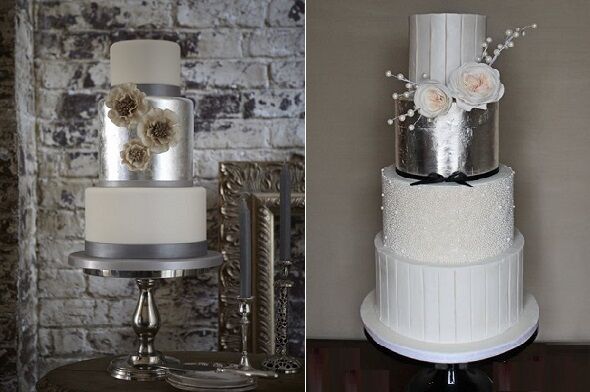 A pearl garland brings a wonderfully classic design element to this beautiful ivory and grey ruffled wedding cake design below left from Blossom Bakes, while on the right, stencilled damask lace gives a stylish antique touch to this Sweet Passion design.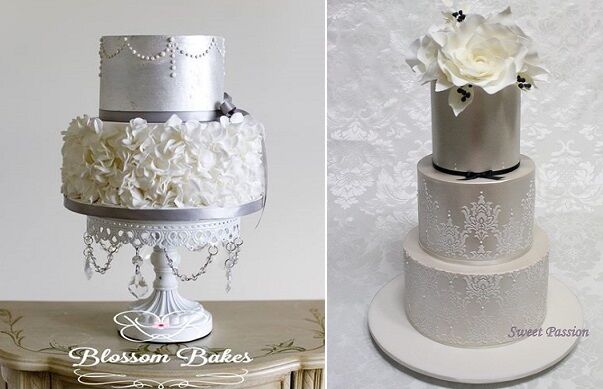 Winter white roses bring an unmistable bridal touch to the two beautiful wedding cakes below in silver and grey winter palettes by Sugar Couture Cupcakes & Cakes (left) and Cakes 2 Cupcakes (right).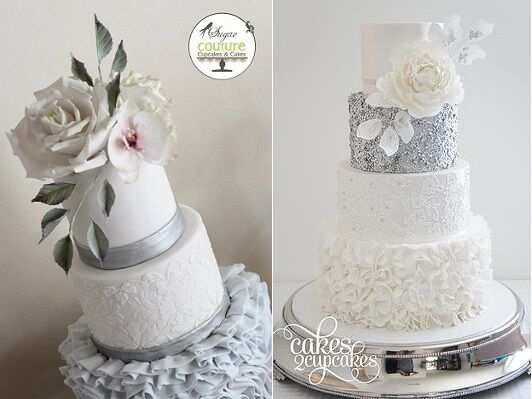 A winter snow effect is created with petal ruffles and textured frosting in the pretty winter wedding cake design below left by Sugar Bee Sweets, with an elegant winter lace wedding cake design from Sugar Couture Cupcakes & Cakes, right.
Suzanne Thorp at The Frostery, UK brings together vintage motifs with elements from the frosted landscape in her unique winter wedding cake design below in beautiful muted greys with cream overtones.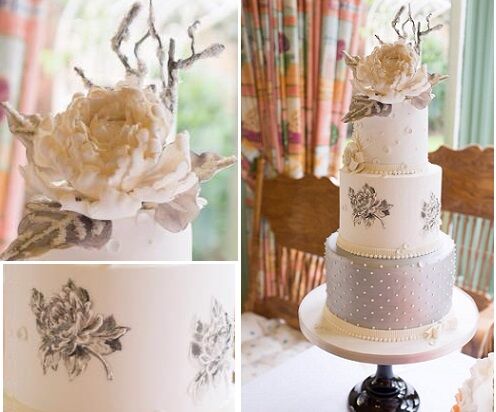 Silver sequins and petal ruffles make a super on-trend wedding cake design in shades of grey and silver for a New Year's Eve wedding below, with a wonderfully elegant chandelier stencilled design in dove grey on the right, both by Lovely Cakes, Connecticut.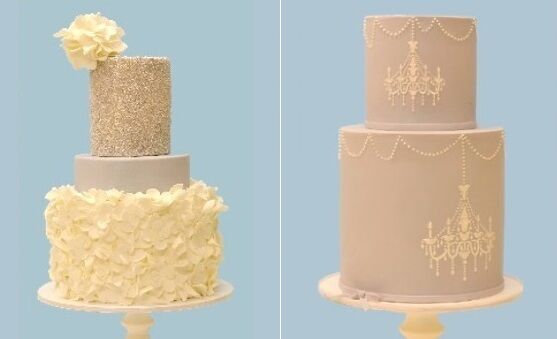 Old and new come together beautifully in the pale blue and silver design below by Simply Sweet Cakes & Cupcakes with silver sequins highlighting the ornate, antique style silver frame monogram. To the right, Rosalind Miller has created the quintessential winter wedding cake with silver leaf evoking a winter iced effect on this beautifully silhouetted bird on a frosted branch design.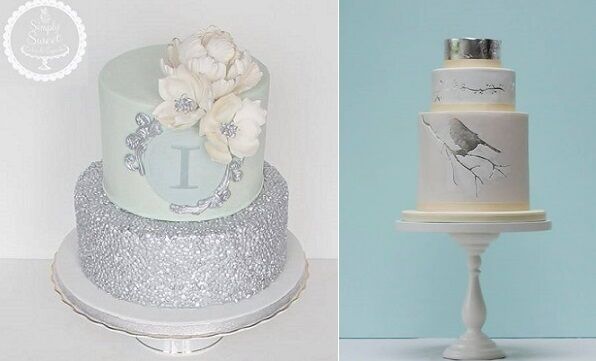 A voluminous cascade of fabric effect flowers are given the perfect touch of New Year's Eve pizzazz with a silver leaf backdrop in this contemporary wedding cake design by Stevi Auble of Hey There Cupcake.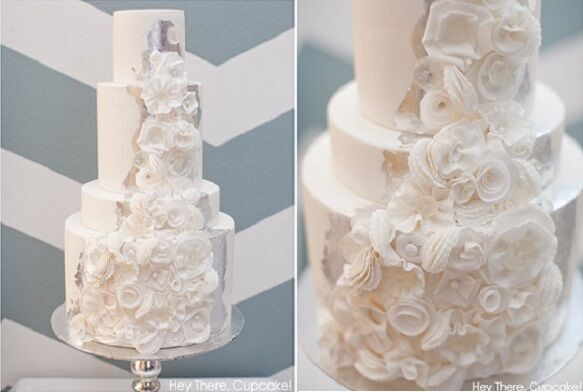 Silver leaves and delicately silvered sugar flower centres create an elegant and ladylike floral wedding cake perfect for a New Year's Eve nuptials celebration in a design by Ivone Kartadinata of Sugar Penguin.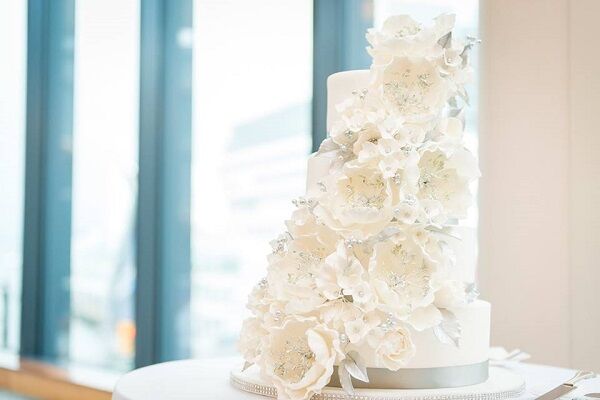 Vintage pattern stencilling overlaid on silver lustred tiers and crowned with ivory sugar flowers makes a classically elegant New Year's Eve wedding cake below by Sweet Passion, with classical elegance also being the theme of Faye Cahill's masterpiece silver wedding below right.
Silvered ferns bring a beautiful wintered look to the stylish Cake Opera wedding cake design below with a classic monogram making an elegant final flourish (image by Mango Studios).
Moving away from silver and white, gold is of course another spectacular colour for a New Year's eve wedding cake. This antique clock cake in vintage gold by Sweetness, India makes a stunning design for a New Year's eve party or event. And for a winter wedding, the beauty of Northern Lights makes a romantic theme with an fabulous display of airbrush artistry by Sarah Jones of The Chocolate Strawberry, below right.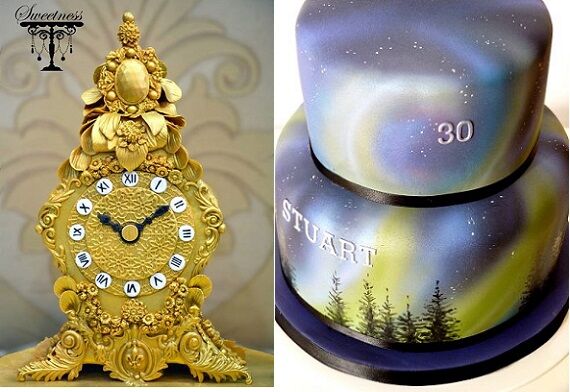 Readers might also be interested in our features on:
For more on christmas cake decorating see: