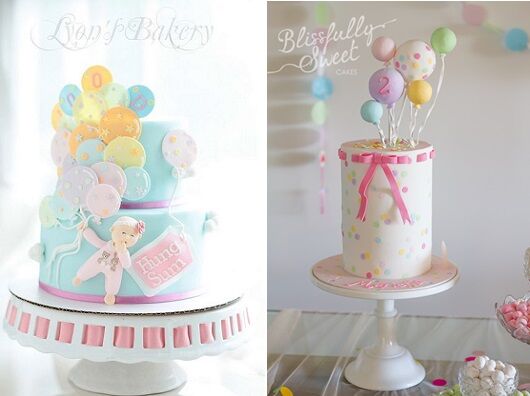 If you're stuck for a theme for a quick cake design for a last minute order, then you can't go wrong with party balloons. Balloons work for almost every occasion, in pastels for young children right up to grown ups in more sophisticated colours.
Above, we have two fabulous balloon theme cakes in pretty pastel shades from from Lyon's Bakery, Hong Kong (left) and Blissfully Sweet Cakes, Australia (right).
A teddy or baby animal topper holding a balloon always makes a beautiful children's cake as demonstrated by Sugar & Spice Gourmandise Gifts with their adorable design (below left). To the right, Peace of Cake have blended vintage kites and balloons to create a fabulous multi-tiered side design.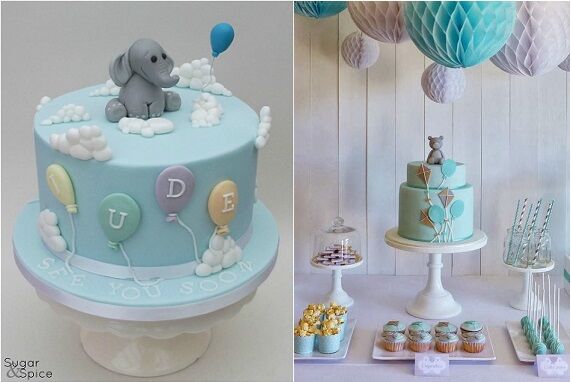 The simple balloon cake design below left from Superfine Bakery makes a wonderful all-purpose cake design that can easily be adapted to different occasions with the addition of a topper. To the right, Laura Jane Cake Design have created an exquisite hand-painted vintage style children's cake in beautiful faded pastels.
Creations by Casey make wonderful use of 2-D appliques to add depth and dimension to their brilliant balloon cake design below.
Award-winning cake designer, Amanda MacLeod has created the perfect summer party cake below with a carnival theme running along the bottom tier, with hot air balloons floating above on the second tier and party balloons floating off into the great beyond on the top tier, all set against a perfect sky blue backdrop with handpainted and 2-D detailing.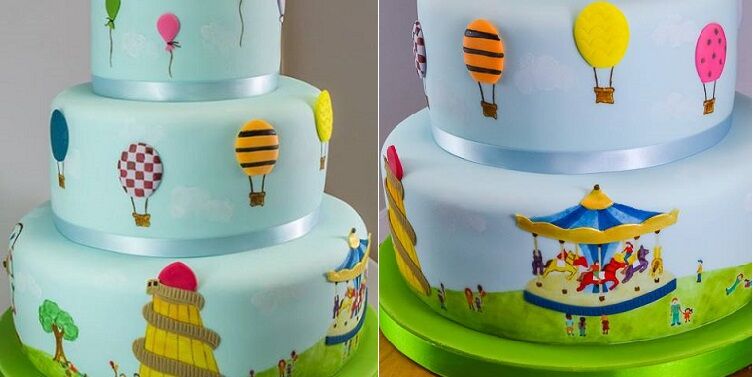 One of the most admired balloon cake designs is the stunning cake below (left) by The Cake That Ate Paris. To the right, a pretty children's cake with two fluffy animals being carried off into the clouds by a bunch of balloons in a design by Bien Me Sabes.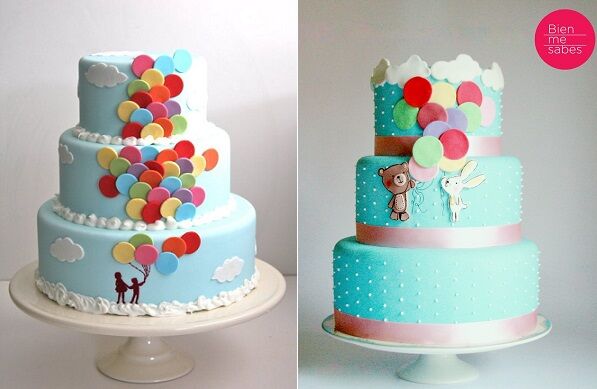 Mooie Taart of Netherland's cake design (below left) shows how adaptable a balloon theme is for a party cake with 3-D balloons as the perfect side design, allowing room for the birthday girl's name and age and topped off with a favourite cartoon character topper.
On the right, Punk Rock Cakes, Prague have used a creative bunch of balloons topper to add party pizazz to their doggie birthday cake below – a great topper idea that can be incorporated into lots of party cake designs. (You'll find lots more puppy dog cakes here, including tutorials.)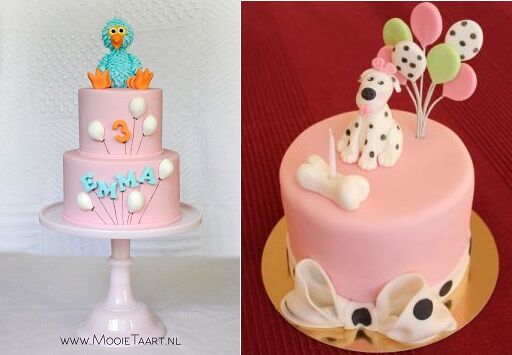 A very pretty balloon cake below left for a little one's birthday with a teddy being carried off into the air by a bunch of balloons (image via mediaset.it) On the right, a great cake design for a summer party for a grown-up, especially one fond of cycling, with a beautiful piped bicycle side design. You'll find the tutorial for this cake on MyCakeSchool.com: bicycle cake tutorial.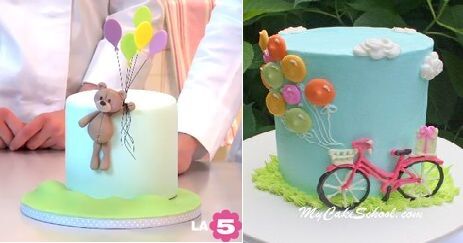 Two more simple and elegant balloon cakes below from experts in cake design elegance – Peggy Porschen (left, image by Aphrodite Net) and Hello Naomi (right).
The Disney movie "Up" has undoubtedly inspired a whole host of beautifully designed balloon cakes since its release including Mimi Gateaux's exquisite cake, below left and that of Jessie Lee Cakes (below right).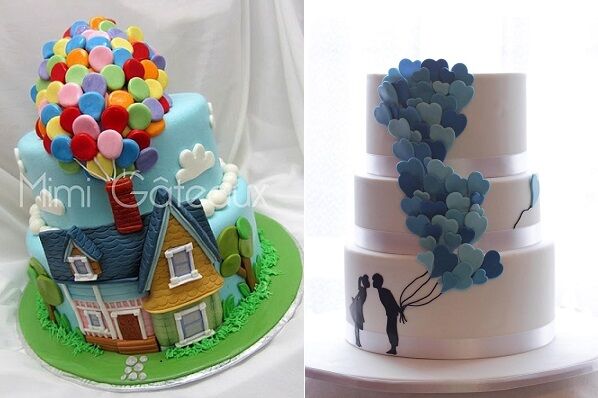 Lollipops on sticks make great "balloons" for the balloon-themed mini cakes below left (via funmag.org), with another fun balloon cake design for children below right by Cakes by Mina Bakalova, Bulgaria.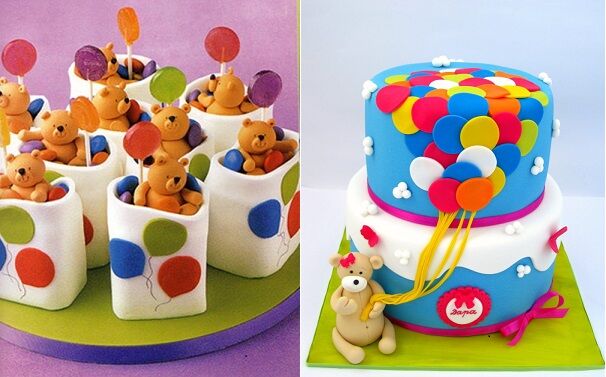 Sonja McClean of Sweet and Swanky Cakes created this exquisitely illustrated balloon cake design for little boy's birthday below.
Brenda Walton of Sugar High, Inc displays her usual fantastic creativity in her cake design below left with the three graduated tiers covered completely with sugar balloons, set on a pedestal cake stand, very cleverly designed to look like a bunch of floating balloons.
To the right, Sharon Wee dresses up a corporate cake with an array of multi-coloured balloon toppers to add to the sense of occasion.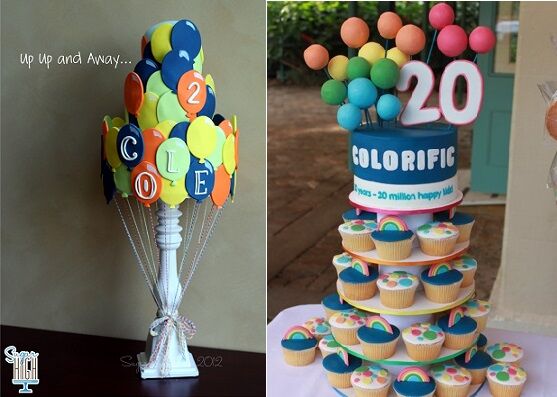 Readers might also be interested in our features on:
Coming Up Next: Hand-Stamped Cake Tutorial by Erin Gardner of The Wild Orchid Baking Company.
Join the Cake Geek Facebook page for more inspiration on cake design trends.