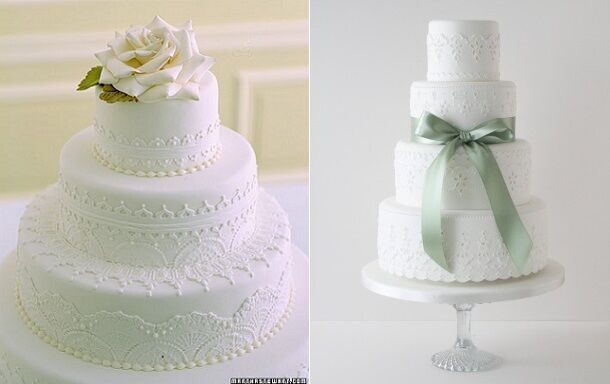 Eyelet lace cakes are a perfect cake design for a relaxed spring or summer wedding. Broderie anglaise/eyelet lace is less formal than traditional lace, yet exudes a delicate, pretty bridal feel. It also makes a great detail or side design for a christening cake, communion cake or other occasion for a little one.
The iconic eyelet lace cake by Ron Ben-Israel above left (via Martha Stewart Weddings) and above right by Zoe Clark of The Cake Parlour are two perfect examples of the delicate charm of broderie anglaise or eyelet lace.
There are lots of different techniques to create a broderie anglaise/eyelet lace effect and we have a selection of tutorials here to guide you:
Below, we have stunning broderie anglaise wedding cake/eyelet lace cake in pristine white and mint green by Emily Harmston Cakes, UK.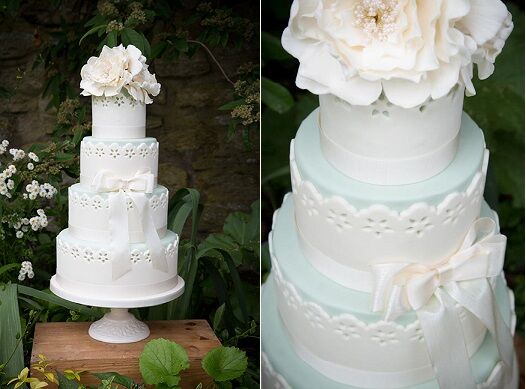 Below we have two very pretty all-white designs – one with piped broderie anglaise lace and the other with eyelet lace created with cutters – by Berliosca Cake Boutique, below left and by Petit Gateau Couture Cupcakes and Cakes, below right.
There are a range of cutters on the market to create broderie anglaise/eyelet lace from PME, FMM, Patchwork Cutters and Global Sugar Art. The cutters can be used on their own or in conjunction with a frill cutter to create a band of broderie anglaise lace for your cake.
Nadine's Cakes (My Little White Home, NL) have created the beautiful white mini cake below left with eyelet lace side design, and to the right The Cake Barn have designed a stunning broderie anglaise wedding cake for a rustic summer wedding (below right).
Royal icing supremo, Donatella Semalo has created the superb broderie anglaise cake piped cake design below, studded with tiny sugar pearls.
Two more piped broderie anglaise/eyelet lace cake designs below by the exquisite Hello Naomi Cake Design.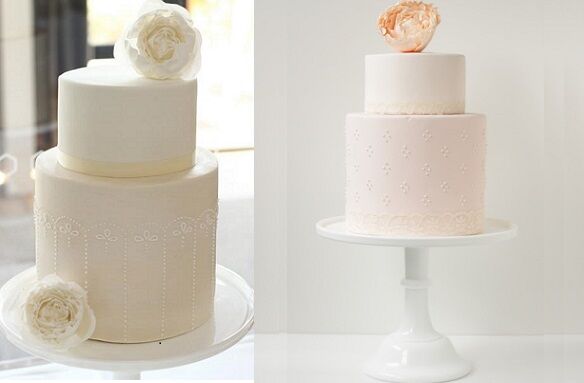 Traditionally, broderie anglaise/eyelet lace is all in white . However, overlaying the lace over coloured icing shows it at its prettiest, as demonstrated by the cakes below from My Cake Decorating.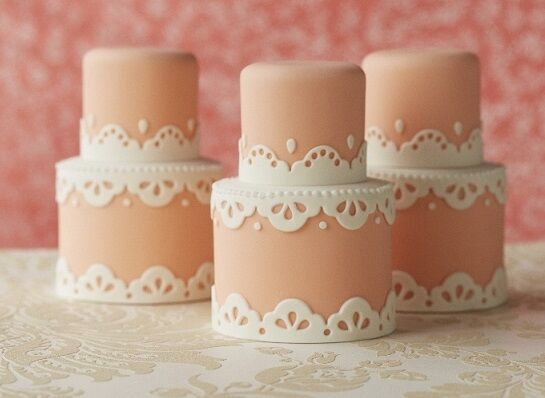 Two more examples of broderie anglaise overlaid on coloured icing from The Knot and My Cake Decorating.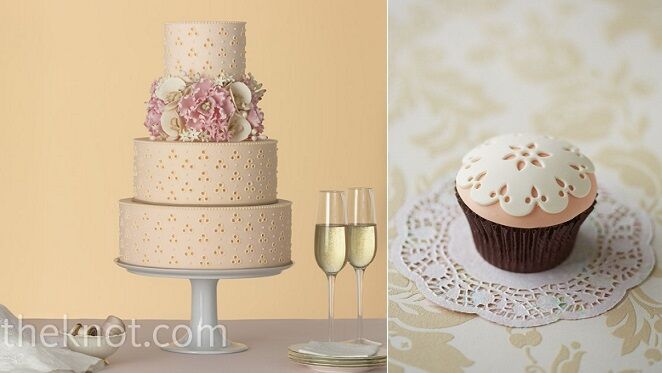 A beautiful broderie anglasie wedding cake in peach (below left) via Martha Stewart Weddings and a pretty eyelet lace celebration cake by Bake-A-Boo Cakes & Cupcakes, New Zealand (below right).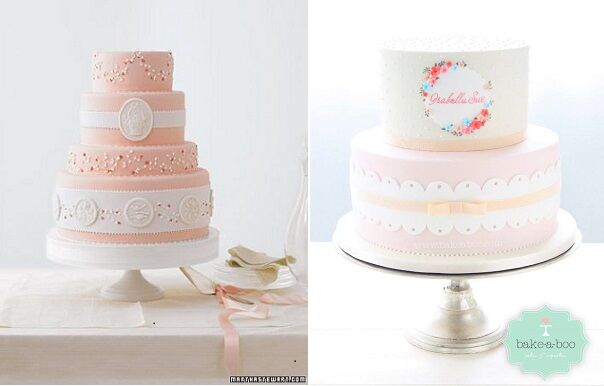 Jennifer Dontz of Sugar Delites designed the exquisite selection of eyelet lace cakes below in a soft pink and white palette (image via Sugar Teachers).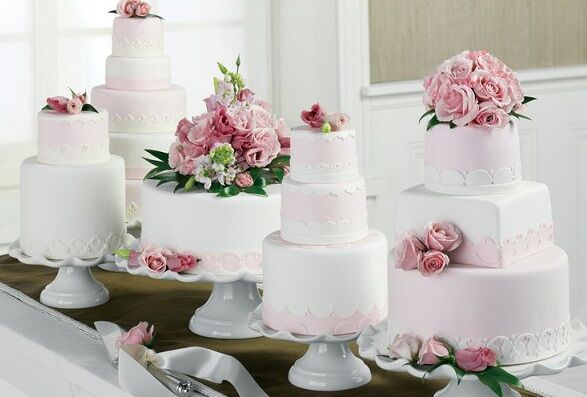 A further technique that also works beautifully with a broderie anglaise cakes is the addition of a ribbon, either a satin ribbon or a fondant ribbon, that gives the effect that it is threaded throught the cakes, as in our examples below from Petal & Posie Cakes (below left) and Zoe Clark of The Cake Parlour (below right). Zoe includes full instructions for the cake below in her book, Chic & Unique Celebration Cakes
.
You will also find a tutorial here on ribbon insertion on a cake.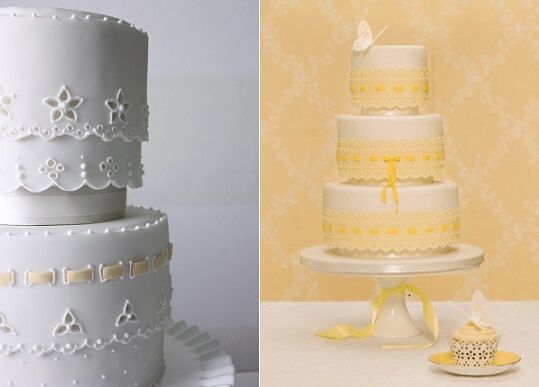 A broderie anglaise/eyelet lace effect can also be achieved on fondant using a cake scriber needle to create a dotted pattern such as a the design below by The Cake That Ate Paris.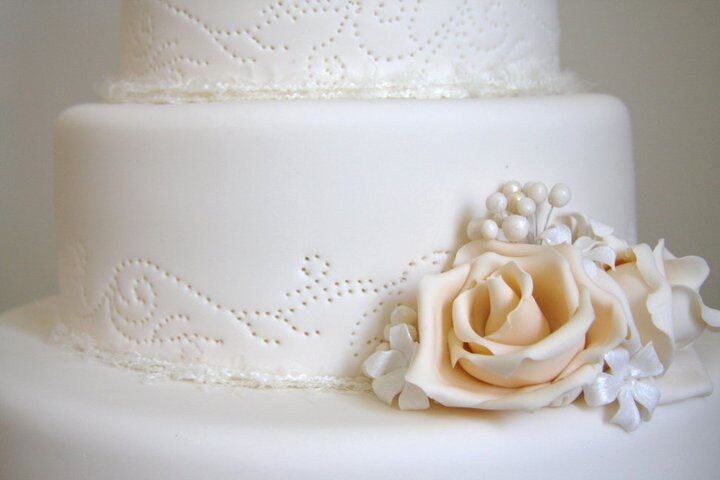 Another unique way to create a broderie anglaise/eyelet lace wedding cake is to use wafer paper or rice paper, as in the stunning wedding cake design below from Pretty Witty Cakes. This fabulous wedding cake is covered in Pretty Witty's rice paper cakes class by Makiko Searle on which you'll find more details here: Rice Paper Designs.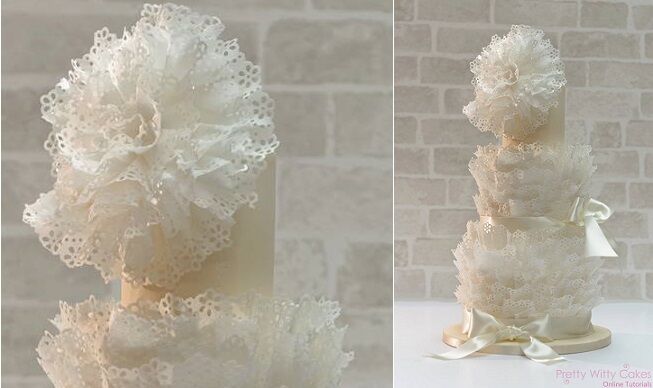 Broderie anglaise lace is the pefect cake decoration for a christening cake with a fabulous baby cake design below Layla Pegado.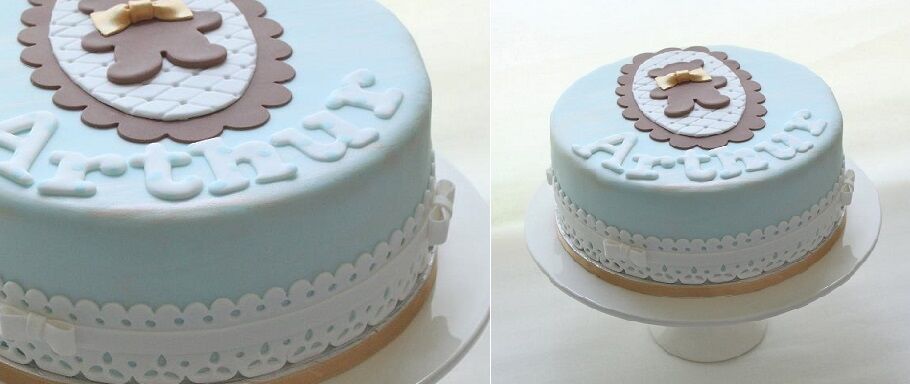 Two more broderie anglaise cakes with pastel accents by Cookie Cornocupia (below left) and by Sweet Love Cake Couture (below right).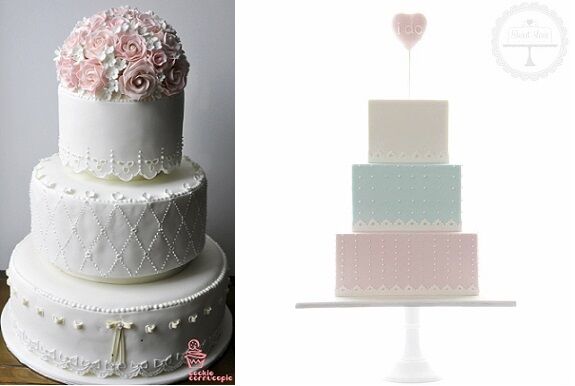 A little girl's birthday cake is given that extra touch of cutenss with broderie anglaise lace in a beautiful Minnie Mouse cake design by Sweet Ruby Cakes, Australia.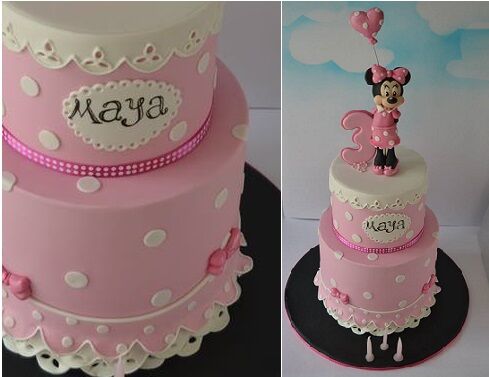 Readers might also be interested in our features on:
Join the Cake Geek Magazine Facebook Page here for more on cake design trends and updates.