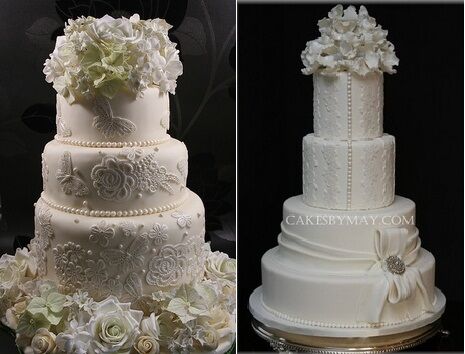 Lace wedding cakes are in big demand this current wedding season and the trend is expected to continue well into 2014 and 2015. There are so many ways to achieve a lace effect in cake decorating but one of the simplest is using applique lace. With this method lace pieces are simply cast individually from a silicone mould and attached to the iced cake. Aside from its simplicity, the other advantage of this lace technique is that the lace is somewhat "heavier" looking and more defined against the icing. Therefore, applique lace stands out better in photographs than piped lace.
We have two beautiful applique lace wedding cakes above. The cake on the left is by the ultra chic Elizabeth's Cake Emporium here in the UK and has a wonderful antique feel to it with heavy lace detailing, vintage pearls and an abundance of mixed sugar flowers in various shades of ivory, white and champagne.
Above right is a superbly elegant counterpart with a unique design featuring vertical lace panels on the top tiers and crowned with a cake top arrangement of sugar flowers and a sweeping statement bow. This beautiful design is by Cakes By May in the US.
Peggy Porschen's masterpiece lace wedding cake below is a firm favourite with brides and the secret of its allure is the applique lace pieces which have been individually over-piped by hand, enhancing the lace magnificently. (For an introduction to piping in royal icing, see our series on Piping Techniques here).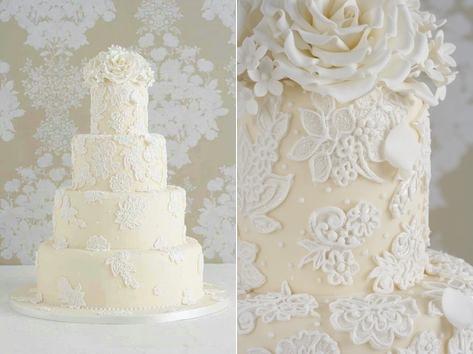 We have two more exquisite examples of lace wedding cakes with applique designs in shades of peach and pale pink below from vintage wedding cake supremos Cotton & Crumbs (left) and by Elizabeth's Cake Emporium also (right with pic by Claire Graham Photography).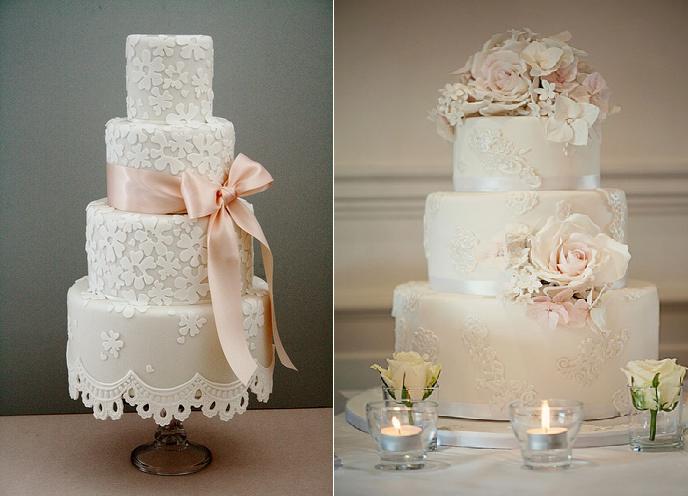 Below is a truly unique wedding cake colour scheme that works wonderfully for a lace cake design – pale grey and ivory (image via Tumblr, below left). On the right, we have an elegant white-on-white applique lace wedding cake by Sugared Saffron UK, which demonstrates how to enhance applique lace by removing some of the inner pieces with a craft knife so that the background icing shows through – a very clever technique.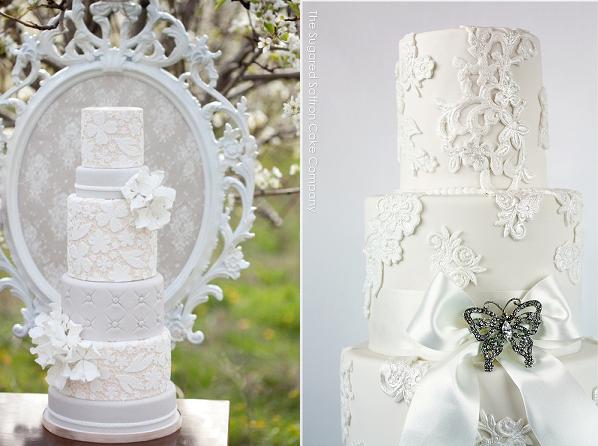 White lace against ivory icing is the classic choice for lace wedding cakes, with a splendid example below (left) by Sweden's Bakministeriet.
Aside from moulds for lace pieces, moulds are now available for larger lace bands to create the lace effect as shown in the example below right by designers, Sugar Ruffles.
Another example of lace elegance with sugar-moulded banded lace below by Call Me Cupcake.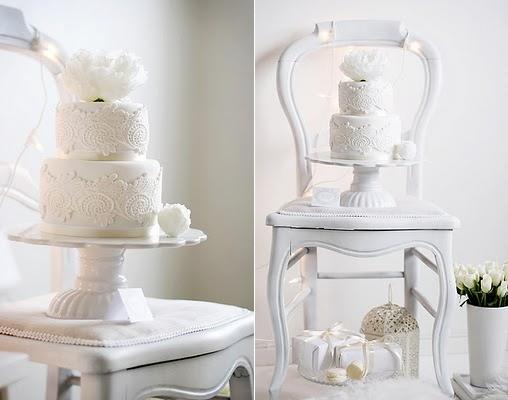 The pretty mini cakes below are also from Call Me Cupcake, and they are a wonderful example of putting some of your existing sugarcraft equipment to good use. We all have the FMM Lace Cutters
from when we first started, haven't we?! So here's a use to which we can finally put them and absolve our consciences from buying sugarcraft tools we haven't used! They make a wonderful lace trim around the base of a cake instead of ribbon.
For more on lace wedding cakes, see the rest of our series here:
See also Beaded Cake Designs – Pearl Beading for ideas incorporating lace applique with pearl beading.
For more vintage wedding cake inspiration, see our features:
For more on the latest cake trends, just add Cake Geek Magazine to your Facebook "likes" to receive updates in your news feed. You'll find us here at: Cake Geek Magazine Facebook Page.