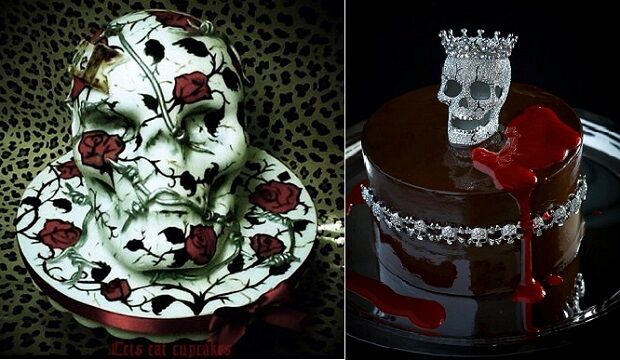 Halloween is as much fun for grown ups as it is for little trick-or-treaters so we've put together a selection of outrageous gothic halloween cakes for fright night parties and get-togethers this All Hallows Eve.
A deadly skull cake strewn with over-grown vines and blood red roses makes a superb halloween cake by Lets Eat Cupcakes, above left.
On the right, Ms. B's Cakery's Death by Chocolate cake is drenched with wild berry sauce and adorned with a luxe Swarovski crystal skull and beading for a breath-taking Halloween confectionary creation.
Halloween macabre and gothic theatre is captured in the two artful halloween cake designs below by The Wild Orchid Baking Company (below left, via The Cake Blog) and by Sabores da Alma, Portugal (below right).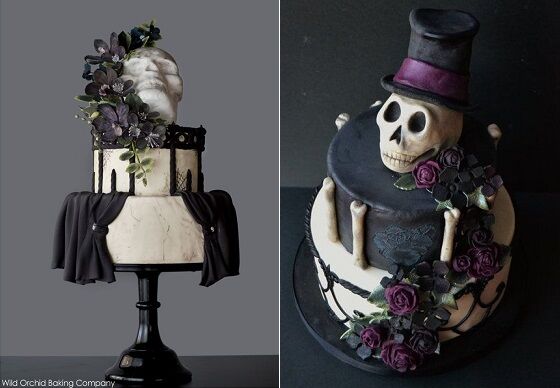 Below, we have two fabulously gothic style Halloween wedding cakes from Cake Me Baby (left) and Sannas Tartor (right), perfect for the more off-beat bride & groom at this time of year.
Symbolic black crows expertly modelled and perched on a black-iced cake lit by single candle stump creates a haunting and spectacular gothic halloween cake by The Queens of Sweet.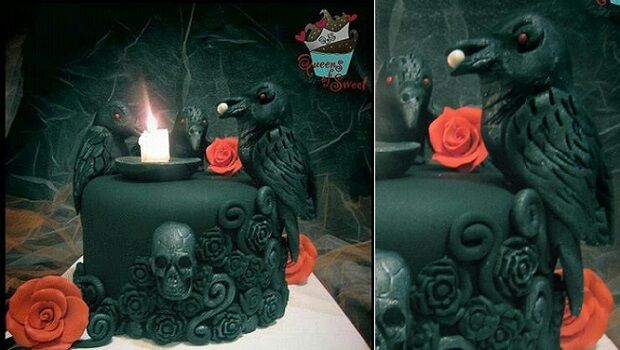 Ivory skulls set against black icing with blood red roses creates a striking halloween spectre in the two terrific halloween cakes below by Perfect Indulgence Cakes, left and by Verusca Walker, right.
Complete carnage has been dramatized in cake by Joshua John Russell, The Fashion Caker in his high-drama halloween wedding cake design below.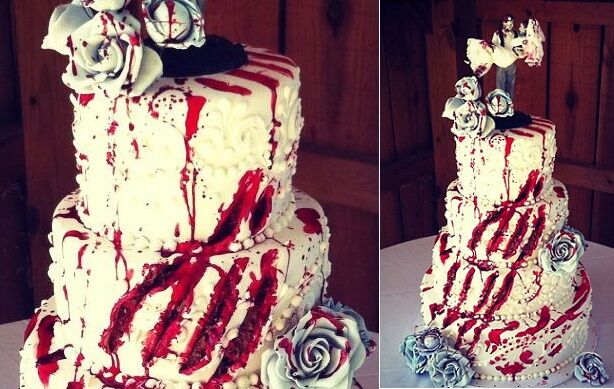 Decorative skulls take halloween cake art to another level with two brilliant examples below by Edible Essence Cake Art, Plymouth left, Let's Eat Cupcakes, right.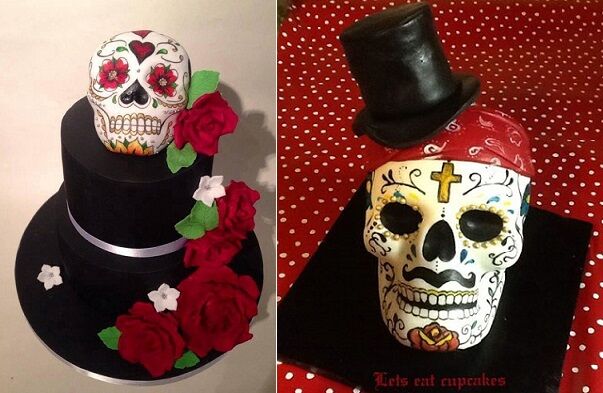 Chocolate skulls bring the spirit of halloween to the chocolate wedding cake below right from Adventures in Cakeyland, while Choccywoccydoodah showcase their masterful chocolate art in their magnificent halloween creation, below left.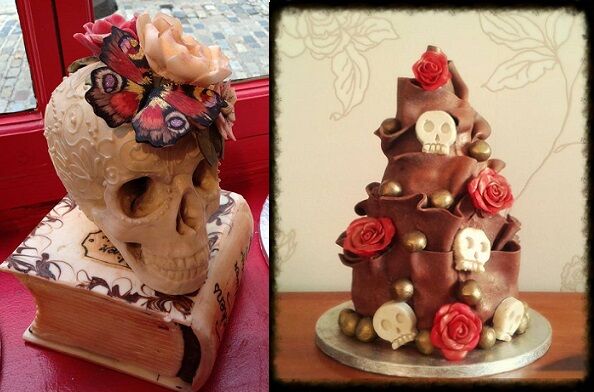 A cornucopia of Halloween horror features in the Halloween wedding cake creation by Claire's Cakes, Aberdeen (below left), while on the right, Count Dracula takes centre stage in this magnificent Transylvanian depiction (image via Tumblr).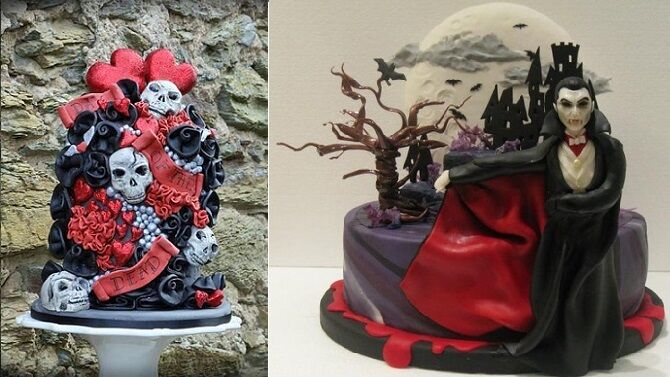 Martha Stewart shows you how to create the terrific bat cake topper/mobile below for a quick halloween cake design here: halloween bat cake (no longer available).
A creepy Halloween moonscape adds a wonderful extra dimension to the superbly crafted cake (below right) by MG Sugar Cake.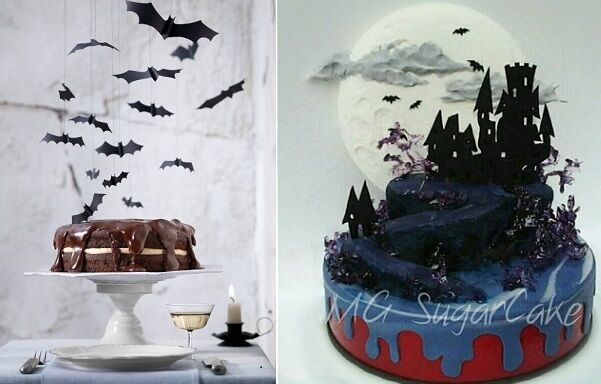 Drawing and painting skills are a super gift to have in your cake decorating repertoire as the beautiful halloween silhouette cake below by Michelle The Cake Chef demonstrates.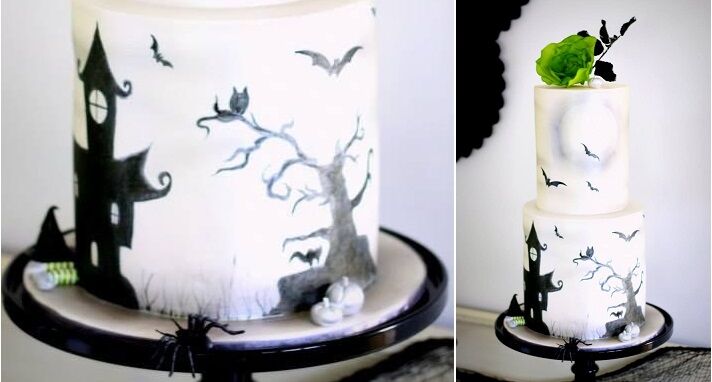 Architecture and design skills don't go to waste in cake decorating either….just look at this masterpiece gothic castle cake created for a Halloween wedding by Sandra Monger Cakes.
Tim Burton's Corpse Bride has been recreated in sugar (below left) by sugar modelling expert Verusca Walker, with another fantastic recreation below right byHeather Baird of Sprinkle Bakes. You'll find Heather's corpse bride tutorial here, plus the blue velvet cake receipe used.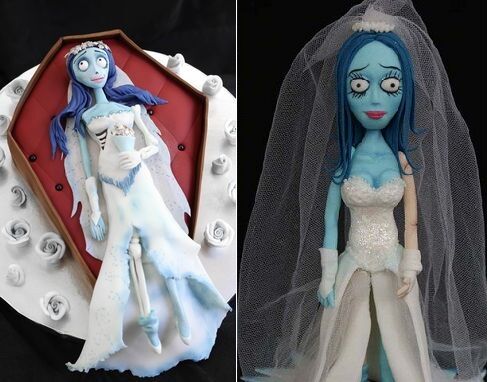 A super-stylish halloween wedding cake features below in the quintessential Tim Burton style by Sweet Ruby Cakes, Australia.
The team at Doric Cake Crafts have made terrific use of edible cake lace in black as a side design in this halloween castle wedding cake.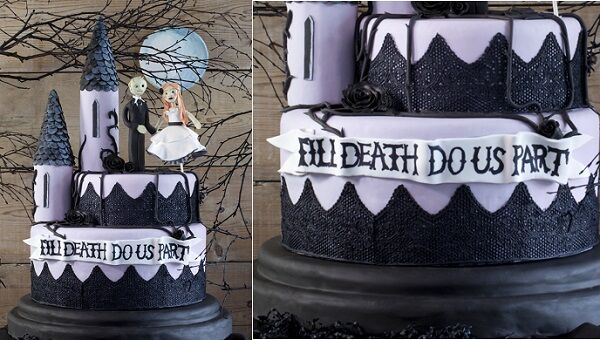 The Little Cherry Cake Co. create their homage to the work of Tim Burton in their quirky halloween wedding cake below.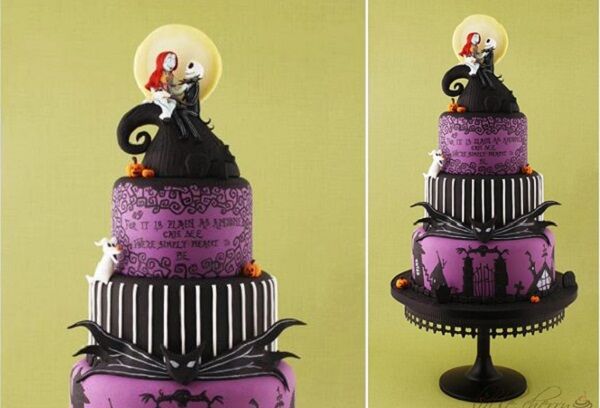 For the bride who loves all things vintage, Eat Me Cupcakes and Choccywoccydoodah have managed to combine vintage elegance with halloween horror in their two fantastic creations below, left and right respectively.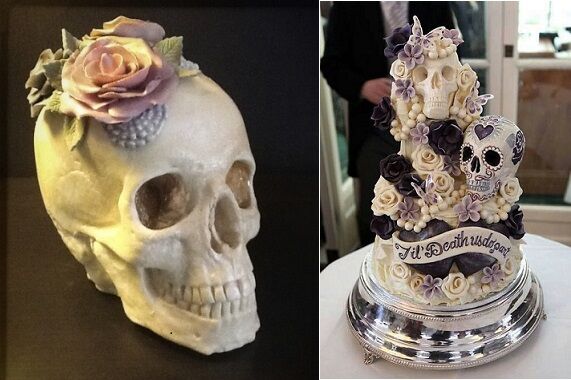 You may also like:


Coming Up Next: Vintage Jewellery & Locket Cakes