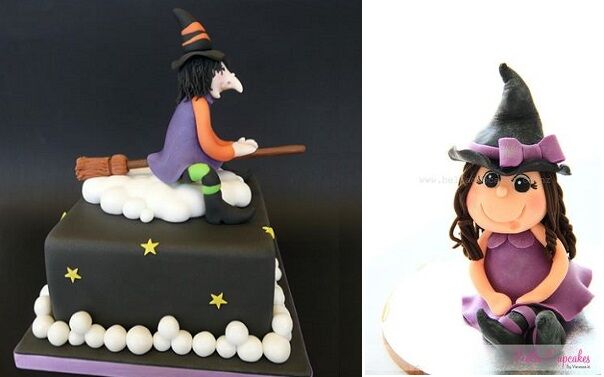 Halloween cakes offer limitless opportunities for cake makers to get creative and indulge their cake making fantasies. We have a super cute selection of cakes for kids this spooky season starting with the brilliantly crafted witch on her broomstick (above left) by Het Bonte Taartje.
While witches are usually meant to be scary, they can sometimes just be cute too – like this adorable cake topper (above right) by Bella Cupcakes, as well as the gorgeous little witch girl (below) from Tea Party Cakes, Canada. (You'll find the tutorial for this topper right here: cute witch tutorial).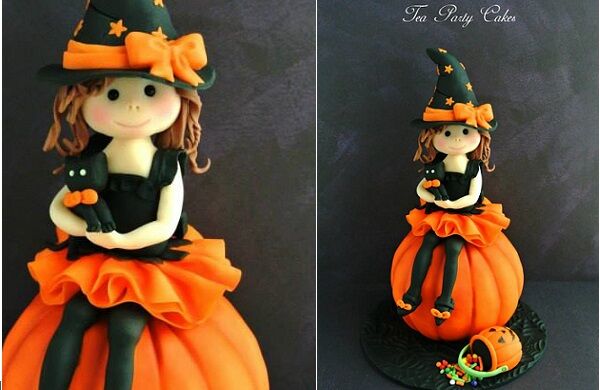 Sometimes the simplest Halloween costumes are the best – and the cutest – like these white sheet little ghost costumes below. To create these ghostly cakes you can follow the free tutorial from mycakeschool.com: ghost cake topper tutorial (image right via Inked Magazine, left via MyCakeSchool).
Bows and pigtails can add an extra girly touch to your little girl's ghost cake this Halloween, with adorable examples below from Cutelogy Cakes, left and by Eveniser on Cake Central, right.
Leslie Wright of The Royal Bakery adds her trademark playful touch to the Halloween cat cake below by adding a mask to the furry family pet. You can check out The Royal Bakery's tutorial online here: halloween cat cake.
On the right, a characterful owl and broom cake magic-ed into this world by Portugal's Cupcakes & Dreams.
Jeanne and Debbie Braman have created a 3D halloween cake nightscape and sugar characters below left, while on the right, The Cake Store UK have crafted a brilliant animation in cake – a spooky witching stirring up toil and trouble over her bubbling cake cauldron.
A fantastic sculpted cat features below, designed and created by Verusca Walker.
A wide-eyed witch stares hauntingly from atop a sculpted pumpkin cake in a super spooky design by Elegateau. On the right, Sheryl Bito of the Buns In The Oven Cupcakery creates a superb cupcake replica of The Joker in her unique style. (To learn how to create Sheryl's cupcake characters, check out her class on Craftsy: Global Cupcake Design, Sheryl Bito.)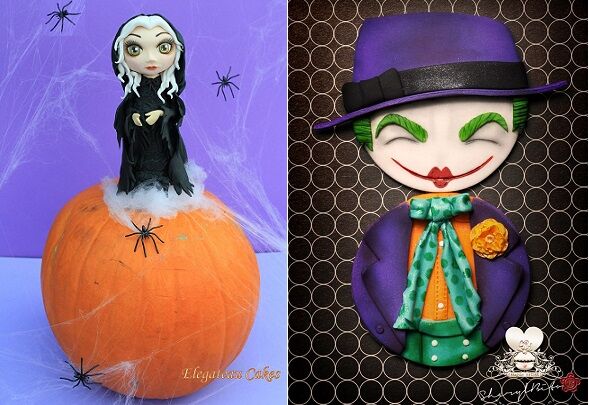 Moving over to the dark side, Silvia Mancini creates a little Halloween horror in her gothic style cake (below left). Silvia shares her halloween cake topper tutorial here.
Below right, Sogni di Zucchero have designed a Halloween tribute to Wednesday Adams in perfect detail.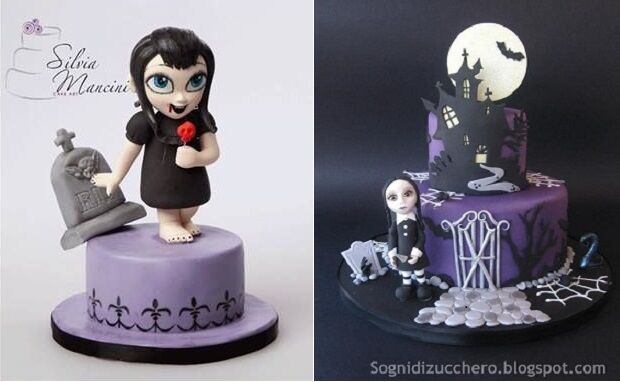 Tatoo art and gothic details adorn the ghoulish skull cake below by the Black Cherry Cake Company.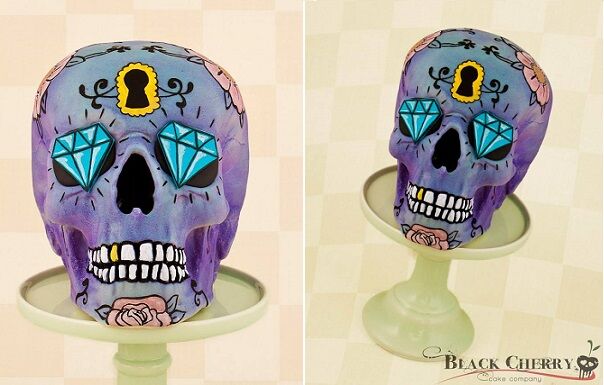 A haunted castle straight out of the Middle Ages has been resurrected in cake below by Bubolinkata Cakes. Did you notice the figure in the right-bottom window? Spooky…..
A single pair of eyes staring out from under strips of white fondant makes a terrific zombie cake design by Mina Magiska Bakverk. On the right, multiple sets of googgly eyes create a brilliantly weird and creative spooky cake from The Cake Blog.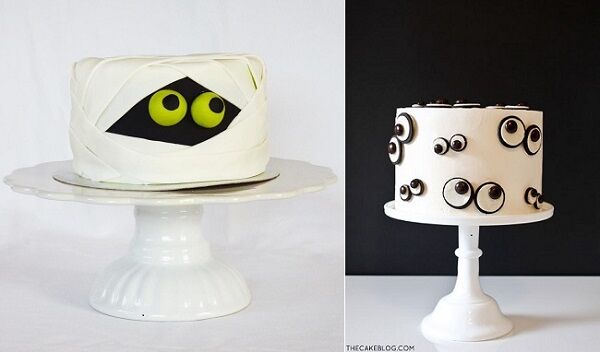 For larger Halloween get-togethers, these three tier designs are certainly attention grabbing. On the right, Erin Gardner has created a sophisticated glittered nightscape cake design with spooky bats silhouetted against a full moon (You'll find Erin's tutorial here via The Cake Blog: halloween bat cake tutorial). On the right, eyeballs, zombie dressings and spiders' webs all guarantee fright factor in fondant for your party this Halloween.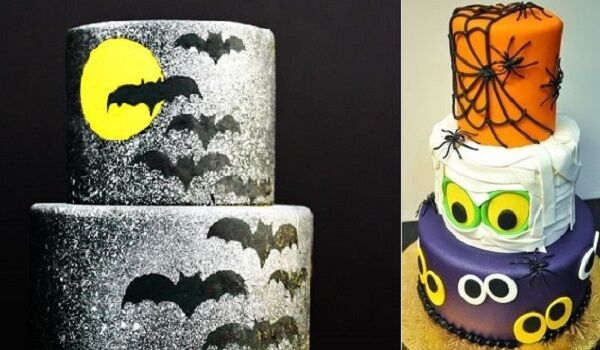 You may also like:
Advertisements:
Check out this amazing chocolate sculpture cake tutorial on Yener's Way, which can also be used for fairytale castle cakes! You'll find all the details here: Halloween Haunted Castle Cake Tutorial.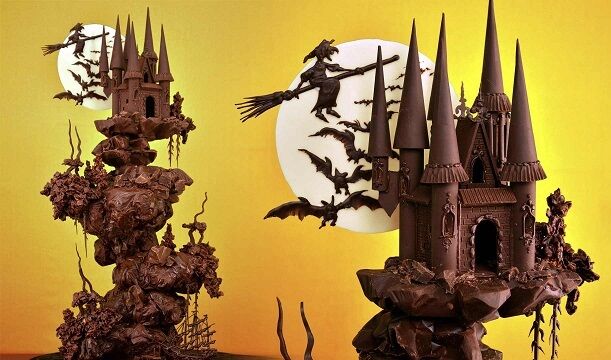 Coming Up Next: Navy Wedding Cakes – Vintage & Modern