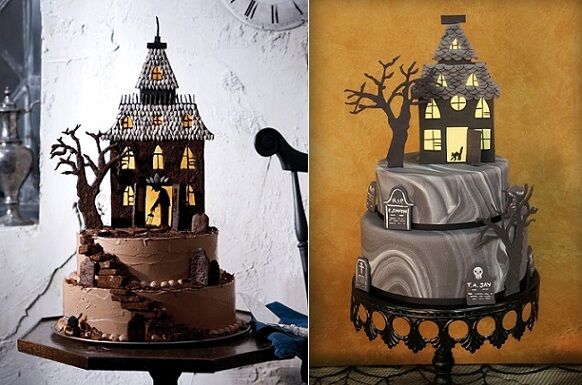 Halloween is the perfect excuse to indulge your novelty cake-making talents! To inspire you, we have two masterpiece Halloween cakes above from Martha Stewart (top left) and via Indulgy.com (right). You'll find the templates for Martha's spectacular cake here: haunted house templates, as well as directions to make the cake. The detailing on this cake is exquisite right down to the use of sunflower seeds for the roof slates! While the grey marbled effect fondant on the cake on the right cleverly evokes the eery effect of swirling Halloween mists!
For a more cartoon style Halloween cake, bright purple and orange fondant work great as background colours. Then you can take a craft knife and create black silhouette shapes to bring your cake to life against the colourful Halloween background. It's a very quick and simple cake style to create and is showcased perfectly by our examples from Pinterest (below left) and the wonderful Irish cake company, Crafty Confections (below right).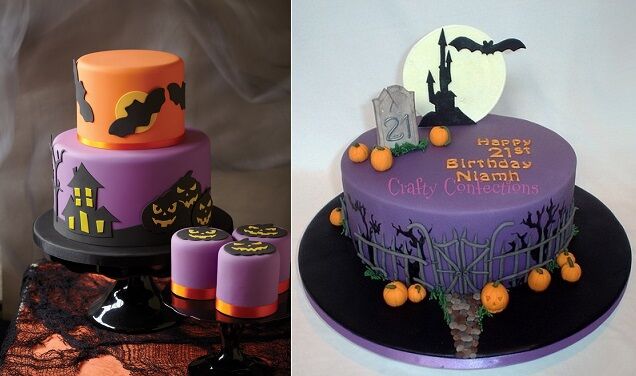 To add a comic twist to your Halloween party cake this year, children love to see an evil witche meeting a wicked end! You'll find a tutorial to make the "Witch Crash" cake (below left) on MyCakeSchool.com.au. We have another witch meeting a dastardly end (below right), this time from The Cookie Shop.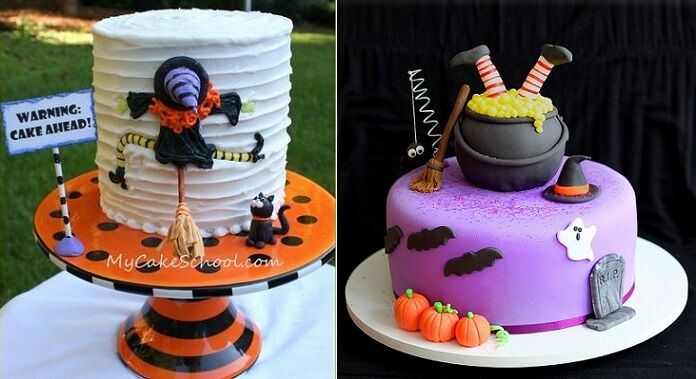 If it's a super quick and super simple cake design you are after for Halloween, then there's no quicker or simple that then two super cute cakes below from the ever creative Martha Stewart (below left) and the wonderful resource that is Cake Journal (below right).
The ghost cake is created using stack of marshmallows, creating the "quiff" on top by twisting a mini marshmallow into a point! The black candles are a brilliant touch too. You'll find a tutorial to make the black bunting cake and pumpkins here at Cake Journal.
If you really what to bring the pumpkin theme into your Halloween party, then pumpkin buttercream is the only way to go! The Whatever Whimsy blog has a recipe for their "Pumpkin Patch" cake (below left) here. Or if double chocolate is your fancy, Country Living provides the inspiration of the rich cream cheese frosting cake below right.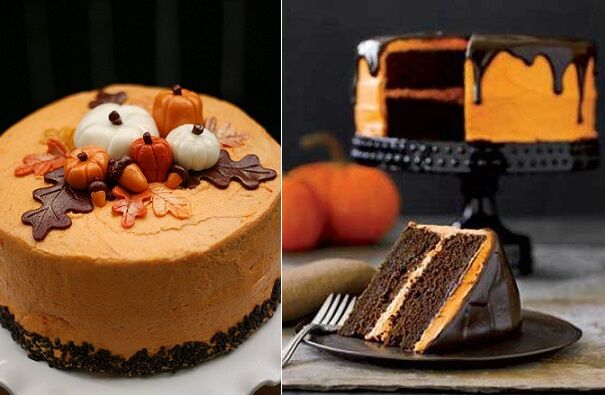 For more bewitching Halloween cakes to enchant the little ones, we have a fantastically creative Frankenstein's Monster cake (below left) from Bird on a Cake with an excellent tutorial here: Frankenstein Cake.
And for a full-size 3-D pumpkin cake, Wilton provide instructions here for the cake (below right) which very cleverly involves sandwiching two bundt cakes together! (You'll find a selection of different bundt cake tins here
.)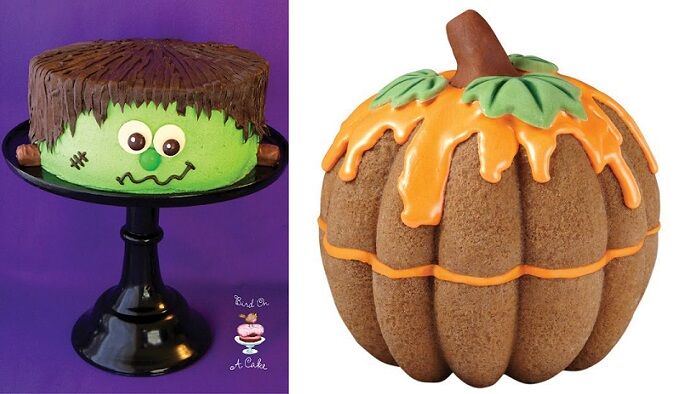 Still on the subject of cake tins, Wilton have a terrific skull pan/tin on the market if you want to create a gothic style cake for a grown-ups party. Just dust the cake in icing sugar (below left) to finish. Or if you want to go super high-end, cover the skull with sugar diamonds Damien Hirst-style for a super glam Halloween party! The tins are available to buy online: 3-D Skull Cake Tin
.
Finally, we just couldn't resist the cute little Dracula model tutorial below from The Buttercup Kitchen. While Dracula isn't normally regarded as cute, there just something adorable about this little guy for a Halloween cake!
Readers might also enjoy our features on:
Advertisements:
Check out this amazing chocolate sculpture cake tutorial on Yener's Way, which can also be used for fairytale castle cakes! You'll find all the details here: Halloween Haunted Castle Cake Tutorial.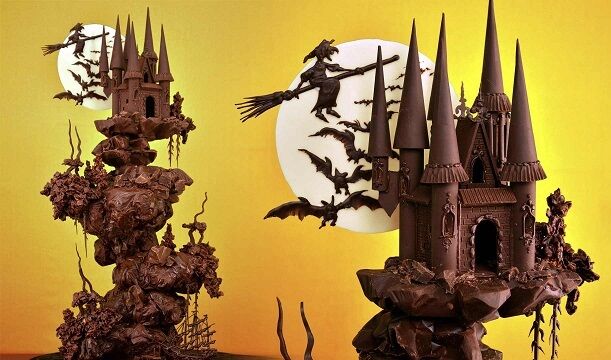 Coming Up Next Week: Jewelled Wedding Cakes and How to Make Edible Gems
For Cake Geek updates, just add Cake Geek Magazine to your Facebook "likes" and we'll let you know just as soon as a new feature is published! You'll find us here at: Cake Geek Magazine Facebook Page.