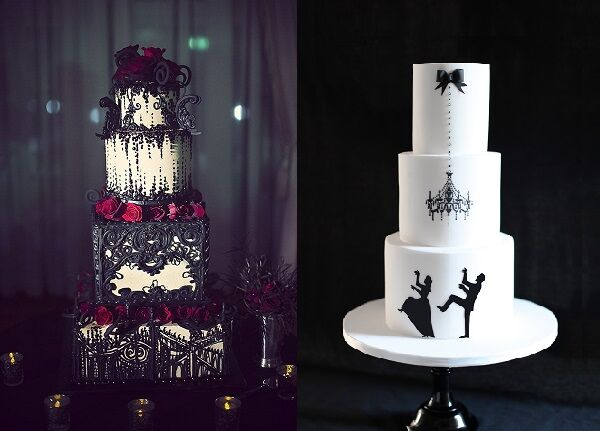 For the October bride who wants a halloween inspired wedding cake, but nothing too cartoon-ish, we've put together a selection of wedding cakes that are both gothic and elegant – perfect for the bride who wants something a little different and a little bit dark.
Trailing black vines, baroque detailing and black lace all come together with blood red roses in this quintessentially gothic wedding cake, above left (image by Ron Miller Photography).
Other Cake Stories have added a comedy halloween twist to this classic chandelier wedding cake design – originally designed with a waltzing couple silhouetted on the bottom tier, but replaced on this design with a couple doing the "Thriller" dance from the Michael Jackson video. Guaranteed to entertain the wedding guests and look stylish at the same time.
One of Maggie Austin's signature decorating styles – sculpted effects created in bas relief – casts an amazing gothic effect with black detailing in relief against white tiers. A single sugar bloom gives a subtle bridal touch to soften the overall look of this stunningly original design, below.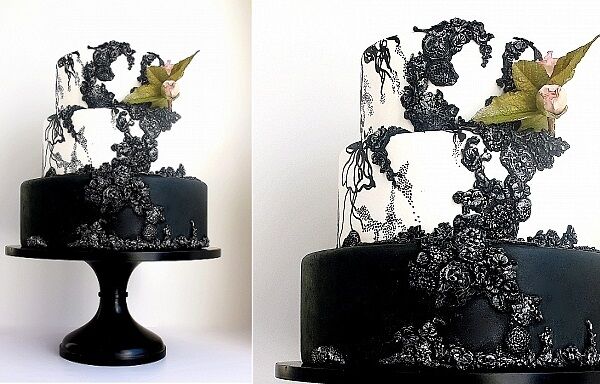 A metallic skull and black lace tiers are given a haunting bridal touch with falling blossoms in this spectacular towering halloween wedding cake by Fat Cakes Design.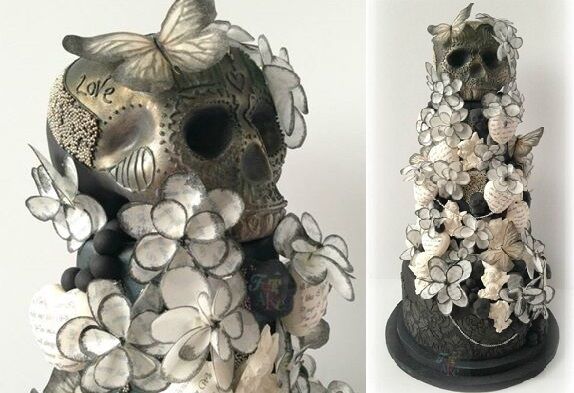 The queen of steampunk and gothic victorian cake design, Tamara Woutersen of Sweet Lake Cakes shows her credentials in her hauntingly beautiful and impeccably detailed wedding cake designs below.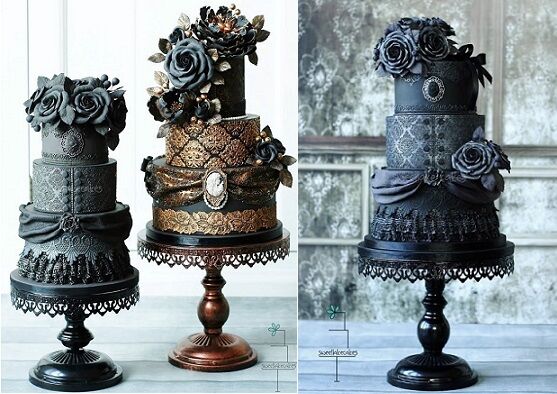 For a subtle nod to gothic styling, black lace, antique cameos or damask accents set against white iced tiers can be enough to create a soft gothic influence. We think these designs below by Sharon Wee (left) and Bellaria Cakes Design (right) strike a perfect balance between gothic Victorian styling and classic wedding cake elegance.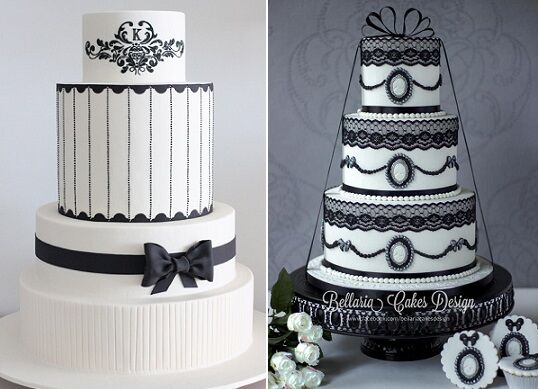 The two black and white designs below also capture that perfect balance between bridal elegance and gothic darkness, with a beautiful black lace "cage" adding dramatic impact to the design below right paired with pristine white parrot tulips. On the right, a smooth black lace tier contrasts against a ruffled white lace tier, brought together with an antique style cameo brooch. (Designs by Cake Central contributors Lanawith, left and Saltandpepper, right).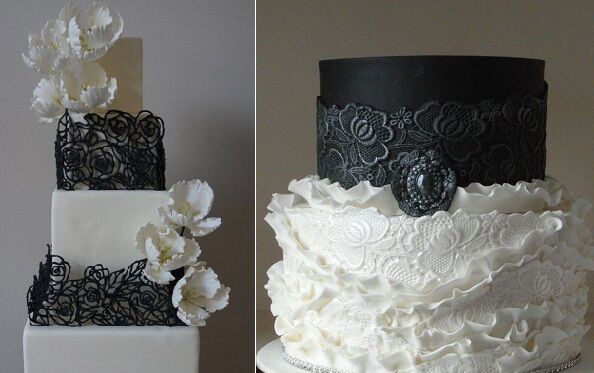 A Victorian steampunk inspired top hat makes the perfect old world accessory to adorn this skull tatooed black and white Halloween wedding cake by Christie Cakes (below left). On the right, Tamara Woutersen of Sweet Lake Cakes blends purple/plum arum lilies and roses with her black strapped, jewelled and steampunk dressed design, below right.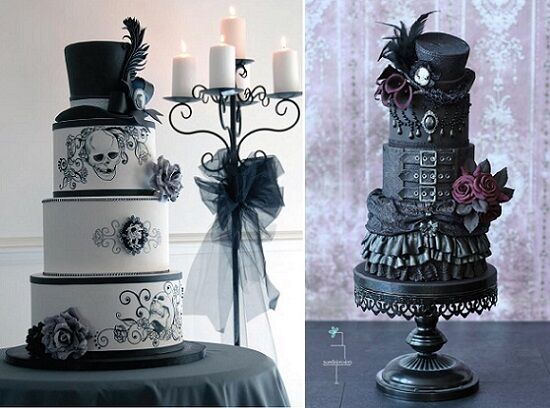 Black lace set against towering extended tiers creates a stylish, gothic inspired wedding cake by Sweet & Swanky Cakes – perfect for the bride who would like a black lace adorned wedding cake design, but a little less of the Halloween. Another design from the Sweet Lake Cakes victorian/steampunk collection features below left with fondant fabric effects recreating the style of gathered Victorian skirts.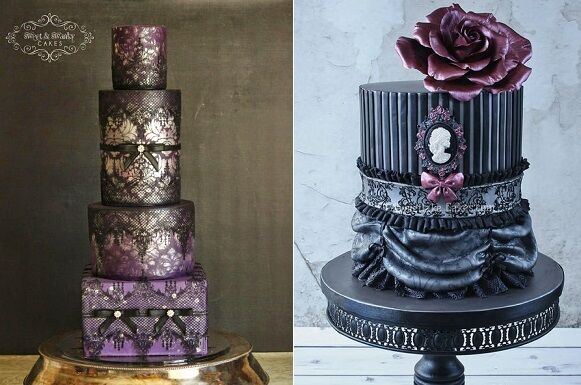 A cascade of metal effect pewter blossoms joins a cracked skull effect tier on one side and a black glitter tier on the other in "Wicked Wedlock" by Wilton, below left.
Below right, dramatic black and purple backdropped against a spooky forest was the haunting design dreamed up by Sweet Tooth Confections for a Maleficent inspired wedding shoot by Meg Sexton Photography for the Green Wedding Shoes blog.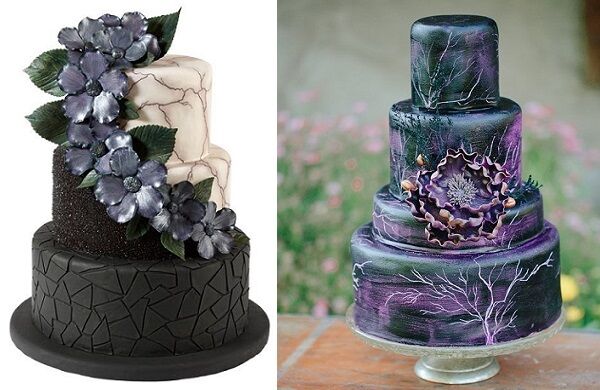 Haunting black crows and birds of prey make these chocolate cake sculptures undeniably spooky but wonderfully gothic – a trademark design style of the UK chocolate geniuses, ChoccyWoccyDoodah.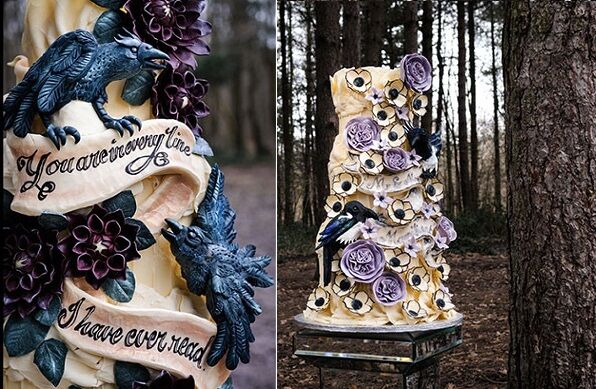 The Dicken's tale of Great Expectations is the design inspiration behind the white chocolate cobwebbed "Miss Havisham" wedding cake below from ChoccyWoccyDoodah -a slightly spooky, yet beautifully bridal Halloween wedding cake.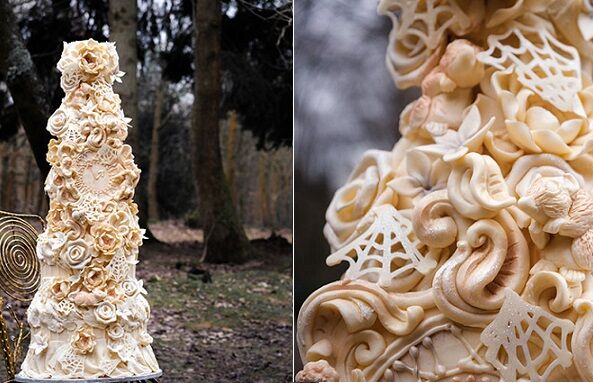 Chocolate skulls, blood red roses & gothic greetings all dripping in chocolate is what ChoccyWoccyDoodah does best – just check out these two classics below.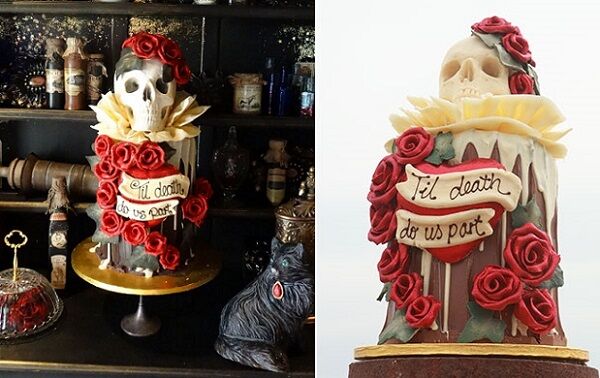 Inspired by Shakespeare's Macbeth, this dramatic chocolate sculpted wedding cake display deserves it's own stage and gets one too (below left) by Choccywoccydoodah.
Black lace, ruby red roses, a skeleton couple silhouetted against a frame of bones, all topped with a broken teacup topper bring haunting gothic design to this Halloween wedding cake by The Black Cherry Cake Co., below right.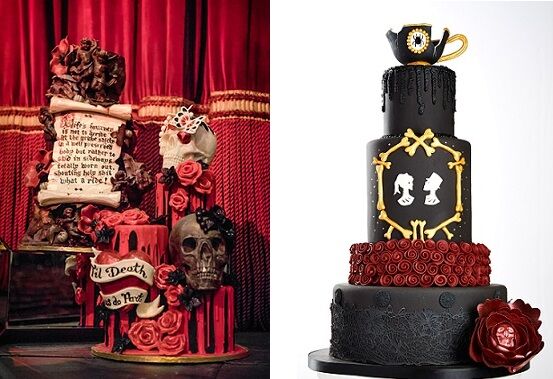 Black pearls, grey lace and red roses make an elegant gothic statement in this black wedding cake design by Candytuft Cakes below left, while on the right, oodles of imagination, sugar artistry and skill shines through this fantasy novel inspired design from Lets Eat Cupcakes.